Thanksgiving is only 2 days away, and Christmas is a month away – can you believe it?!  This year has been flying by, but I welcome the holiday season and all the joy it has to bring.  I hope as you're making plans for your holiday season that you pause for a moment and consider those less fortunate around us.  This time of year, food pantries and homeless shelters are often in need of donations to serve the many individuals that don't have a home to visit or food to eat for the holidays.  And odds are, someone in your life that you know or have met will be visiting a pantry – estimates are 1 in 7 Americans visit a food pantry each year.
One thing food pantries may struggle with is the lack of variety in donations.  While any donation is of course appreciated by these organizations, many are seeing an influx of highly processed foods that can be rich in sugar, refined grains, or unhealthy fats – think sugary cereals, ramen noodles, or boxed mac & cheese.  Instead, this season I'd challenge you to choose healthier items that can help to nourish others – isn't that what we'd want for ourselves if we were in that situation?
I know that many of us struggle with our own grocery budgets already, so what I want to emphasize is that these healthy options don't have to be expensive choices!  Check out the choices below which are all inexpensive, healthy food pantry donations …
1)  Beans, especially low sodium varieties.
These are wonderful for shelters and pantries.  They can be eaten without cooking (for clients that are perhaps homeless or don't have a stove), and those with pop tops are especially appealing since they don't require a can opener (these work wonderfully for homeless individuals, for example).  Beans contain lots of protein and fiber, and the lower sodium varieties are appealing for elderly recipients who often have to limit their sodium intake.   Most canned beans run just $0.50 to $1 each, and with coupons can be found for even less.
2)  Canned vegetables, especially no-added-salt varieties
Canned vegetables are a pantry staple, and make it easy to create wholesome, balanced meals.  While they typically run higher in sodium than fresh or frozen options, they can last a lot longer on a shelf at the pantry – and purchasing no-added-salt varieties ensures a nutritional profile closer to fresh/frozen options.  Vegetables contain many vitamins, minerals, and phytochemicals that people's diets may fall short of.
3)  Brown rice, quinoa, or barley
These whole grain staples provide lots of energy and are good sources of fiber and several vitamins/minerals.  Rice and barley are typically less expensive than quinoa, but check the international aisle – Goya has bags of quinoa that are typically only $2-$3 each!  Staples like these, combined with canned veggies and proteins, make it easy for struggling families to create a healthy, balanced meal.
4)  Pouches or cans of shelf-stable meats/fish – tuna, salmon, and chicken
Tuna fish is commonly donated, but is still a great source of protein so don't hesitate to throw these in your donation pile (plus, you can score great deals when it's on sale).  If you're out shopping though, consider other canned meats like salmon or chicken.  Protein is often one of the nutrients lacking in a food pantry bag, since most items donated are carb-rich choices.
5)  Canned fruit, besides pineapple, or pouches of fruit puree
Pineapple is the most commonly donated fruit, so browse for other similarly priced options – perhaps mandarin oranges, pears, or peaches.  Look for cans or snack packs that are packed in water or juice, rather than syrup.  Or, consider the pouches of applesauce or other fruit purees.
6)  Powdered or shelf stable milk
These varieties can last for long periods of time, yet still provide calcium and Vitamin D, nutrients that many Americans don't get enough of in their diet.
7)  Low-sugar cereals
Check cereals for these three characteristics:  it's made from a whole grain, it contains six or less grams of sugar, and it contains two or more grams of fiber.  If it meets all three criteria, it's a great choice to donate.  Keep an eye out for coupons to reduce the cost, or consider the many already inexpensive store-brand varieties.
8)  Peanut butter
A $3 jar of natural peanut butter can go a long way for someone who is hungry (particularly when combined with a loaf of whole wheat bread).  Peanut butter has protein and healthy fats that can help people feel full longer – plus, it's delicious.
9)  Healthier grab-and-go snack items
Children are one of the most commonly affected faces of hunger.  Consider giving snack items that can be sent with a child to their school or afterschool program.  Think lower sugar granola bars, single serve boxes of dried fruit (look for varieties without added sugar if possible), applesauce pouches, or trail mix.
10)  Consider non-food items, like toiletries or feminine products
OK, so this isn't food, but it deserves a spot on the list.  Ask your pantry if they're in need of any toiletries – many are but they are not commonly donated.  Toiletries can be purchased at low prices (especially if you're a couponer like me, in which case you may get many of these for free!) and are a great choice to donate
Remember, any donation is appreciated by organizations that accept them – but we hope this list helps you choose some healthier options this season!
Share with me:  Will you be donating food this holiday season?  What are your go-to choices to donate?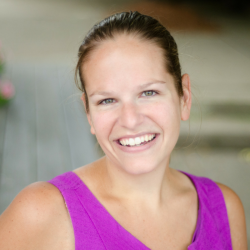 Chrissy Carroll is a Registered Dietitian and USAT Level I Triathlon Coach. She specializes in sharing nutrition and fitness tips, as well as recipes, for runners, triathletes, and active women.Chrissy holds a Bachelor's Degree in Nutrition, a Masters Degree in Public Health, and is also an ACSM Certified Personal Trainer.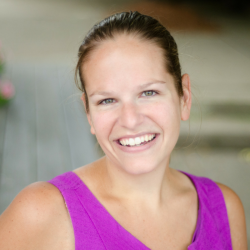 Latest posts by Chrissy Carroll (see all)