I don't know about you, but I always get a little anxious before a big race. I start double checking course routes and elevation (often freaking myself out thinking something is going to be way too hilly when in reality I'm fine), double check that I have all my gear about six times, and generally arrive at the race all restless. Of course, once I start I'm usually always fine. And as I cross that finish line, it's about the best feeling ever.
If you ever get a little nervous before a race too, I've got some racing tips for you for your next road race or triathlon. There's advice for those of all distances that will help you feel more prepared and in control as you get to the starting line!
Leading up to the race…
1. Double check the race distance you signed up for.
No joke, I had a friend that thought she had signed up for a 5K and arrived the morning of realizing it was a 10K. This might not be a big deal depending on your training, but for some athletes that could be quite a shock!
2. If it's a half marathon or longer – yes, you should taper.
If this is a longer distance "A race" for you, and not just a race that fit into your training schedule, you'll want to taper for it. This helps ensures your muscles are well-saturated with glycogen and that they are well-rested and ready for the race. As much as it drives many athletes crazy, it's worth it.
3. Enjoy meals rich in carbohydrates the 2-3 days before your long races.
If you're getting ready for a half marathon or longer distance road race, or an Olympic distance or longer triathlon, this strategy helps performance. This (along with tapering) helps load up those muscles with glycogen – stored carbohydrate that your body will use during the race. You don't need to overload on any one food in particular, but just ensure you have some healthy carbohydrates at each meal. Cereals, pastas, rice, breads, fruits, starchy vegetables – all of these can be good choices. (But if you're doing anything shorter than the distances listed above, you don't need to worry about it.)
4. Get enough sleep (wait for it…) 2 nights before your race.
If it's a big race or a new race distance for you, you'll likely toss and turn the night before. It's better to focus on getting a good night's sleep two nights before the race. In essence, taking the pressure off the night before also helps to relax you, and will likely ensure that you sleep better that night too.
5. Make a list of all the things you need for your race, and pack your bag the night before.
This is much more applicable for a triathlon compared to a road race, but even for a road race there are probably a few things you want with you (maybe a race belt, fuel, or water, for example). Packing the night before ensures that you don't forget anything in your last minute nervousness the morning of.
Racing tips for the day of…
6. Eat a healthy breakfast.
It helps to calm your nerves and ensures you have stable blood glucose as you start the race. Eat something that's familiar, that you know sits well in your stomach, and that's rich in carbohydrates. My favorites? A bagel, or cereal with milk and a banana.
7. Hydrate that morning, but don't overdo it.
You want to arrive at the race hydrated, but you don't have to do anything extra special. Drink some fluid with your breakfast, and maybe a few swigs of water or sports drink 5-10 minutes before the race. Avoid drinking a ton of water in the 2 hours before the race – you'll end up at the start line needing to pee.
8. When you get to the race, get in line for the porta potties. 😉
Many people will end up with a nervous stomach on race mornings. You don't want to wait until 10 minutes before the race and be stuck at the back of the line, hoping you make it in before the race starts. Instead, hop in line right when you get there, and if you tend to suffer from an upset stomach, get back in line again at some point before the race. (If you're ever looking for me at a race, you can pretty much be guaranteed to find me just rotating through the porta potty line until two minutes before the race starts, haha!)
9. While on the course, pay attention to signage and volunteers.
A few years ago, I ran a 5K with my sister. We run fairly similar paces, but about 10 minutes after I finished was still no sign of her. The race had a point where it split for the 5K and 10K, and she was so into her music she didn't notice the volunteers screaming and waving "5K right, 10K left!" She ended up inadvertently running a much longer race. My husband and I similarly got lost on a bike ride recently when we missed a course sign indicating a turn. Depending on your training, this might or might not be a big deal – but I'm sure it's something most of us would rather avoid! Keep an eye out for signs and directions.
10. Relaaaaax.
If you start freaking before the race or out on the course – "I'm going to slow!" or "I think I have to puke!" – try to relax a bit by focusing on your breathing or using a mantra. These can help to get yourself under control and can also help you push through a tough section of the race. I personally use "I am a warrior" and "control your breathing, you are fine." It may sound silly, but it works for me and many other athletes I know.
11. Don't try anything new on race day!
That includes clothing choices (hello, possible chafing!), shoes (blisters, ugh), and fuel (no one likes to vomit during their race). Stick with what's tried and true, and save the new for your next training session.
Put these racing tips into place, and then just trust that you've done everything you need to show up at your race ready to kick some serious butt. You can do it!
Share with me: Do you find any of these racing tips above helpful? Or do you have another strategy you'd like to share?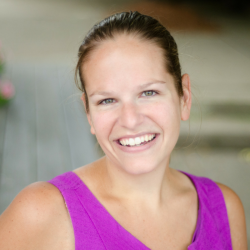 Chrissy Carroll is a Registered Dietitian and USAT Level I Triathlon Coach. She specializes in sharing nutrition and fitness tips, as well as recipes, for runners, triathletes, and active women.Chrissy holds a Bachelor's Degree in Nutrition, a Masters Degree in Public Health, and is also an ACSM Certified Personal Trainer.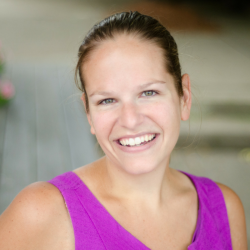 Latest posts by Chrissy Carroll (see all)