If you're been around the blog for a while, you know that I own another business where I organize corporate wellness programs.  It's a blast, because I get to develop and plan tons of seminar topics about health, teach fitness classes, and more.  There are several amazing consultants that work for me at different sites too.
I thought I'd do a little crossover post today about ways to stay well at the workplace – because that's where most of us spend the majority of the day!  Even if you work at a small company or you know there's not a budget in place for workplace wellness, there are still lots of low-cost ideas that you can personally start to implement or suggest to the higher-ups.
There are benefits to both you and the company.  For you, getting healthy at work can mean less time sitting throughout the day (which many of you may have heard about as a risk for health problems, even outside of your exercise routine), better nutrition choices, reduced disease risk, less stress, a boost in your mood, and better relationships with other coworkers.  For the company, workplace wellness initiatives often lead to a better corporate culture, happier employees who are more productive, reduced sick and disability days, and lower health care claims.  Win-win!
Here are 15 easy low-cost ideas that you could start to implement in your workplace:
Have a meeting or celebration coming up?  Bring in a healthy snack instead of the typical muffins, cakes, and cookies.  Try a fruit salad, veggies with guacamole or hummus, or this amazing quinoa salad that I can't stop eating (seriously, it's so good).
Organize a lunch-time physical activity break with a group of your coworkers or employees.  It could be something as simple as going for a walk outside, or something unique like bringing in a fitness DVD that you all do in the break room.  Even a 40 minute lunch can be divided into 20 minutes of walking and 20 minutes of eating.
Implement "jammin' minutes."  This is a concept that has grown popular in some school environments, and translates well to work environments too.  Once every so often (preferably every hour), you all can take a x minute(s) power break where you do exercises like jumping jacks, squats, lunges, etc.  It can be company wide, department wide, or just you and your office buddy.
Place signs near the elevators encouraging people to take the stairs.
Start an after-work running club or intramural athletic team. Or consider organizing a group to participate as a team at a local 5K race.
Have green space outside?  See if the company would be open to a small office garden.  Or check if this can be done indoors with windowsill herbs.
Contact a local farm share / CSA program to see if they would do a delivery to your office with enough interested participants.
Trade healthy recipes one day at lunch with your coworkers.
Or consider a weekly lunch club – once a week, someone prepares enough of a healthy recipe for everyone participating, and the person bringing lunch rotates from week to week.
Organize a healthy potluck lunch where everyone brings in a nutritious option to share.
If you have a company cafeteria, ask that the nutrition information be posted so you can make more educated choices.
Ask around to see who has a fit bit, pedometer, or uses a certain fitness app.  Then organize a month-long challenge, like meeting a certain number of steps per day or logging food a certain number of days per week.  Consider having everyone toss a small amount of money into a pot, and whoever does the best throughout the challenge wins the cash.
Plan a bike-to-work day event.
Have a small meeting planned with one or two others?  See if they would be open to a walking meeting outside, rather than sitting inside the conference room.
Reach out to local massage schools to see if students would be interested in giving free or low-cost chair massages as a way to meet their practice hours.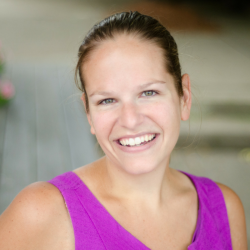 Latest posts by Chrissy Carroll
(see all)