Yesterday, I mentioned that I was surprised to find out Superbowl Sunday ranks as the second biggest day for food intake – falling only below Thanksgiving Day! Woah. That's crazy. According to previous research from the Calorie Control Council, most people will take in about 1200 calories worth of snacks during the game – not including any meals the rest of the day or afterward.
So to help those of you looking to have some healthier options on your party table, I've reached out to some of my favorite bloggers for their favorite game day recipes – enjoy these 16 healthy superbowl recipes! You'll find some new ideas plus healthified versions of old favorites. Enjoy…
Appealing Appetizers
Roasted Buffalo Chickpeas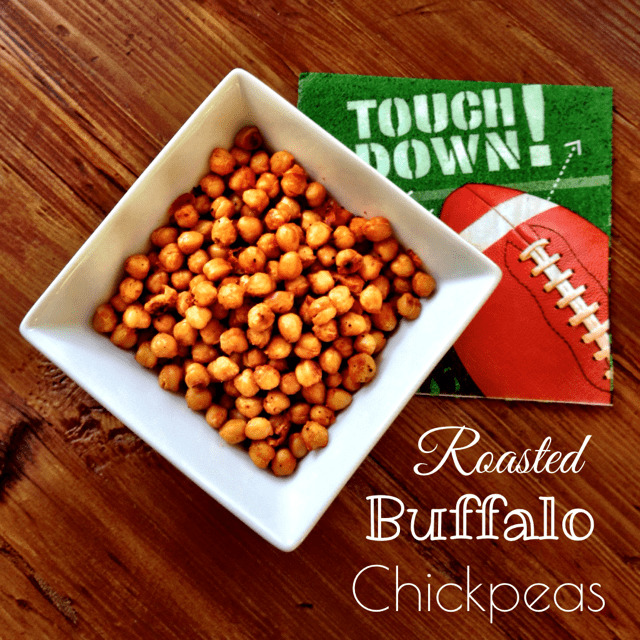 If you're craving the flavor of buffalo wings but don't want all the deep fried fat and calories that come along with them, give these roasted buffalo chickpeas a try! When roasted, chickpeas have a bit of a crunchy texture – plus they are packed with fiber and flavor. My tip: this recipe calls for ghee (clarified butter) but if you don't have that you can easily sub an oil of your choice to make these. Visit The Fit Foodie Mama for this Roasted Buffalo Chickpeas Recipe!
Sweet Chili Sweet Potato Fries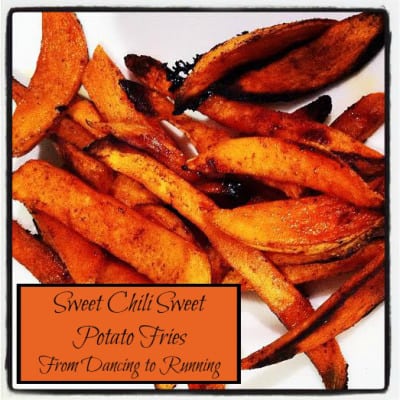 Sweet potatoes are packed with Vitamin A, and taste sooo yummy. These sweet potato fries are baked – not fried – and combine smoky chili powder with sweet honey and cinnamon for a great flavor combination. Visit Dancing to Running for this sweet potato fry recipe!
Jalapeño Cheddar Sweet Potato Puffs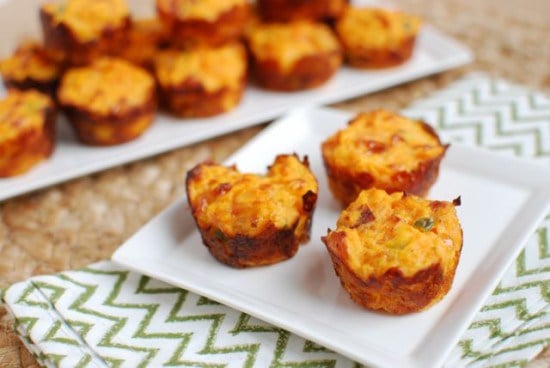 My mouth is watering just looking at these Jalepeno Cheddar Sweet Potato Puffs from The Lean Green Bean. These little puffs are cooked in a mini muffin tin. They combine sweet potato and egg with a little bit of cheese, bacon (just a few strips to add flavor), and jalapeño. It's all those ingredients you love, in one dish. My tip: If you want to reduce the calories even more, you could consider using a 50% reduced fat cheese if you'd prefer (I like the full-fat stuff, but there are some pretty good reduced fat varieties out there – Cabot is one of my favorites).
Football Deviled Eggs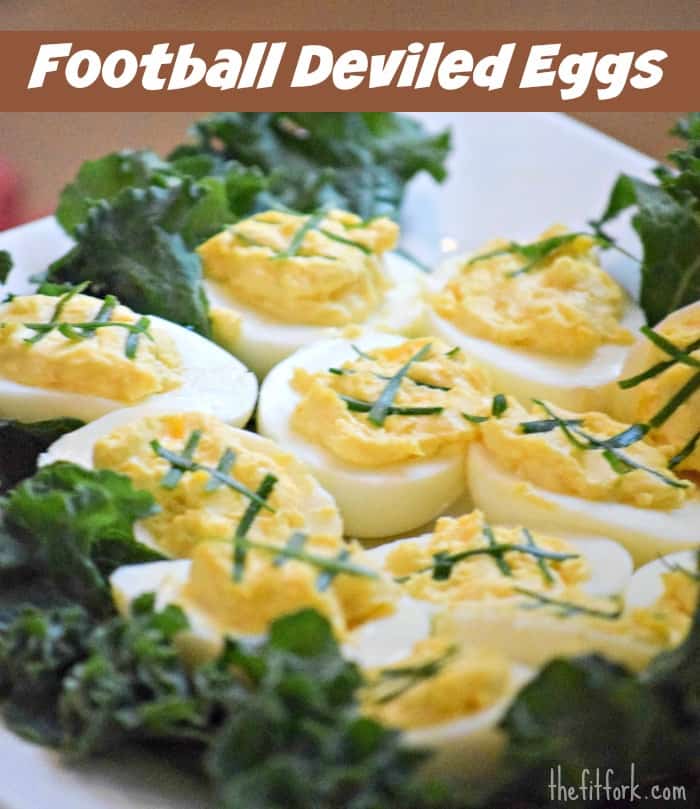 Seriously, how adorable are these football deviled eggs from The Fit Fork?! I love it. Eggs are one of my favorite foods (and have been one of my pregnancy cravings) – they're rich in protein and are typically inexpensive. This recipe uses plain greek yogurt instead of mayo to cut back on calories, add additional protein, and make these a healthy game day option.
Turkey Bacon Wrapped Stuffed Dates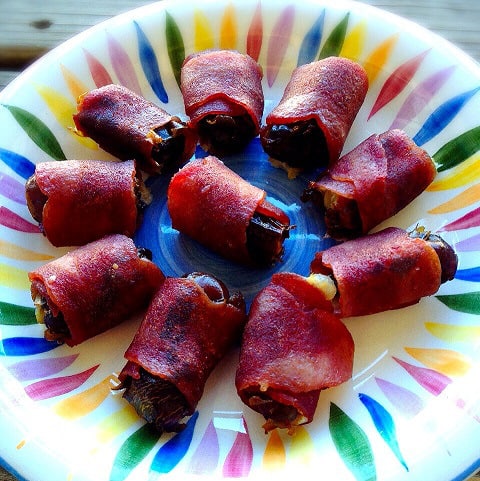 Sweet dates, salty bacon and cheddar, and some sunflower seeds for texture – yum! Each rich ingredient is only used in small amounts though, making them a healthy appetizer option. Again, if you want to cut back on calories, you can always consider a reduced fat cheddar cheese. Find the recipe for these turkey bacon wrapped stuffed dates over at The Fairy Burger, and then whip 'em up this Sunday for a great appetizer.
Sweet Potato Pizza Bites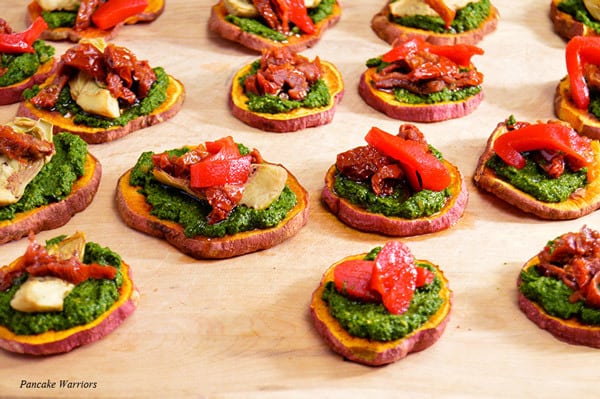 This sweet potato pizza bite recipe from Pancake Warriors is simple but brilliant – you use slices of sweet potato instead of mini pizza crusts to make this appetizer! You boost the veggie content of the dish while still getting a nice little holder for your pizza ingredients. This recipe is vegan and uses a pesto sauce, but you can easily mix it up and add whatever you want to top your "pizzas".
Delectable Dips
Texas Caviar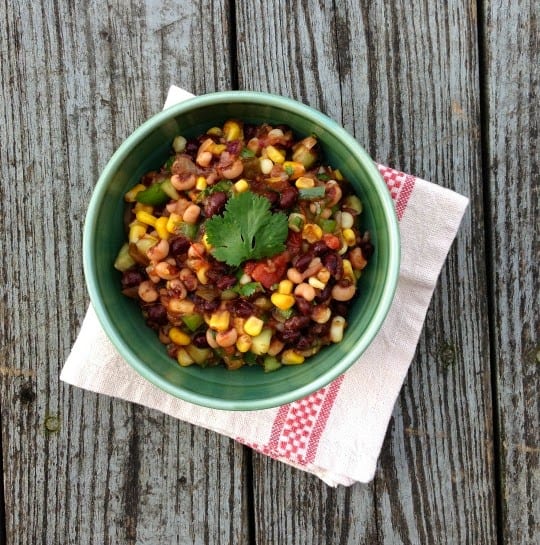 This texas caviar recipe from "Me and My Pink Mixer" is basically a hearty salsa-style recipe that includes beans and black eyed peas. It's super simple to make – you can't mess it up. You can seriously eat it right out of the bowl, or on some tortilla chips. It's a great one to fill you up.
Skinny Spinach Artichoke Dip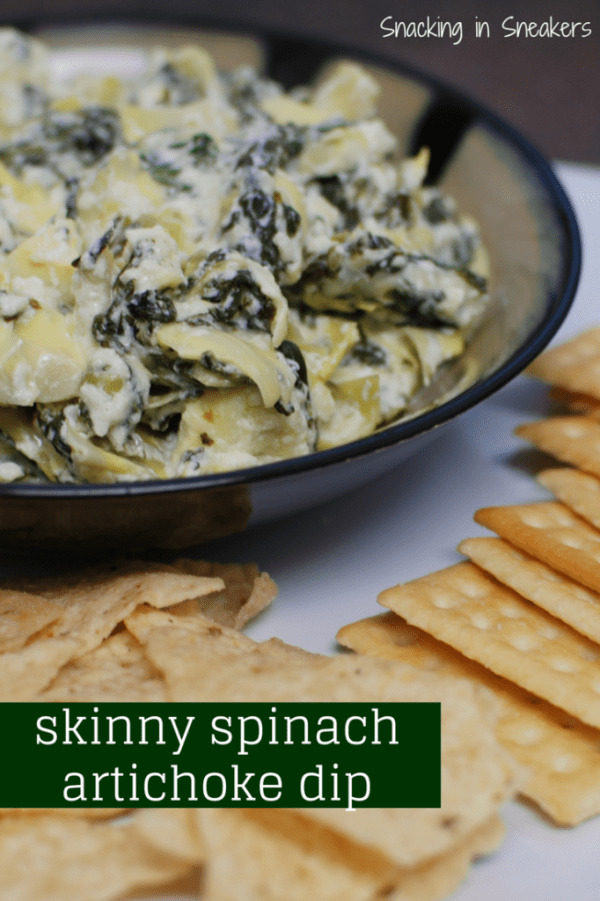 I'll throw one of my own into this round up, because it's delicious and I think it's a pretty traditional football dip – skinny spinach artichoke dip. In my version though, I cut back on unhealthy fats and calories by using greek yogurt instead of cream cheese, and reducing the amount of the mayo and sour cream. It's still got all those great flavors though, so enjoy sans guilt.
Black Bean Dip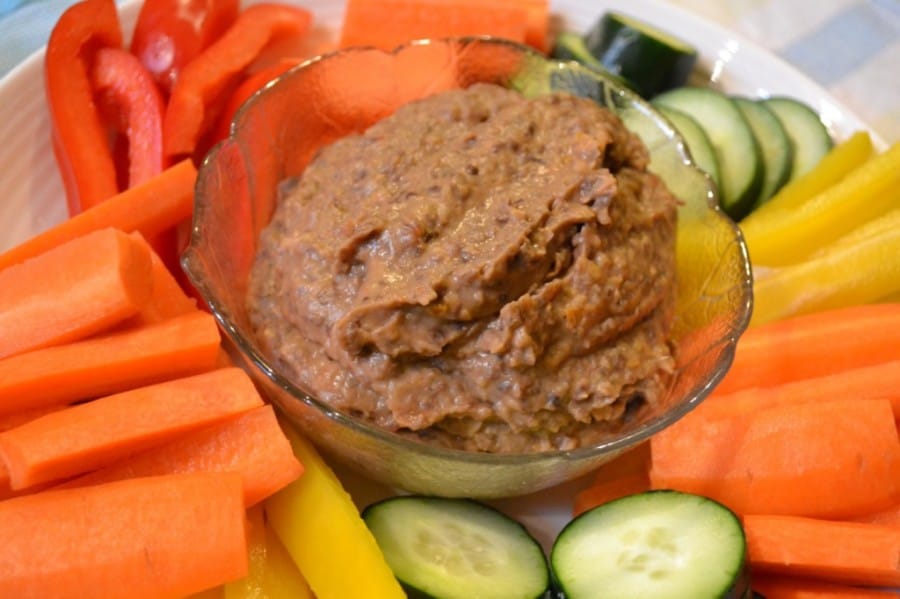 Black bean dip is a great choice for Superbowl Sunday, because the fiber and protein in the beans will help to fill you up – and prevent you from feeling hungry by halftime. This simple black bean dip recipe from Wildly Fit is super easy to make using just 6 ingredients, and can be served with sliced veggies (best choice!) or tortilla chips.
Black Bean Dip with Feta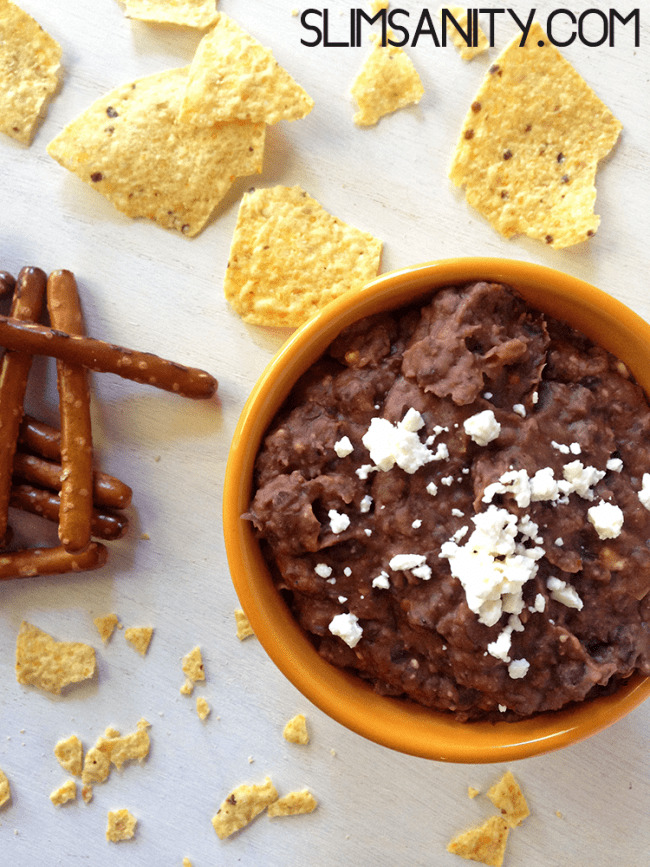 Here's another black bean dip recipe from Slim Sanity, and I decided to add this one to the list too because of the awesome flavor that comes from the addition of feta cheese. Yum!!
Smoky Chipotle White Bean and Lentil Dip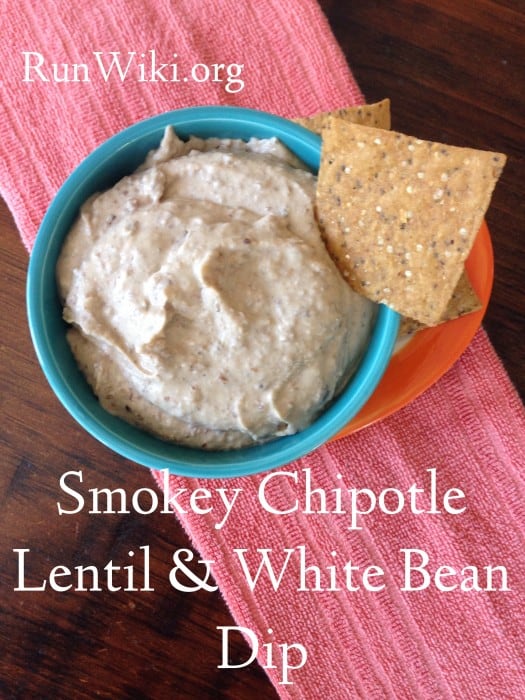 I really like that this smoky chipotle dip recipe from Run Wiki includes both beans and lentils – two budget-friendly, protein-packed, fiber-filled, plant-based sources of goodness (think I got enough hyphenated phrases in there?). The addition of chipotle peppers adds a smokiness that will please everyone at the party.
Sweet Potato and Pumpkin Dip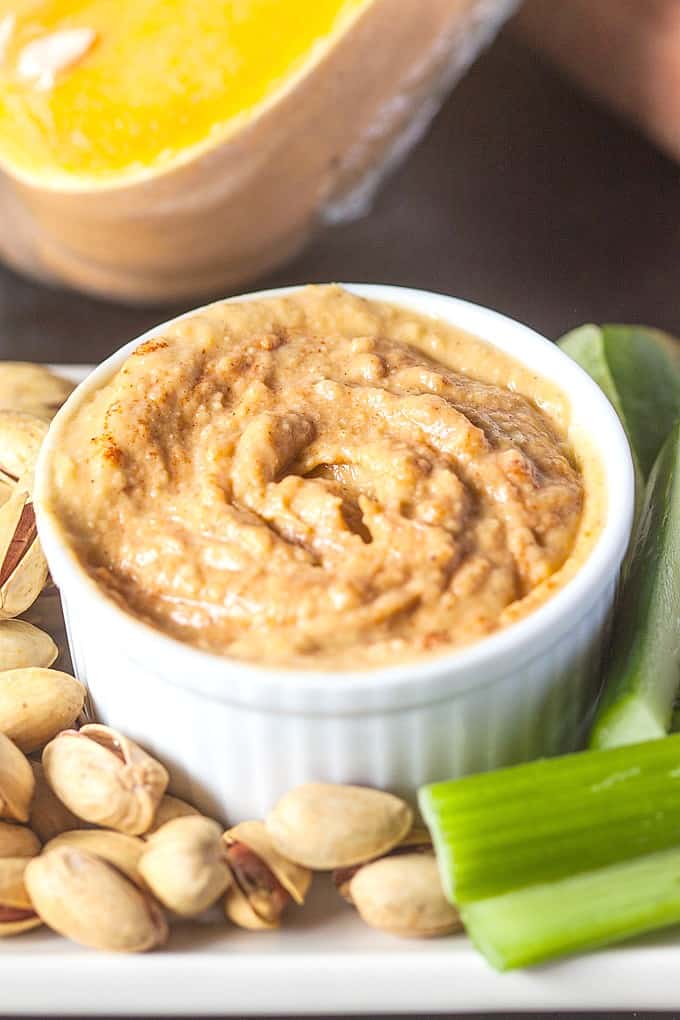 This recipe is loaded with Vitamin A, and has healthy carbohydrates from the starchy vegetables. Spices like cumin, paprika, and cayenne help to tame the sweetness and make the flavor pop. I added this to the list because it's not a traditional dip, so it's a fun new one to try out! Find the sweet potato and pumpkin dip recipe at The Big Man's World.
Craveworthy Chicken
Crockpot Buffalo Chicken Soup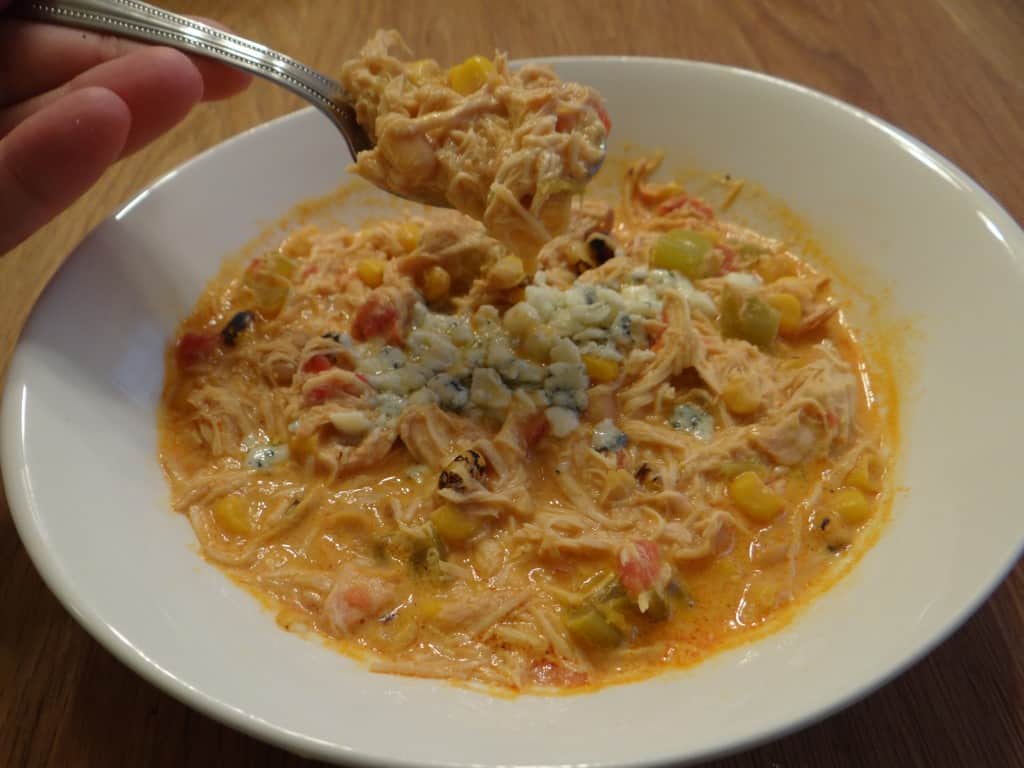 This is another great healthy recipe if you're craving that buffalo flavor. You can throw this in the crockpot a few hours before game time and have a big pot of soup ready for everyone once the game starts. My tips: if your chicken breasts are large or you are trying to save money, I'd probably cut down to 2 or 3, rather than 4. I know chicken will dry out in my crockpot on low for 8 hours, so I'd modify that to 6. Find this crockpot buffalo chicken soup recipe at Coffee Cake and Cardio.
Spicy Gluten Free Chicken Tenders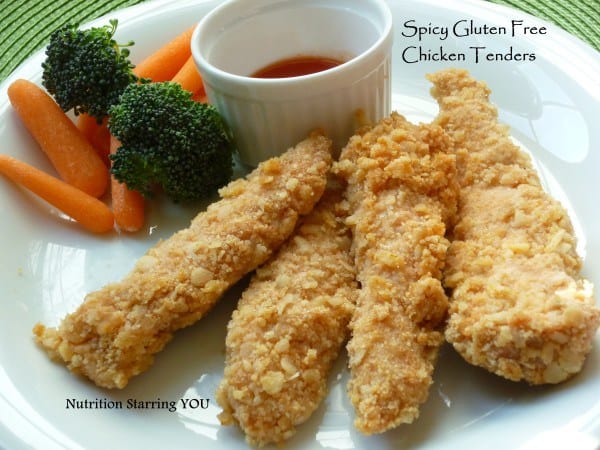 For those superbowl fans with a gluten intolerance or sensitivity, give these spicy chicken tenders from Nutrition Starring You a whirl. They are first dipped in greek yogurt and sriracha, and then are "breaded" with brown rice cereal (rather than flour). Then they are baked instead of fried. A great healthy option for anyone to try out, whether you need to go gluten free or not.
Healthier Boneless Buffalo Wings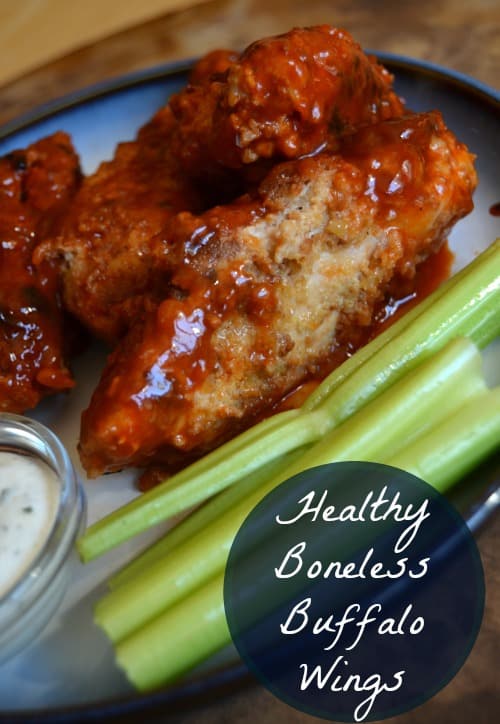 This recipe uses chicken breast that's coated in whole wheat bread crumbs and pan fried in just a smidge of oil to make your boneless wings a little healthier. You'll then coat them in sauce and pop 'em in the oven for a few minutes to finish off the cooking. Yum! Find the boneless wing recipe over at Kate Moving Forward.
Sweet Stuff
Chocolate Peanut Butter Banana Bites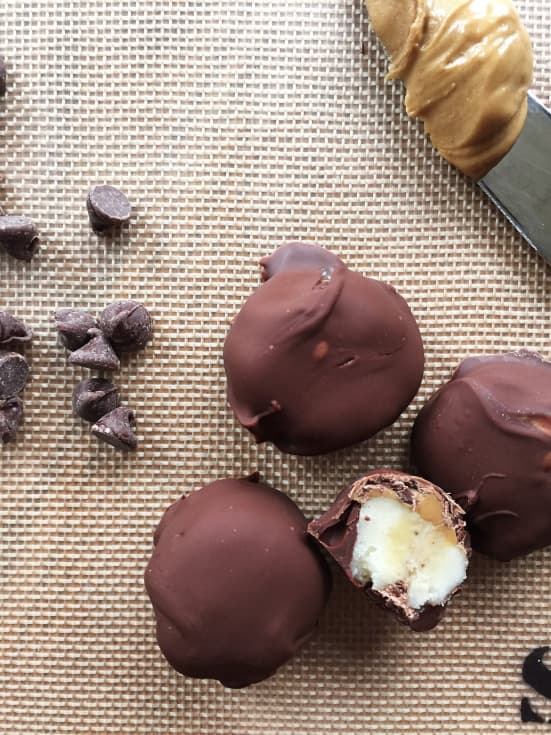 This is an easy 3 ingredient healthy dessert than can be made ahead of time. It's super simple – slice bananas, add peanut butter (or another nut butter), dip in melted dark chocolate, and freeze. Check out Hello Fit for the chocolate peanut butter banana bite recipe that includes specific directions. A perfect thing to make ahead of time on Super Bowl Sunday, and take out when your friends are ready for a sweet treat.
Guilt Free Caramel Corn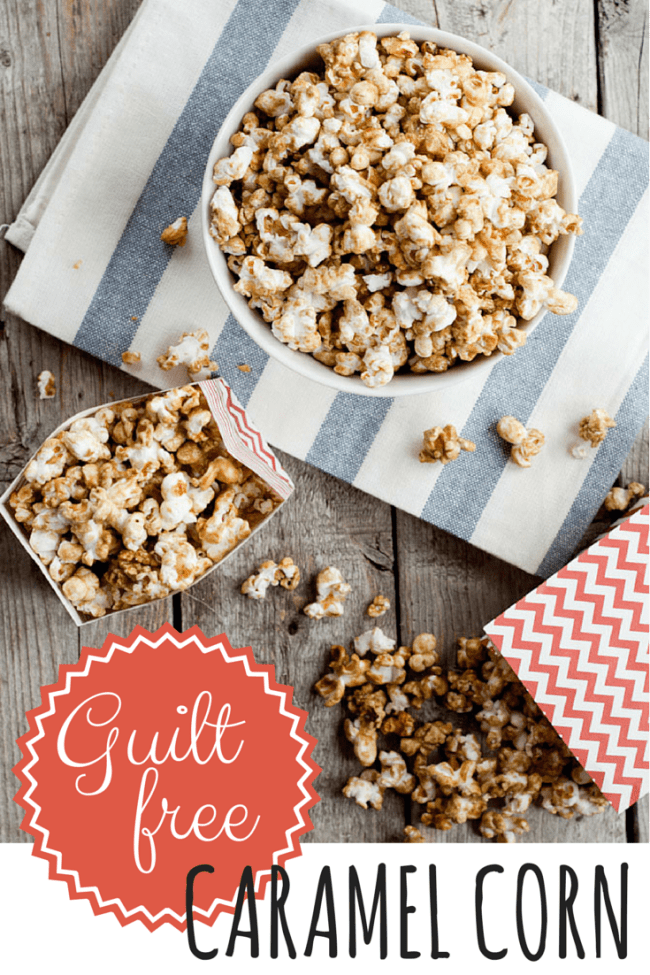 This guilt free caramel corn recipe from Simple Roots Wellness uses sorghum syrup rather than traditional sugars, which is sweet but not quite as sweet as maple sugar or honey. The result is a caramel corn that contains fewer grams of sugar per serving than traditional versions, while still retaining that delicious flavor. My tip: Keep in mind this recipe is for 16 servings, so if you plan on eating this alone or with a few friends, you may want to halve or quarter the recipe.
And that concludes our list of 16 healthy superbowl recipes! Have more healthy recipes that you love to make on game day? Feel free to share 'em with us in the comments!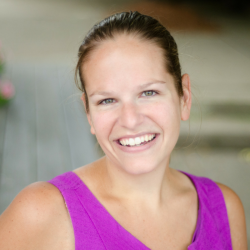 Latest posts by Chrissy Carroll
(see all)