Yay – I've got my 2015 goals listed! I spent last night using the wheel of wellness printables to really self-evaluate how I feel about the different areas of my life right now, and where I'd like to see them go over the next year. And then rather than make a big overarching resolution, I like to set goals for each area that I think are achievable.
For sharing – and maybe some accountability too! – here are my 2015 goals by category:
Fitness
Participate in the Spark Strava Challenge in January, as I'm able. This challenge involves running (or probably walking, in my case) 15 miles/week during January. Treadmill workouts do count! I put the "as able" part in here, because I'm 30 weeks pregnant – so if for some reason my body isn't feeling like this is a good goal or this ends up being too much for me, I'm not going to beat myself up for falling short.
Run at least one half marathon this fall. I've done a handful of halves over the past few years, and I think this will be a good goal for me to get back in shape once the baby is born. I'm leaning towards later season races; probably August – November timing. And since I'm on the Rock 'N Blog team this year with Rock 'N Roll marathon, I'm hoping to do Rock N Roll Philly or Brooklyn as part of this goal!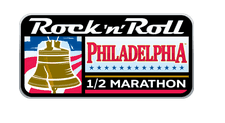 Do at least one triathlon this summer. This is also not really a "new" goal, but I want to make sure I have it on here to keep me accountable post-baby.
Personal Growth
Join a book club (virtual or in-person; ideally this month) – or read at least one book a month if I can't find one. A blogger in one of my groups is looking to start up a virtual book club, so I'm hoping that will pan out.
If feasible, get certified as a running coach through RRCA this year. Their coaching workshops fill up so quickly; I have yet to be able to find one that I can do!
Tackle two creative pinterest projects over the year. I love crafty stuff, but don't normally set aside the time to do it. I'd like to tackle at least two projects this year.
Finances
Continue using "You Need a Budget" (YNAB) to track finances and follow our budget. My hubby Terry and I have been so good the past few months about tracking all our expenses and making sure that every dollar we make has a "job." As our family grows this year, we know it'll be even more important to continue to stick to our budget.
Don't purchase any new books this year from the regular bookstore. They are expensive and usually unnecessary, especially when I can get most of what I want to read at the library. Plus, there are a ton of kindle books that are offered for free, and back in NY there's a used bookstore where I have a ton of credit (so when I visit family I can pop in there too).
Decide on a whole month to not go into Target at all (I'm leaning towards May). I spend too much in there, even if I'm just running in to grab one thing. A month-long fast will be good for me, haha.
Physical Environment
Organize the baby's room so it's ready by March. We have this goal broken down further – like put together the crib, wash & organize clothes, etc. Each weekend we are trying to tackle some stuff so it's ready by March.
Discard or file paper clutter as it comes in each day. I have a bad habit of letting mail and other paper clutter pile up. My goal is to just go through it each day as it comes in, and then either trash it or file it in the appropriate place.
Create a cleaning schedule for the apartment by February. I think I'd feel more organized if I wrote out a monthly to-do list.
Set aside items we don't need in the next two weeks, and post to facebook yard sale sites, craigslist, and ebay. I don't like clutter, and this will help us get rid of a few things we don't need. Donate whatever doesn't go by the end of January.
Career/Business – Blog
*Big Goal*: Grow blog followers from 10,000 views per month to 50,000 views per month. If you want to help me get there, feel free to share the blog with your friends, family, neighbors, annoying coworker – anyone! 🙂
Create a blogging editorial calendar in January for 2015 to better organize my posts and social media efforts. I found some cute printables online that I think will make this a fun project.
Add products for purchase to the blog by March. I have a few ideas like meal plans and training plans, but if there are other things that you would find helpful – let me know!
Create a youtube channel by March. I actually already have a few videos, but have yet to post them!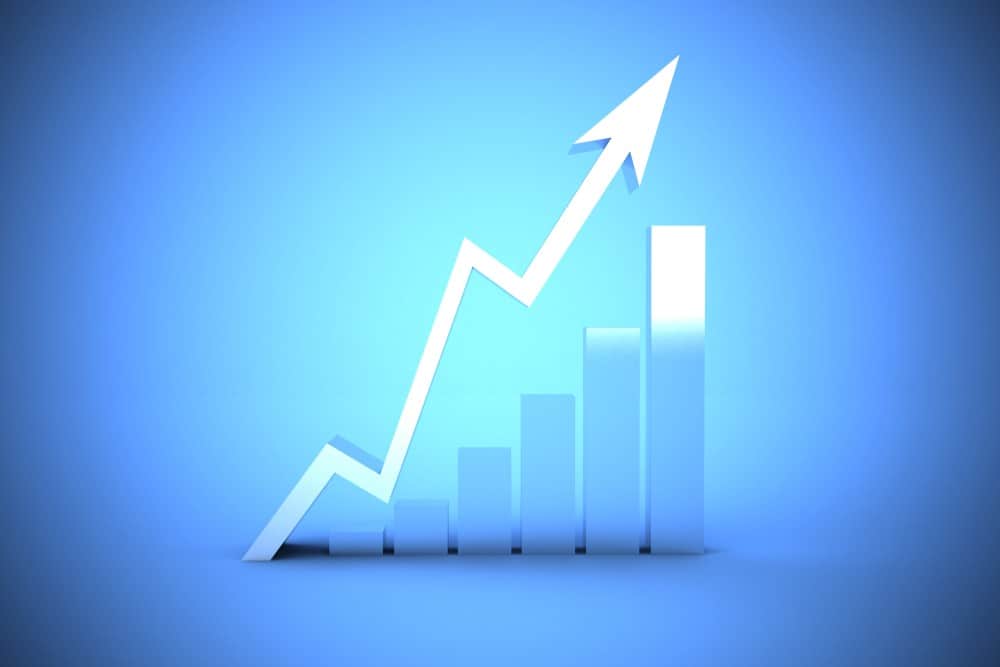 Career/Business – Corporate Wellness
*Big Goal*: Increase total revenue by at least 10% over the year.
Schedule one Monday a month throughout the year to stay up to date on bookkeeping. Biweekly would be even better, but I'm trying to be realistic here given my history of procrastinating on this.
Create master email templates for common responses by February. A little systemization would probably save me a lot of time in business, so this is a first step.
Update corporate wellness seminar list in January. I have a few new offerings I want to add!
Go to at least 4 networking events or business conferences throughout the year (one each quarter).
Nutrition/Diet
Make meals to freeze in February. I hear from everyone how helpful this is with a new baby, and it's an easy thing I can do ahead of time.
Lose the baby weight by the end of the year. I know I'll be quick to jump back into the fitness side of things, but my diet has gotten a bit more lax during pregnancy. I'm hoping to reign this in and lose the baby weight by the end of 2015. That gives me about 9 months, which I think is definitely doable.
Relationships
Read "What to Expect the First Year" so I have some idea of how to actually take care of a child. I'm feeling vastly unprepared, haha. I hope this is a normal feeling.
Schedule a get together with a friend at least once a month. Since we moved, I'm a bit further from friends so I want to make it a priority to get together with friends once a month.
Schedule a date night out with Terry at least once a month. When Terry and I are in budget mode, we try to avoid going out and spending money often. But we've got a few gift cards to various places that'll make perfect date nights, and I've always got my eye out for inexpensive things to do as well!
Emotional/Spiritual Health
Read at least 3 spiritual books throughout the year (one can include re-reading Beth Moore's "So Long Insecurity" book, since I haven't read this in a while and want to re-read it!).
Practice gratitude before dinner. Simple, but I don't do if often, so I want to focus on this.
Next December – Do 25 Random Acts of Christmas Kindness ("RACKs"). I did this last year and loved the way I felt more connected to the season.
At least once a month, write/draw/paste in my inspiration journal. I love this. I have a journal that is kind of like a mixture of inspirational quotes, goals, and vision board images – see photos below. Every time I take it out I love looking through it.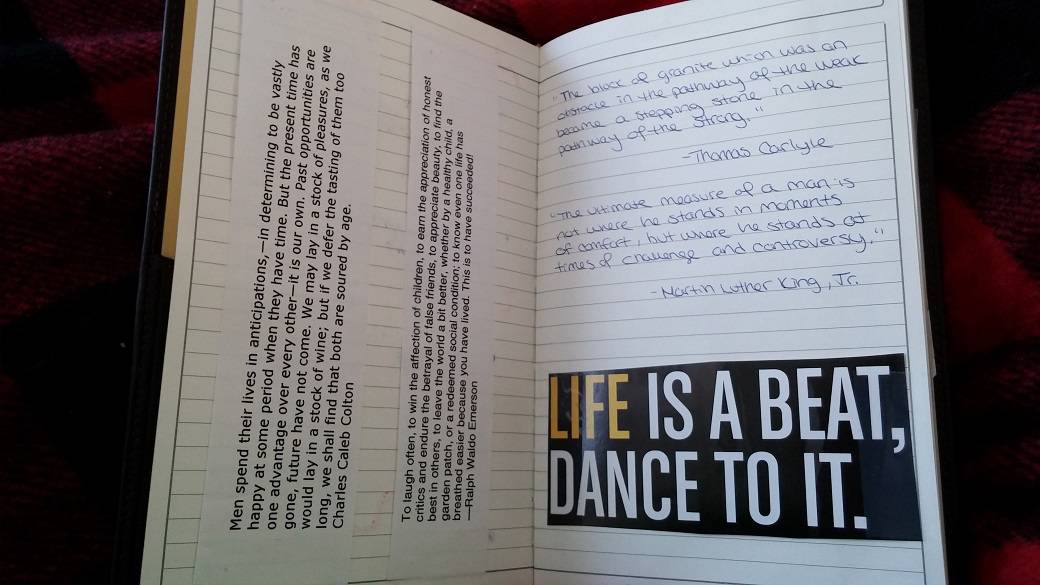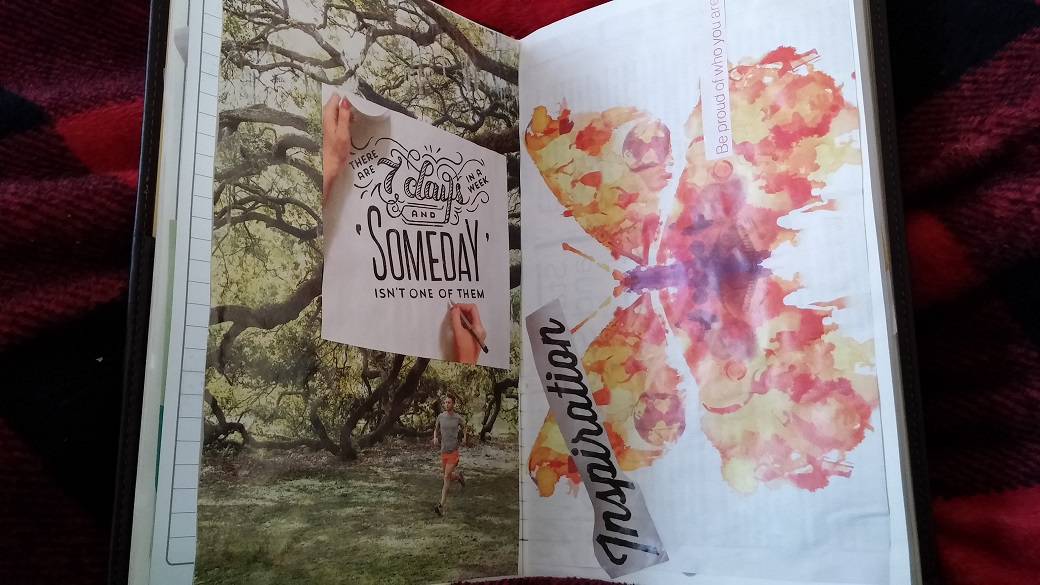 There you have it – my complete list of 2015 goals!
Share with me: What's your resolution(s) or goal(s) for 2015??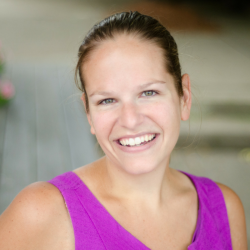 Chrissy Carroll is a Registered Dietitian and USAT Level I Triathlon Coach. She specializes in sharing nutrition and fitness tips, as well as recipes, for runners, triathletes, and active women.Chrissy holds a Bachelor's Degree in Nutrition, a Masters Degree in Public Health, and is also an ACSM Certified Personal Trainer.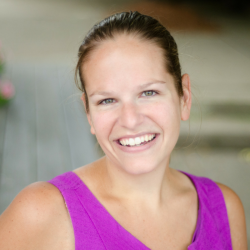 Latest posts by Chrissy Carroll (see all)