At midnight on Thanksgiving night / Black Friday morning, my hubby and I were hanging out in line waiting for Sports Authority to open. Yes, we are those people who wait in lines in the cold & snow. People always laugh that we like to go to Sports Authority on Black Friday, but really – what better spot for two athletes to go?!
As we were waiting in line, I was doing some wall squats to a) kill time, b) fit in fitness, and c) stay warm! I'm sure everyone was looking at me thinking 'what is she doing…"'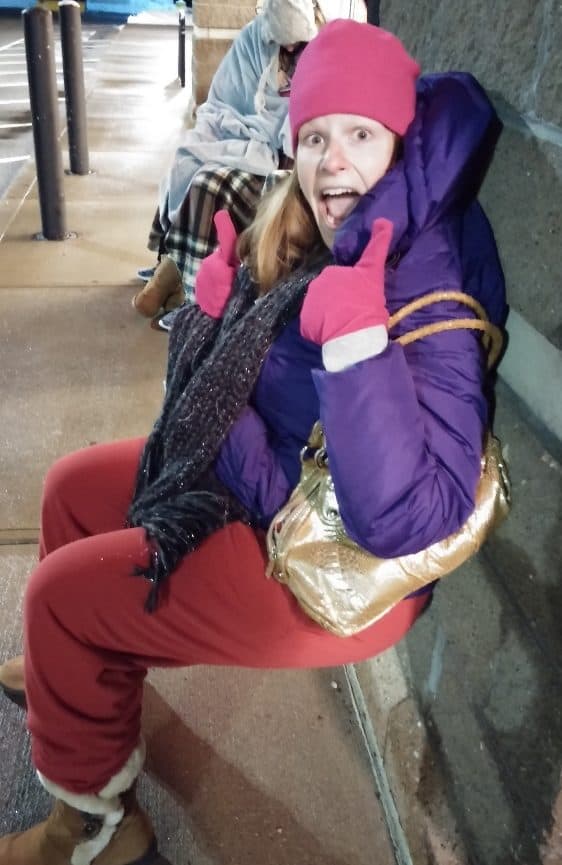 That night got me thinking about how it's possible to fit in fitness anywhere. Whether you are waiting in line on Black Friday, stuck working long hours at the office, or feeling overwhelmed at home by the kiddos – there are ways to get in some exercise throughout your day.
Here are 22 ideas for you to fit in fitness anytime, anywhere…
At Home:
1. Got stairs in your house? Jog up and down them for an easy workout you can fit in anytime you have a few spare minutes.
2. Use regular household items as substitutes for weights to strength train – for example, bottles of laundry detergent can be great for this purpose.
3. Visit your library and check out some fitness DVDs that you haven't tried yet. Use them to add variety to your current routine, or to start building a new routine. (If you love one, order it!)
4. Body weight exercises can be done anytime. If you're watching TV, fit in strength training during commercial breaks – push-ups, squats, lunges, planks, tricep dips using a chair, etc.
5. Browse youtube for fitness videos, and bookmark or pin them so you can quickly bring them up when you have a free 10 minutes. (For inspiration, check out our post on the best free youtube fitness videos).
6. Really pressed for time? Do calf raises or squats while you brush your teeth.
7. Turn up the radio and dance around. You can do this anytime at home for a boost of energy and fun.
At Work:
8. Keep a pair of dumbbells or a resistance band at your desk. Take a few minutes each hour to do a different exercise, like bicep curls or shoulder presses. Or, do so while you're on the phone. I'm a big fan of exercising during conference calls – just remember to still pay attention! 😉
9. Consider getting a mini cycler to pop under your desk so that you can pedal while working. Or, use a standing desk or treadmill desk.
10. Hold walking meetings rather than sit-down meetings, especially for 1-1 or small group settings.
11. Use a portion of your lunch break to go for a walk, do some jumping jacks, or any squeeze in any other exercise you find appealing. Even 5 to 10 minutes a day adds up!
12. Live close to the office? Consider biking to work in the warmer months. It's great exercise and better for the environment.
13. Waiting for something at the copy machine? Pretend to jump rope (i.e. jump, just without the rope). You'll burn up to 10 calories a minute!
Out & About:
14. If you're heading out shopping (probably on your list of things to do this holiday season!), choose the parking space furthest away. You'll get extra exercise in from the longer walk in, as well as the longer walk out when you're even more challenged with the items you're carrying. Plus, you won't have to deal with other people vying for a space, and will be less likely to get your car dinged up.
15. If you're taking public transportation anywhere, hop off a stop or two early and walk the extra distance.
16. Have a few minutes to spare inside while waiting for someone? Do some wall push-ups, squats, or lunges while you wait.
17. If you bring your kids to activities, consider getting some exercise while they are busy. For example, walk around the fields while your daughter is at soccer practice, or fit in some body weight exercises while your son is at a boy scout meeting.
18. Use a pedometer or fitbit to encourage you to step up your activity level throughout the entire day.
19. Plan social events around a workout, instead of the standard food and drinks. Think of fun activities like roller skating, jumping at an indoor trampoline park, or going snowshoeing. You get to bond with friends or family, and fit in fitness at the same time.
20. Take the stairs instead of the elevator or escalator.
21. At the grocery store and have a few extra minutes? Combine a random act of kindness this season with a little exercise and help carry grocery bags to the cars of elderly shoppers.
22. Carry a basket rather than push a shopping cart when you are doing small grocery shopping trips – you'll be forced to use those arm muscles.
Share with me: How do you fit in fitness anytime, anywhere? Do you tend to stick to a structured routine at a a gym, or do you do little bits of physical activity throughout the day?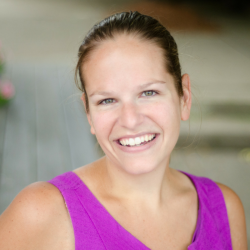 Latest posts by Chrissy Carroll
(see all)