OK, you caught me – "best" is relatively subjective and there probably is no "best" exercise without knowing your particular goals, strengths, and weaknesses. But I needed to draw you in, right?! I do want to highlight what I think are some of my favorite body weight exercises that are super effective – 3 of what I feel like are the best for me personally.
Whenever someone tells me that they feel like they can't strength train because they don't have a gym membership, I like to remind them that there are so many exercises (and variations of those exercises) that you can do using only the weight of your body. Body weight exercises are ideal because you can do them anytime, anywhere. On the phone for a conference call? Do a few squats? Home with the kiddos? Crank out some push-ups.
Here are 3 of (what I think are) the best body weight exercises for women:
Push-Ups – Upper Body
Push-Ups are (I think) one of the most challenging exercises out there for anyone. There are lots of variations on push-ups that you can use to make them easier or more challenging. Depending on your fitness level, there are four ways you can start push-ups (from easiest to hardest):
Wall Push-Up – Place your hands flat against the wall and bring your feet back so your body is at an angle. Push your body towards and away from the wall.
Incline Push-Up – Do a push up leaning against a table or bench. The higher the incline, the easier it should be.
Modified knee push up – On the ground, balance your body on your knees and hands. Your body should form a diagonal line from your knees up to your head. Use your chest and arm muscles to lower body down to the ground and back up again. Keep your neck straight.
Regular Push-Up – On the ground, hold your body up keeping your back flat and your arms straight. Lower your arms towards the ground, and then use your chest and arm muscles to push your body back up. Keep your body straight the whole time.
Here's a quick look at some modified push-ups and regular push ups:
Modified:
Regular:
Squats – Lower Body
Squats work major muscle groups and help give that booty a little lift! They are also super effective for helping runners and other athletes develop more strength to power their legs through runs.
Basic squat form is relatively simple – legs should be a little wider than hip width apart. Bend your legs like you're going to sit down into a chair behind you, keeping your chest lifted and head facing straight. Try to bring your thighs parallel to the ground, or as low as you can comfortably go. Avoid letting your knees go forward over your toes. Bring yourself back up to starting position and repeat.
There are tons of variations on squats. If you feel like going to parallel is too difficult, you might start with more of a 45 degree angle. If you feel like regular squats are not challenging enough, you can add weights (at home you could hold some bottles of laundry detergent, for example), you can make it dynamic with squat jumps, or you can do different variations like sumo squats or pistol squats.
Here is quick video showing basic squats:

Plank Jacks – Core
I LOVE this exercise. You start with a regular straight arm plank –aka holding your body in push up position. Then you'll jump your legs out to each side (like you're doing a jumping jack with your legs from the plank position) and then back in together. It's tough but is an amazing exercise for your core and will also get your heart rate pumping.
Too tough? Try starting with the regular plank alone, or try just stepping each leg out to the side, one at a time, then step them back in.
Here's a video of some plank jacks – the form isn't perfect (my butt should be a bit lower) but you get the idea!
Looking for more? Greatist has a good list of 50 different body weight exercises that I think is a nice roundup of all different types!
Share with me: What's your favorite body weight exercise?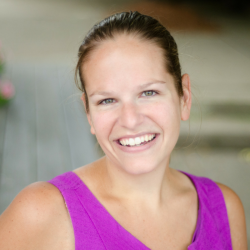 Latest posts by Chrissy Carroll
(see all)