Ever find yourself stuck in the house and wondering how you're going to get in a workout? Maybe you've got some little ones running around and you have to be home with them, perhaps you don't have a gym nearby, or maybe you're waiting for the repair people to come during their 6 hour service window (isn't that the most frustrating thing ever?!). No worries though – today we'll show you 3 easy, cheap ways to workout at home…
1. Online Workout Libraries
I have two favorites here. First, the Self Workout Finder. This tool is great for putting together a workout routine quickly. Visit the website and select the "At home" choice. You can then customize your workout based on equipment (gear or no gear), body parts (full body or targeting specific areas), and time (20, 30, or 45+ minutes). You'll get a list of a bunch of different workouts you can try that fit the criteria you selected. This site is targeted towards women, but don't worry guys – the workout routines are great for men too.
The second option I like is the ACE Exercise Library. This has a huge database of exercises, and also allows you to search based on body part and equipment. What I like about this site is you can also filter based on your level of experience – beginner, intermediate, or advanced.
Here's an easy way to build a total body home workout that incorporates both cardio and strength:
a) Choose 5 to 10 exercises from the ACE Exercise Library. Consider 1 to 2 exercises for each of the following: legs, core, arms, shoulders, chest, and back (if you're looking for an overall full body workout).
b) Once you've selected your exercises, begin by warming up with 5 minutes of marching or running in place.
c) Do 1 set of the first exercise.
d) Do 1-2 minutes of cardio like jogging in place or jumping rope.
e) Do the next exercise, followed by 1-2 minutes of cardio. Repeat until you've finished all your exercises.
f) If you feel up to it, run through it again!
2. DVDs/TV
Fitness DVDs or TV programming can be an easy, cost effective way to workout at home. Here are the most budget friendly options:
a) Check your cable package – certain companies offer an exercise television channel or on-demand options for exercise routines.
b) Check your local library! Many have a considerable number of fitness DVDs that you can check out.
Of course, if you can't get them for free, you can always purchase them. Visit Target, Amazon, or any other retailer that sells DVDs for great at-home workout options. You can find anything from boxing to yoga to strength training, and everything else you can possibly think of!
Here are a few of my personal favorite fitness DVDs (disclosure – these are Amazon affiliate links, which means I earn a commission on qualifying purchases):
Dirty Dancing Official Workout DVD – This DVD is amazing. It's kind of bad in the acting/hilarious sense, but the dances are super fun and get your heart pumping. My friends and I LOVE using this DVD for a silly, entertaining workout (we used to use this at my old office for our physical activity breaks!). Plus, it's on sale on Amazon for only $5.49 today
Jillian Michaels 30 Day Shred – This is another fabulous DVD – great for men or women. It consists of three high intensity 20-minute workouts. It'll get your heart pumping and muscles working!
Tara Stiles "This is Yoga" – In all honesty, I have not tried this yet, but am ordering this set right now! I did yoga with Tara at IDEA World and just found out today that this set existed. I love that there are 4 DVDs in this set with yoga workouts of varying lengths/types – and the set is only $20!
Extreme Makeover Weightloss Edition: Bootcamp – If you watch this show, you're probably familiar with the host of the DVD, Chris Powell. The DVD offers 4 workouts – and each one gets progressively harder. It's great for beginners, because you can start with the least challenging one, and work your way up to the most challenging ones as you improve your fitness.
There's a lot of others I like too, from bellydancing and zumba. And guys, check out the list on the Ask Men website for workout DVD favorites specifically tailored towards men.
3. Multitask with chores
Chores can provide a whole host of cheap ways to workout at home. If you've got cleaning or yard work to do, turn this into an opportunity to get your heart rate moving. Mow the lawn with the push mower instead of the rider. Speed sweep the floors, followed by giving them a good scrubbing by hand (try staying in a squat position as you scrub!). Get outside and start a garden in your yard. Give yourself a time limit to try to beat when cleaning up scattered toys around the house, and run to your different destinations to put them back (think shuttle runs with kids toys and their bins!). You can turn just about any household drudgery into a workout if you put a little creativity into it.
Share with me: What's your favorite way to workout at home?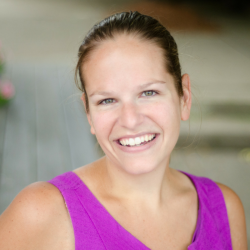 Latest posts by Chrissy Carroll
(see all)