I'm a pretty simple person when it comes to my workout routine. When training for triathlons (and road races), I focus on – and love to – run, cycle, and swim outside. But that doesn't mean I don't appreciate or enjoy trying new workouts. Quite the contrary, I love getting to explore different systems of movement and finding other exercises to enjoy. I like mixing in those with my triathlon training, and even more so during the winter when it's off season for racing.
While I was at IDEA World, I was able to try many new workouts and enjoyed them with some of the most famous fitness faces in the industry. I wanted to highlight 3 new workouts to try – Strala Yoga, U-Jam dance classes, and PiYo. I enjoyed each of these and you may want to try them out too!
Strala Yoga
I really enjoy yoga (despite the fact that I am awful at it, and don't go nearly as often as I should). I love getting to experience different types of yoga classes, because different styles and instructors can make for a completely different experience.
I think a lot of people were surprised at the Showcase Sanctuary Strala yoga class that Tara Stiles provided at IDEA World – I know I was. I didn't expect to hear "Bust a Move" playing while I did yoga, or to hear Tara giggling and running around the room (which was packed with hundreds of people) helping them into handstands. But I'll tell ya what, I LOVED it. Her yoga class was fun, playful, and all about moving in a way that works for your body.
Tara teaches in NYC, but Strala yoga is a branded class so there are instructors trained in her methodology all over the US.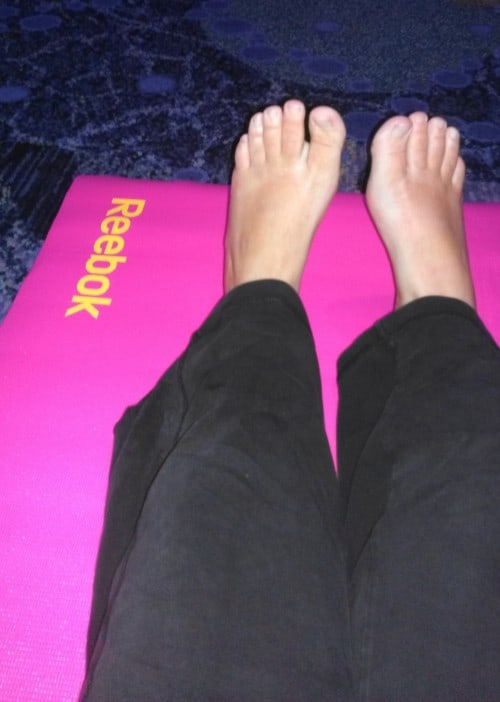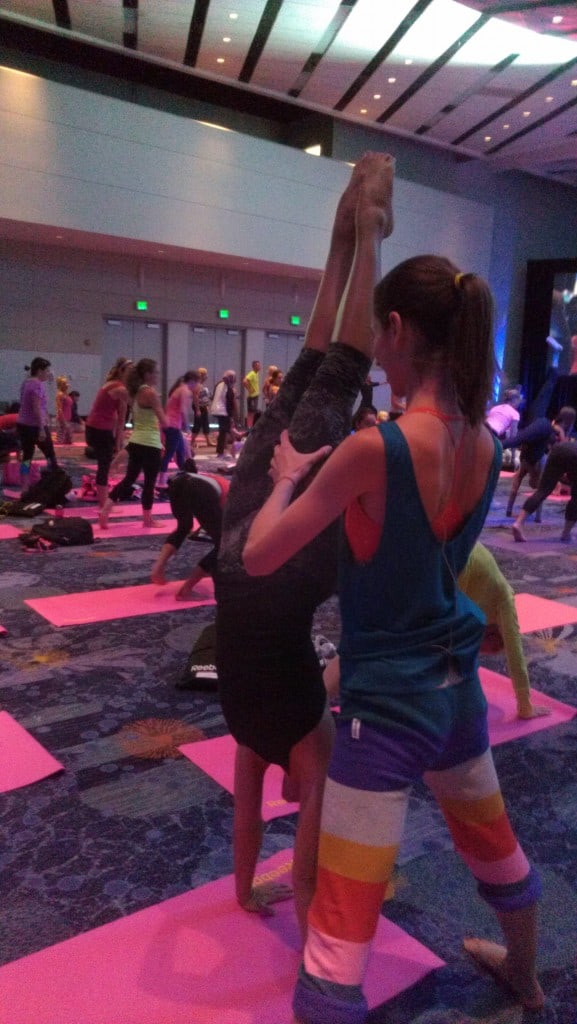 U-Jam
I did an hour long demo of this class during my lunch break one day, and loved it. U-Jam brings the 'flavor' and moves of a hip-hop class, with the energy and party-like atmosphere of a Zumba class. It's definitely a dance fitness class, meaning the focus isn't on the technical nature of the moves but really just on getting your body moving and your heart pumping.
I wish I'd gotten a video of the demo I did, but unfortunately I just snapped a few photos. But below the pictures is a quick youtube clip showing a few dances from another U-Jam class, which should give you an idea of what to expect.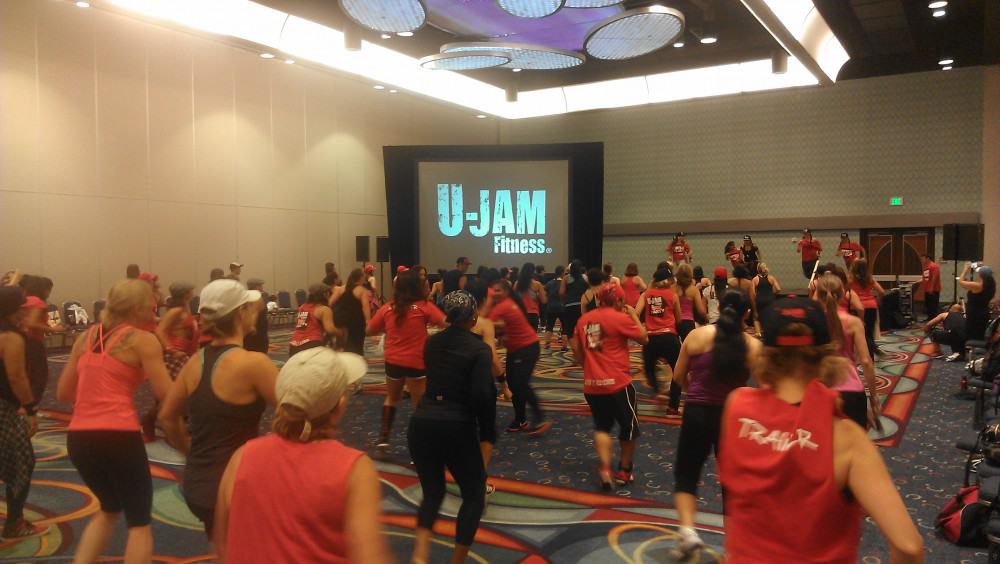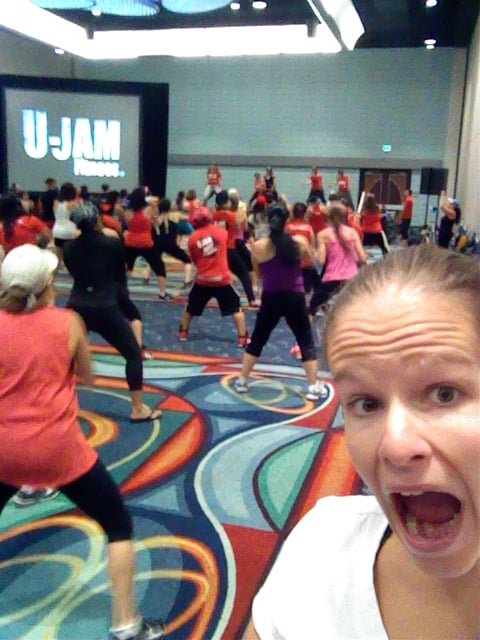 You can find their class schedule on their website – I'd encourage you to give it a try if there are locations near you. Right now, most of the classes are based on the west coast, but there are some in other locations as well.
PiYo
If I had to describe this class, I'd say it's a mix of pilates, yoga, and low-impact aerobics – all in one session. That's kind of a weird thing to imagine (and it was hard for me to imagine it too until I took the class) but it all pulls together into a great workout. Chalene Johnson is the celebrity fitness trainer that developed PiYo, and those of us at BlogFest were lucky enough to get a private group workout with her.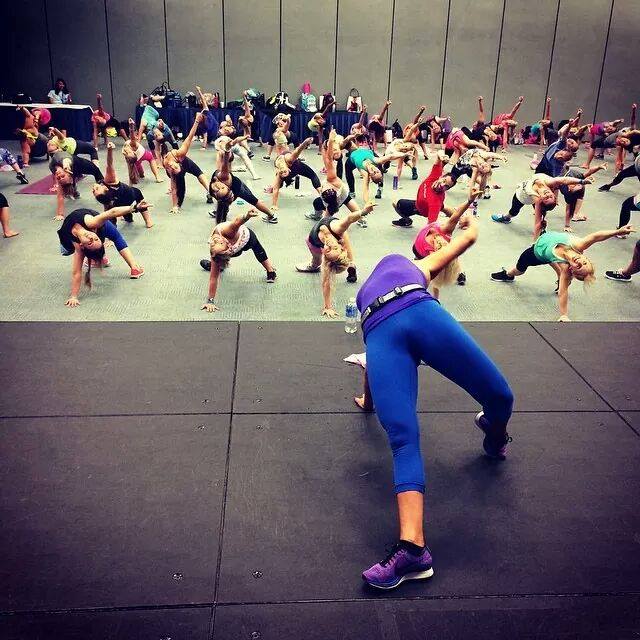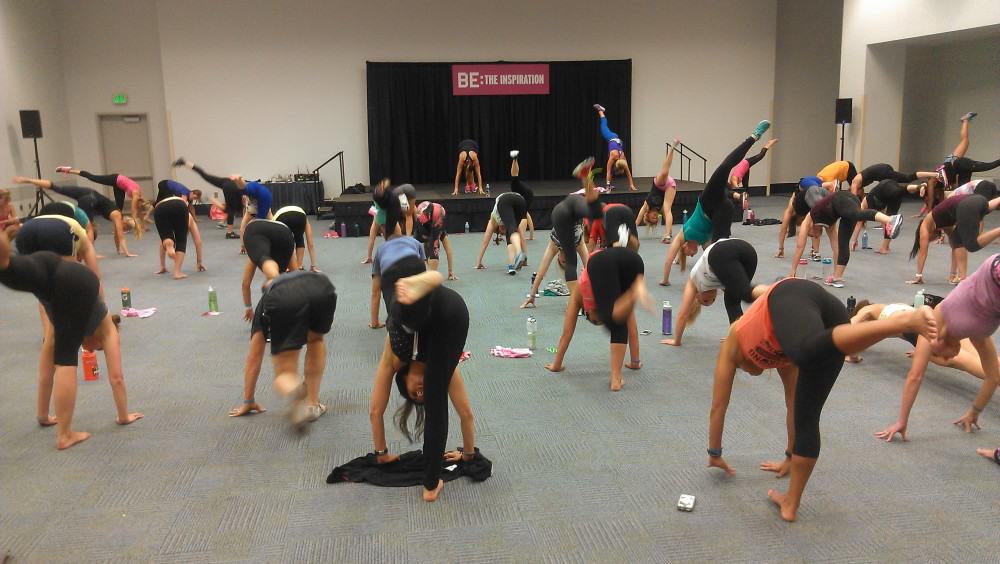 Thanks to Alicia at Never Ever Been Skinny for sharing the PiYo photo at the beginning of this post, as well as the one below!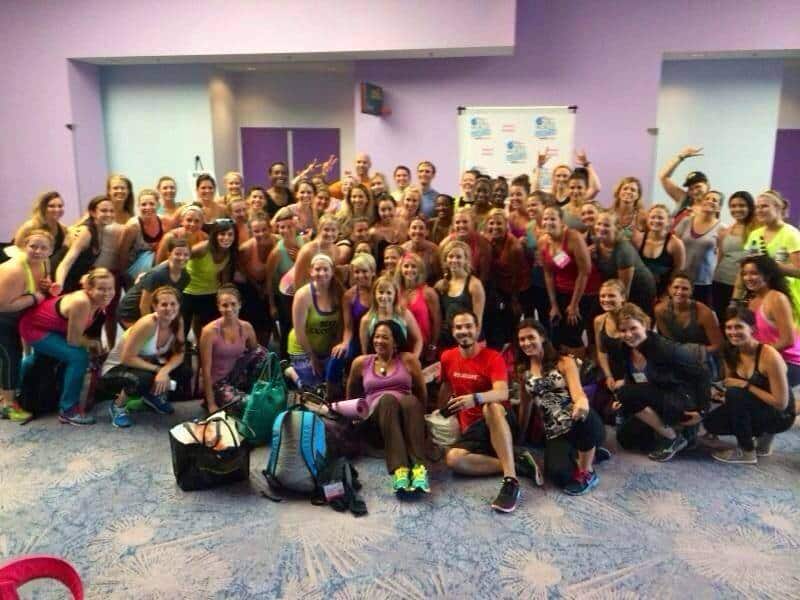 If you're not a huge fan of slowing things down for yoga or pilates, you'll like this class because it's quite fast paced, and you're never in one spot for long. That also increases the calorie burn of the workout, which may be important if you're looking to maximize your gym time. You will also be amazed at the number of different exercises in this workout that challenge your muscles. I was definitely sore the next day, which is a good thing.
Share with me: Which of these workouts do you want to try (or already love)?! Do you know of any other cool new workouts that I should try?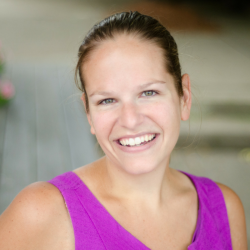 Latest posts by Chrissy Carroll
(see all)