Looking through my wallet the other day, I realized I have an abundance of Regal Cinema gift cards.  They're usually a gift in my stocking at Christmas from my dad, and I haven't been to the movies forever, so I totally forgot that I had them.  It also got me thinking about all the crazy snack options that are available at the movie theater.  I decided I'd put together a quick post on some movie theater nutrition tips.
1.  Get a Small Size Popcorn & Pass on the Butter.
Ah, the standard movie theater snack.  While popcorn itself isn't bad for us – it's actually a whole grain and low in calories/fat on it's own – the way it's cooked, the buttery topping, and the added salt can turn this into a nutrition nightmare.  Just about every theater pops their popcorn in oil (wouldn't it be awesome if they had an air-popped option?!).  There are huge portions served at many theaters, with the large versions at AMC and Regal coming in at over 900 calories and 50+ grams of saturated fat (more than 3 days worth of saturated fat!).  And that's without any added buttery topping!
Even worse, an independent lab test from a few years ago found that some of the actual popcorn batches served contained more calories than claimed.  Regal, for example, claimed that their large contains 960 calories.  The Center for Science in Public Interest tested batches of their popcorn and found the average to be around 1200 calories – 240 calories higher!
Your best bet?  Stick to the kids size popcorn.  Even the regular small versions can pack up to 600-700 calories, while the kid's size popcorns fall around 250-350 calories – a much more reasonable snack.
2.  Skip the Soda.
Those super-sized sodas can pack in a ton of calories and added sugars.  A large soda can be up to 54 ounces at the theater, so even after accounting for ice this can mean about 500+ calories and 30+ teaspoons of sugar (more than several days worth in a few quick gulps).
Your best bet?  Skip the sugary drinks altogether and stick with water or unsweetened iced tea.
3.  Choose Candy Wisely
Those theater sized boxes of candy can contain up to 5 regular sized servings of candy – since when do we need 5 servings during a 2 hour movie?!  The 8 ounce Reeses Pieces packs in 1160 calories and 122 grams of sugar (30 teaspoons) and a 7 ounce Nerds has 790 calories and 185 grams of sugar (46 teaspoons of sugar!)
Your best bet?  There are obviously healthier choices than a package of candy, but if you'd really like to snack on candy – see if the theater offers any regular sized or kids sized packages.  If they only offer giant sized options, consider skipping the candy and looking for a different snack or split the candy with a friend.
There you have it!  Of course, you could also just eat a healthy meal before or after the movie. 😉
Share with me:  What's your favorite movie theater snack?  Are you ever a rebel that brings your own movie snacks with you?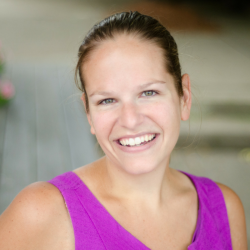 Latest posts by Chrissy Carroll
(see all)