Woohoo – I'm all signed up for the 5K Foam Fest.  I'll be doing the New England event, taking place in Haverhill on June 21st.  But there are also tons of other locations throughout the U.S. – and you have a chance to win a free entry in our race giveaway!
First, I thought I'd share my top 5 reasons why I'm excited to do this event:
1)  I love racing (probably a little too much, considering I think I have a race every weekend for the next few weeks).
2)  A bunch of my friends are signed up for this, and it's the perfect kind of race to do with a group of friends.  I'm all about social events that mix things up with something besides food & drink (though I certainly love food & drink too).  Here's some of the group I'll be running with – the photo is from a 5K we did on St. Patrick's Day weekend.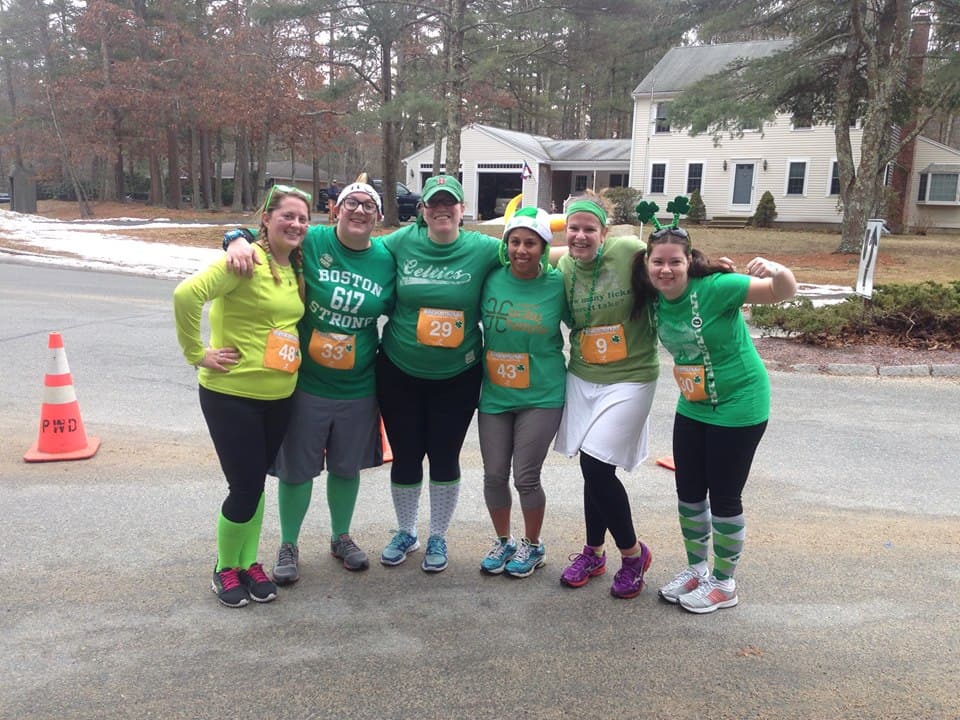 3)  For me, this type of race is a lot less competitive than a traditional road race or triathlon, making it a good one to throw in the mix for a fun, no-stress event.  (I'll be honest though that the thought of an electric mud crawl makes me slightly anxious!)
4)  I'm hoping I'll be able to redeem myself a bit with the obstacles in this race, as the last obstacle course race I did (Extreme Urban Run in Salem) left me as a hot mess of bruises and soreness.  Which happened to be only a week or two before my wedding race – note the lovely bruised legs in the wedding photo below.  I'd like to think I increased my strength a bit since then and will ease more gracefully through the obstacles (maybe?) this time.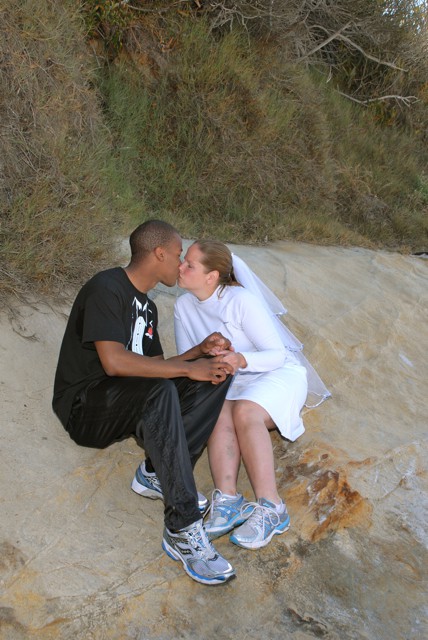 5)  I also kind of love anything foam related – see foam party photos with my old roommate on our trip to Mexico, 2009, below.  A race that includes foam?  Even better!
Here's how the race directors describe 5K Foam Fest:
Whether you're a mud run junkie or a foam fatale, we know you've got a dirty side. But when it comes to lacing up your shoes for another fun run, you're gonna want a little more than just some dirt on your shirt. So come get filthy clean!
The 5k Foam Fest has all the mud pits and trail running obstacles you could ask for − but with a foamy fun twist!
If you're ready to sign up now, head on over to the 5K Foam Fest website – you can use code FF3876 to get $5 off your registration.
Or try to win your entry in our race giveaway!  Of course you do!  Enter using Rafflecopter below.
Fine print:  You must be 18 to win.  Free race entry can be used for any 5K Foam Fest race, for any wave that is not sold out.  You will be provided with a code to register upon winning.
Disclosure:  I was provided a free entry, but was already registered for the race, so I am using that free entry in a giveaway for you!  As always, all opinions are my own.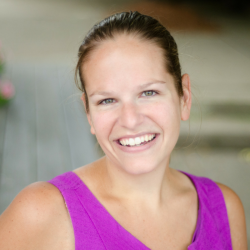 Latest posts by Chrissy Carroll
(see all)