I'm in quite a few triathlon and running groups on facebook, and nutrition is a question that comes up frequently.  Sports nutrition is such an individualized issue – what works for one person may not be best for another.  For example, some people love to fuel with real foods, while others prefer engineered sports products.  Either one is completely fine.  It's all about finding what works best for you.  But there are some general recommendations that I thought might be helpful to share, so today's post is all about sports nutrition tips for runners and triathletes.  Plus, enter the giveaway at the end of the post for a chance to win a copy of my book, "Eat to Peak: Sports Nutrition for Runners & Triathletes"!
1)  Make sure that your everyday diet supports training.
People sometimes go to the extremes when training for an event – either manipulating their diet in a way to try to lose weight quickly or taking the approach that training gives free reign to eat anything desired.  Neither is particularly effective, and both sacrifice training quality.  Instead, aim to eat the right amount to support training without gaining weight (and if weight loss is a goal, focus on that in the off-season or early in training).  Your meals should be made up of a balance of healthy carbohydrates (like whole grains, fruits, starchy vegetables, dairy products, or beans/legumes), lean proteins, and healthy fats.  Each of those has a role and it's wise not to eliminate broad categories of food.
2)  Decide if you need to carb-load before your event.
Your race distance and estimated time on the course will dictate your needs for carb loading before an event.  For events less than 90 minutes – so 5Ks, 10Ks, and some sprint triathlons, depending on distance/speed – there's no reason to carb load.  Your everyday diet and stored energy will get you through the event.
If the event will last longer than 90 minutes, carb loading is beneficial and research shows it helps performance.  There's no need to cut carbs and add them back later; that old school approach is unnecessary.  Instead, eat your regular balanced diet in the weeks leading up to your race, and then 2-3 days before your event start boosting carbohydrates to make up a larger percentage of your meals (about 60-70% of calories).
3)  Plan a stellar race-day breakfast.
The key is that this planning should begin early in your training!  You want to experiment with different breakfast options before your training workouts, so that you know what sits well in your stomach and fuels you best.  Ideally, you should eat a carbohydrate rich breakfast that is low in fat and fiber.  Eat 1 to 4 hours before your event/workout – and the further out you eat, the more food you'll want to take in.  Some of the breakfast options that work well for clients I've worked with include…
Bagel with a little peanut butter or lite cream cheese, and OJ
Oatmeal with fruit and OJ
Cereal and milk with a sliced banana
Frozen waffles topped with fruit
Quinoa with a poached egg
4)  Fuel smart during exercise.
If you're going to be exercising for more than 60-90 minutes, you'll want to take in some fuel while working out.  This can be engineered products like gels or sports drinks, or real food like fig newtons and dried fruit.  I personally like sports drinks or dried pineapple.  Generally, you should aim for 30-60 grams of carbohydrate per hour, and start fueling at the 30-45 minute mark.  And again, whatever you are doing on race day should be something you've practiced with during training – never try anything new on race day!
5)  Plan recovery meals when needed.
Many new athletes overdo recovery meals and snacks.  You don't need a recovery meal after every workout; in fact most research shows that the everyday diet helps most endurance athletes recover just fine.  However, there are a few times when you should focus on recovery meals/snacks:
After a long training session (1.5 to 2+ hours)
If you are doing two a day workouts, then after the first workout
After a race
Your recovery meal or snack should be rich in carbohydrates and also have some protein, and ideally you should eat it within 30 minutes of finishing your workout.  Here are some great recovery options:
Chocolate milk
Breakfast cereal and milk
Peanut butter & banana sandwich
Turkey sandwich plus a piece of fruit
Homemade trail mix using cereal, pretzels, raisins, & nuts
Baked potato topped with salsa and cooked ground turkey or beans
Rice or pasta with chicken
Book Giveaway!
I hope that this post gives you some helpful tips as you start to think about the 2015 race season!  In the meantime, if you feel like you would love to read even more about sports nutrition, enter below to win a copy of my book "Eat to Peak: Sports Nutrition for Runners and Triathletes."  I'll pick one winner and will mail you out a copy!  *Must be 18 years or older; must live in the US.*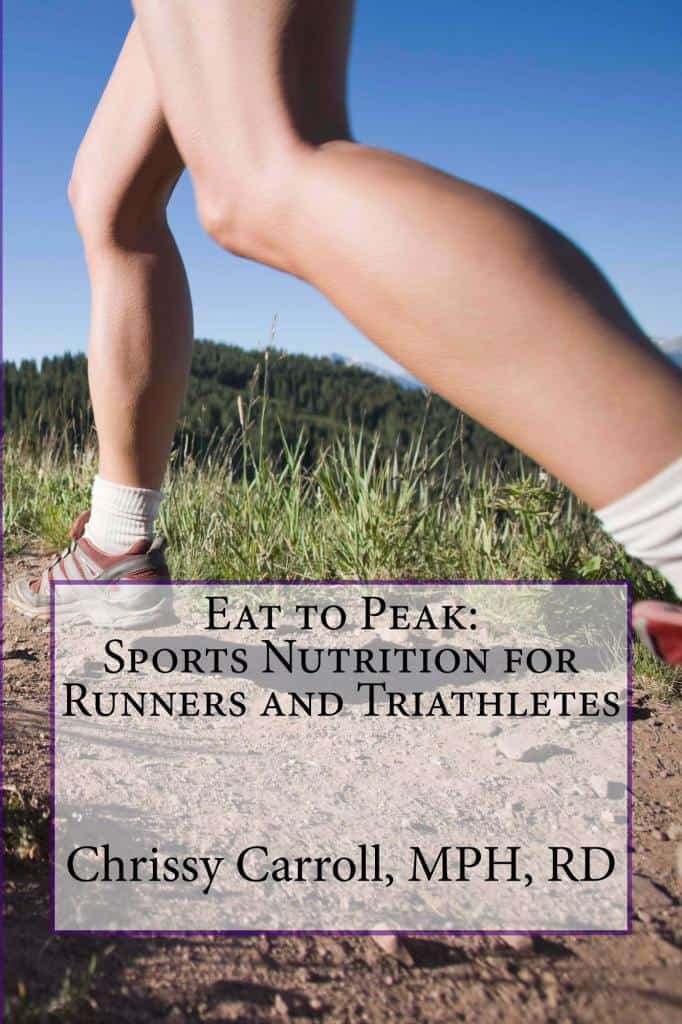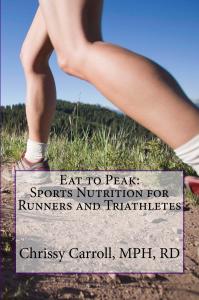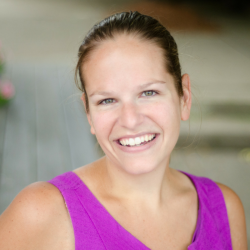 Latest posts by Chrissy Carroll
(see all)