Fellow blogger and RDN, Jenna from Make Healthy Easy, offered to do a guest blog post sharing what she has learned from running – and I thought it was a great idea!  I know for me, running has taught me a lot about myself.  In training for races, I've learned that I can push my body a lot further than I ever imagined.  I learned that tough training days are sometimes the days that shape us the most.  I learned that running is an amazing anxiety reliever (so much so that when I'm cranky, my husband will say "I think you need to go for a run", haha).
Anyway – enjoy Jenna's takeaways and tips in this post…
5 Things I've Learned from Running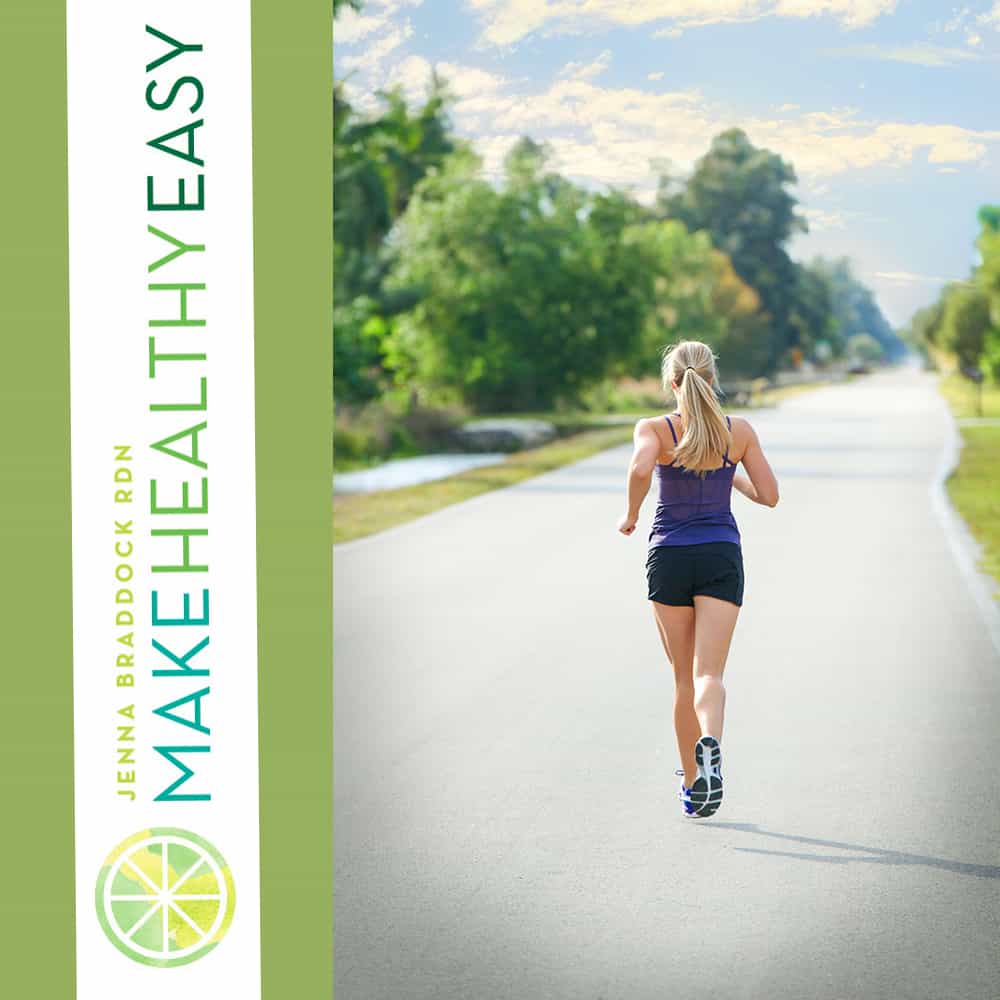 Hi! I'm Jenna from Make Healthy Easy. I am so excited to support a fellow RDN here, especially as she embarks on her greatest and most wonderful challenge of being a mama!
I consider myself a "runner". And by these "", I mean I'm not fast or naturally gifted with athleticism. I just like to put one foot in front of the other and finish a race. My longest distance is a half marathon and my preferred and favorite distance is the 15K.
But the great thing about running, whether you are a Runner or a "runner" like me, is that it's not really about the title at all. I've found in my years of running that it's much more about what you learn about yourself and your body. It's about accomplishing goals, big and small, and the community of support you surround yourself with.
So, without further ado, here is my top 5 things I've learned from running:
1.  You're a lot stronger than you think.
If I had a dollar for every time I went just a little farther than I thought I could or mentally felt like doing, I'd be having a shopping spree right now. Running has taught me that I need to stop telling myself I can't. I can do a lot of things if I really want to do them. Anytime you tell yourself I can't BEFORE you've even tried or started, change that mental talk to I can! Now I don't mean that you should ignore signals from your body or life to slow down, stop or just take a break. There are times when it's really important to stop and rest, but it usually comes after you've begun. Just don't tell yourself "no" before you even tried. I've surprised myself and I think you will too.
2.  Some things are better enjoyed on foot.
Running has allowed me to be more present in places I would otherwise just quickly drive through. Of course it's amazing to be on a trail or in a park that you couldn't otherwise experience. But even in my neighborhood or community I notice things and people that I otherwise wouldn't have made time for. Running is a way to be more present in our lives. It's a gift.
3.  Recovery matters.
For a while, I didn't put a lot of effort in to my recovery plan. I was just pretty darn happy to finish my run. As I get older, I have realized how important it is to recover. When I take the time to stretch both immediately after my run and a few hours later, I feel so much better the next day. I've also been diligent to incorporate foods proven to improve recovery, like tart cherries. This running season I am regularly making my Chocolate Tart Cherry Recovery Smoothie and have noticed a significant reduction in my muscle soreness.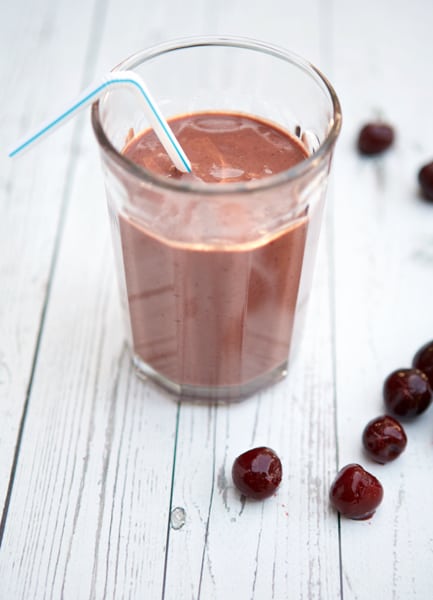 4.  Running (or walking) with friends builds strong relationships.
I've had the pleasure of having regular running buddies in my life before having kids. (Not that I couldn't have them now, it was just a lot easier then.) There are two people in particular that have became some of my dearest friends due to running together. When you run (or walk) with a friend, you have nothing to do but be with each other and talk. These days, with technology all around, there are very few opportunities like this. I TREASURE walks or runs with friends. They are a gift and certainly make exercising way more fun.
5.  The right shoes do matter.
When I first started running in college (very casually), I just threw on whatever sneakers I had and went for it. Then, the knee pain starting showing up. Eek! Fast forward a few years and I got connected with my local running store and learned about my running gait and striking points. I learned that I need a "neutral" shoe and when I put it on my feet, BAM! The stars aligned and my feet and legs were so much happier. So I've learned to take care of my feet and buy shoes regularly. It stinks to have to pay $100 every 6 months, but I've learned it's better than paying for physical therapy or worse, not being able to run at all due to pain or injury.
The cool thing is that I expect to learn a lot more as I continue run and even walk. With each run or goal I accomplish, new lessons unfold. Lately, I've been listening to podcasts, like Serial and Freakanomics, while I run so I am literally learning something new each time.
I hope that one of these 5 lessons resonates with you. Sometimes just a fresh perspective is all you need to enjoy running again or set yourself up for a great run. Please share with us one thing you learned from running too.
Happy pavement pounding!!
About Jenna Braddock
Jenna is a Registered Dietitian Nutritionist and Certified Specialist in Sports Dietetics. More importantly, she is a mom to boys and wife to a football coach. She shares real life strategies for better health and doable and delicious recipes on her site Make Healthy Easy. She is active on Twitter, Instagram, Facebook, and Pinterest sharing her real life antics.
Share with me:  What have you learned from running?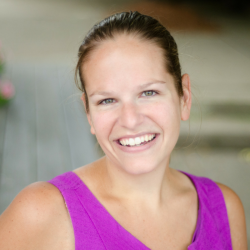 Chrissy Carroll is a Registered Dietitian and USAT Level I Triathlon Coach. She specializes in sharing nutrition and fitness tips, as well as recipes, for runners, triathletes, and active women.Chrissy holds a Bachelor's Degree in Nutrition, a Masters Degree in Public Health, and is also an ACSM Certified Personal Trainer.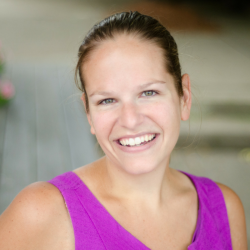 Latest posts by Chrissy Carroll (see all)