Struggling to stay healthy while traveling is a common concern I've heard from many of my clients. Whether it's traveling by air or car, frequent or long travel days can make it tough to stay on the right track. In the last few weeks, I've bounced between NYC, Vermont, and Florida, with an upcoming trip next week to California – so I'm right there with ya in those struggles. Here are my 5 best tips for eating healthy and staying fit while traveling:
1) Bring a reusable water bottle. I think this is a simple, easy tip that anyone can implement. You can bring an empty reusable water bottle through security, and then just fill up your bottle at a water fountain afterward. Flying tends to be dehydrating, so this gives you a way to stay hydrated – plus, it saves you money (no spending $4 on a bottled water) and is eco-friendly. And with either flying or car trips, if you have enough water to drink, you can skip purchasing the calorie- and sugar-laden sodas.
2) Pack healthy snacks. I always wonder what the airport people think of me when I go through security, since I pack a lot of food. I do the same on car trips. It always tends to be a little more than I think I'll need, because you never know when you're plane is going to be delayed or you're going to get stuck in traffic. Better to be over prepared with lots of healthy snacks then to find yourself ravenous and wanting to grab crappy convenience food.
Here are some of my favorite options for traveling:
Fresh fruit

Dried fruit

Nuts. Pistachios and almonds give you the most bang for your buck – fewer calories and more protein compared to other nuts)

Turkey jerky. If you know me personally, you know I am obsessed with Perky Jerky (and no, I have no affiliation with this company, I just love it). It's got no added nitrates, doesn't have a ton of ingredients, and is super moist and tasty. The original style bags I get are so filling, and only have 120 calories per bag with 22 grams of protein.

Whole grain crackers

Whole grain dry cereal
If you're in a car rather than a plane, you can pack a cooler and get a little more creative – sandwiches, slices of cheese to go on those whole grain crackers, yogurts, etc.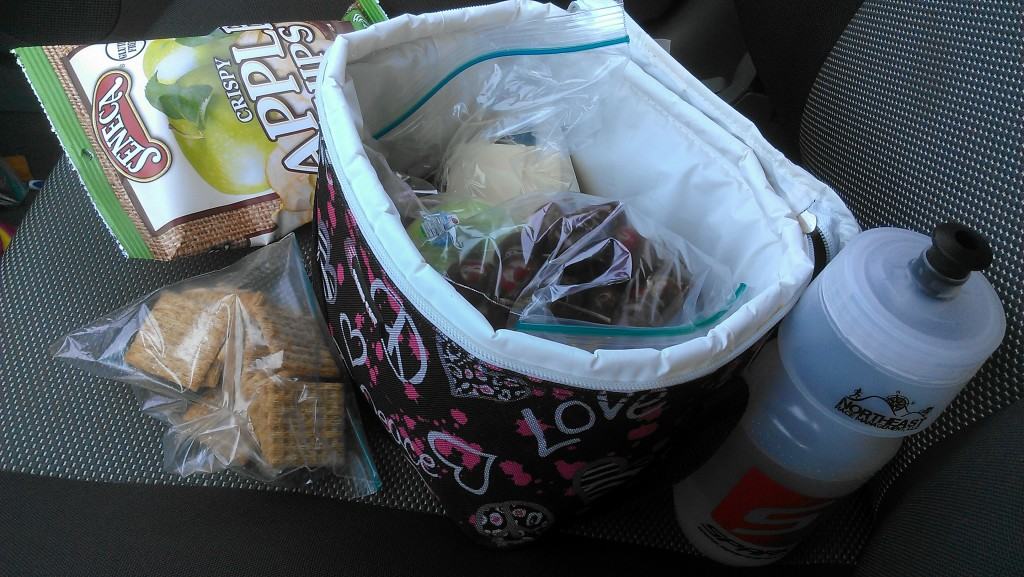 3) Stay busy at the airport. If you've got a lot of time to kill before your flight, or you're stuck with a delay, find something to keep yourself busy. A lot of times, I think we tend to "treat" ourselves in these situations with food – i.e. "Great, I'm stuck here for a few hours, might as well grab a ____ (drink, ice cream, chocolate bar, etc)." Instead, think of other ways you might treat yourself – maybe with a new book or magazine, a chair massage, or a manicure.
4) Along the same lines, find ways to stay fit at the airport if you have extra time! Throw a lightweight resistance band in your purse or carry-on, and pull it out if you have time to kill. You can do so many different exercises with a resistance band, from bicep curls to tricep extensions to shoulder presses and more. Body weight exercise are great too – squats, lunges, and planks, for example.
Or check out the ever growing list of airports that have unique fitness opportunities. San Francisco and Dallas Fort Worth both have yoga rooms with mats available. Minneapolis-St. Paul airport offers a 1.4 mile walking path with 0.1 mile markers on the terminal signs so you can see how far you've gone. Philadelphia International Airport now has 30 exercise bikes scattered throughout the terminals. Check out the options where you'll be traveling!
(If you're wondering, yes – I typically wear sweatpants when I travel. It's more comfortable on the plane anyway! And let's be real, the days of being upgraded just because you are dressed professionally are pretty much gone – you've gotta have serious frequent flyer miles to be eligible, or just get very lucky.)
5) When eating on the go, make smart choices. This applies whether you are eating dinner at the airport or grabbing food on a long car ride. Consider the following suggestions…
Looking for salads, wraps, or sandwiches from grab-and-go kiosks or restaurant take-out options.

It's smart to avoid fast food as much as possible, but if you're grabbing it once a month on the road, it's not the end of the world. But think through what options are best for your personal goals. For example, a regular cheeseburger from McDonald's is only 290 calories. Combined with a side salad and some apple slices, that's a reasonable meal even if you're trying to lose weight. (Of course, the processed meat isn't ideal, but an occasional one won't kill ya).

Sit down restaurants likely have more variety and options to customize your meal if you have the time. Most sit down restaurants will have some type of grilled/baked fish option. Grab that with some veggies, and you've got a healthy balanced meal.

If you're options are limited, see if you can combine a not-so-healthy choice with something that's a little more nutritious. For example, if you're only option is KFC, maybe go for the biscuit but get the grilled chicken instead of the fried.
Those are my best healthy travel tips!  Share with me: Do you have any healthy travel tips??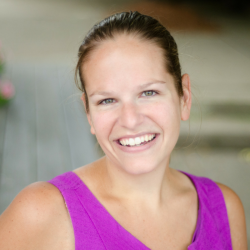 Latest posts by Chrissy Carroll
(see all)