If I told you that a healthy, whole wheat, low sugar, vegan apple muffin recipe existed – would you believe me?
I mean, it sounds like a unicorn in the food world.
But it exists, and I've got it for you today! It's easy to make and is perfect for prep-ahead snacks. I used two of my favorite specialty food products in this recipe (but I'll give you easy commonplace substitutions for each too in case you don't have them!).
*Disclosure – This post contains Amazon affiliate links. We are a participant in the Amazon Services LLC Associates Program, an affiliate advertising program designed to provide a means for us to earn fees by linking to Amazon.com and affiliated sites.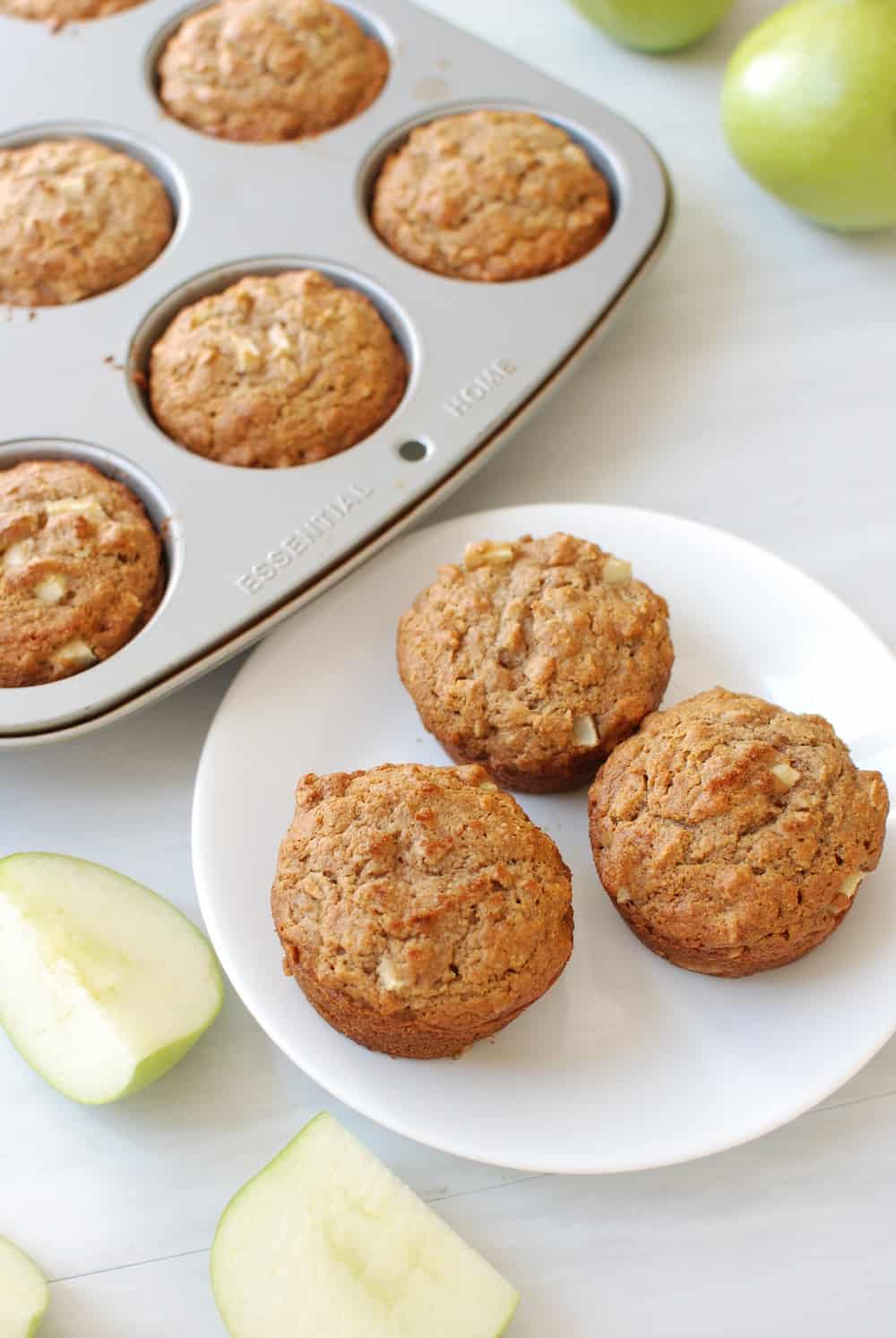 Two Ideal Ingredients for Vegan Apple Muffins:
1. Whole Grain Einkorn Flour
Einkorn is an ancient strain of wheat, thought to be quite different from much of the commercial wheat on the market today. It was almost gone from production until several years back when a group of researchers revived growth in Italy.
What's cool about einkorn flour is that it has more protein and less starch compared to other strains of wheat. Anecdotally, I've heard that some people with gluten sensitivities find they can digest einkorn flour better, thanks to a different genetic structure of the wheat. (Note this is not proven by research yet, and also does not apply to those with celiac disease who must avoid gluten completely.)
Whole grain einkorn flour lends a very light and fluffy texture to baked goods, much more so than regular whole wheat flour. I love to use it in my einkorn waffles and in this vegan apple muffin recipe.
If you don't have any yet, you can grab some whole grain einkorn flour from Jovial Foods on Amazon. Or, simply substitute whole wheat pastry flour. (Whole wheat pastry flour is made from "white wheat" as opposed to regular whole wheat flour which is made from "red wheat". It's a lighter texture and works well for baking.)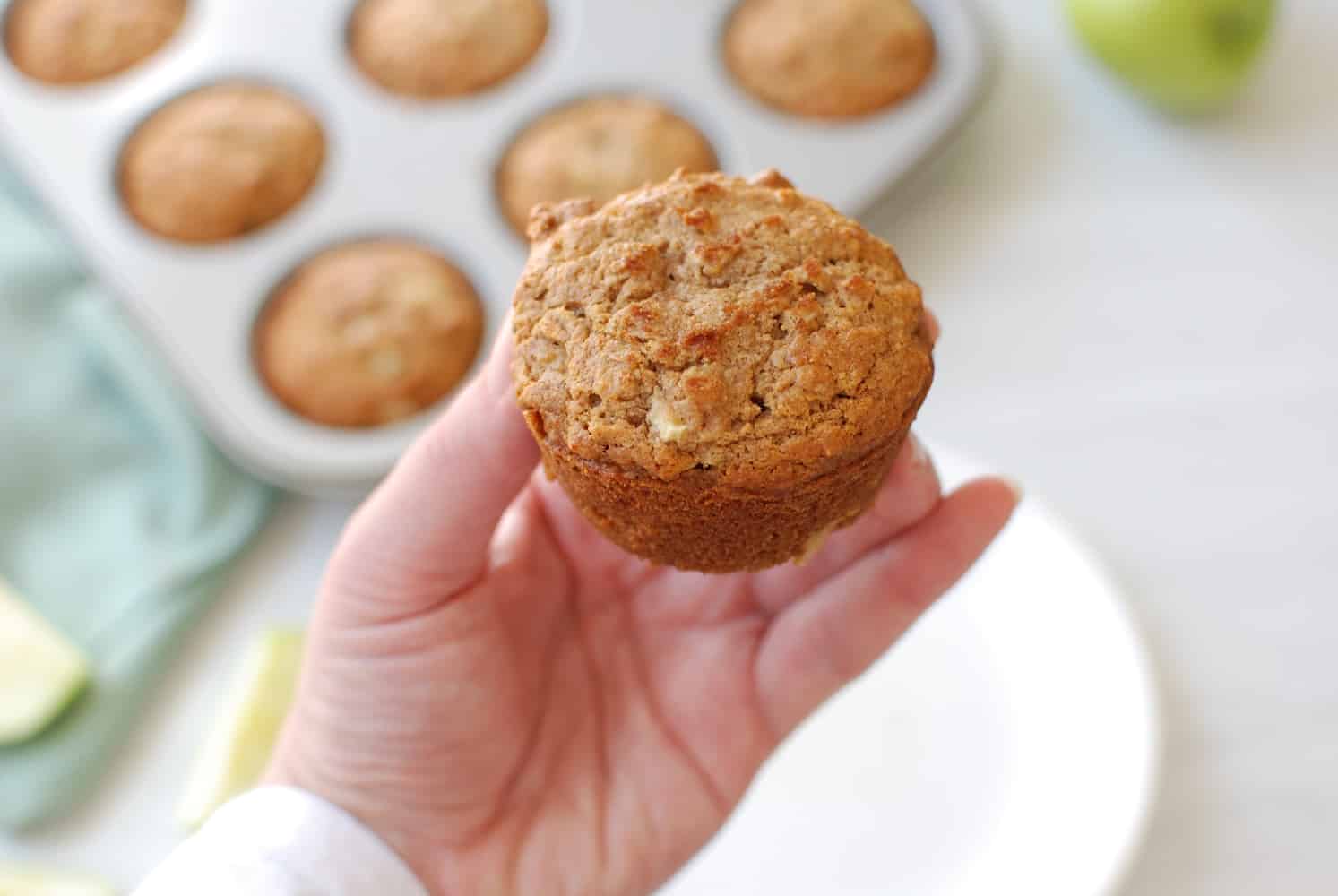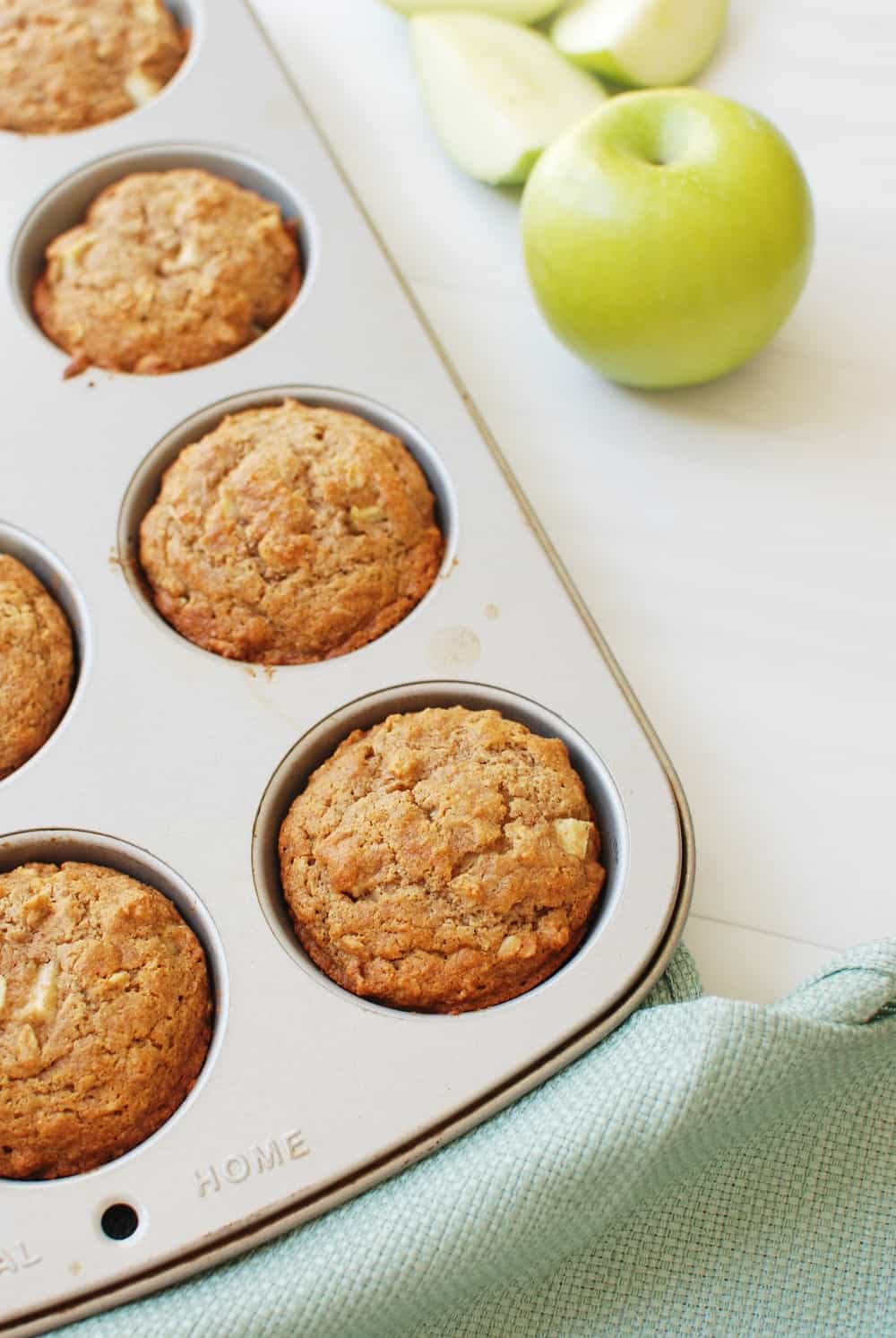 2. Sugar 2.0
I was gifted a few bags of Sugar 2.0 to try out, and I'm obsessed with this stuff! I've admittedly been pretty hesitant to use any kind of sugar substitute in my baking because I dislike the taste of artificial stuff. I've tried stevia-based products and I find that it leaves a weird aftertaste or doesn't bake the same.
But you guys, I am in love with this stuff, because it's made with actual sugar. It's simply a blend of regular cane sugar and FiberSucre, a soluble corn fiber. The result is a product that can be used in a 1:1 measurement for baking – with half the sugar, less calories, and more fiber.
If you don't have this at home, you can either order Sugar 2.0 on Amazon, or you can use the equivalent amount of regular sugar – the recipe will just have a greater sugar/calorie content.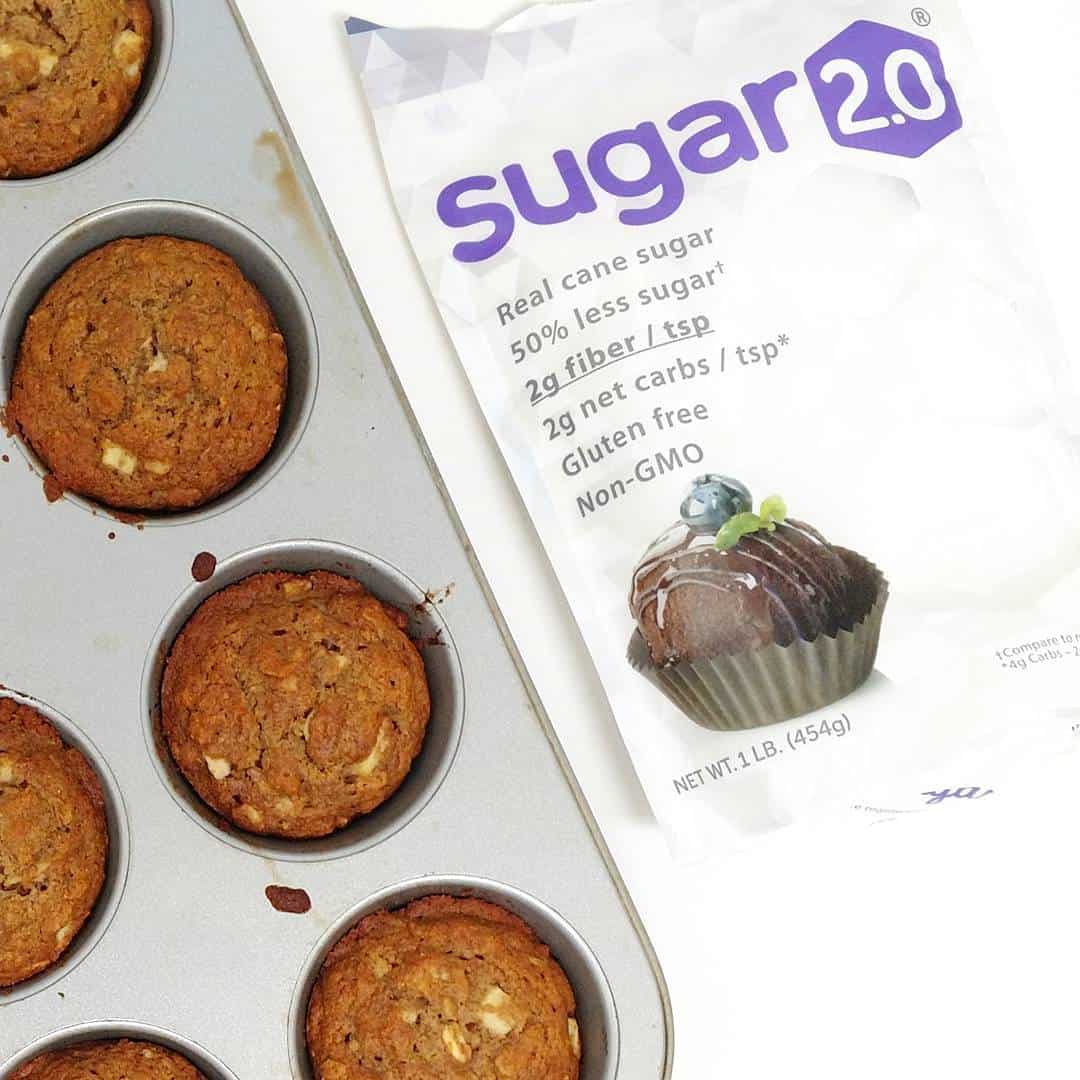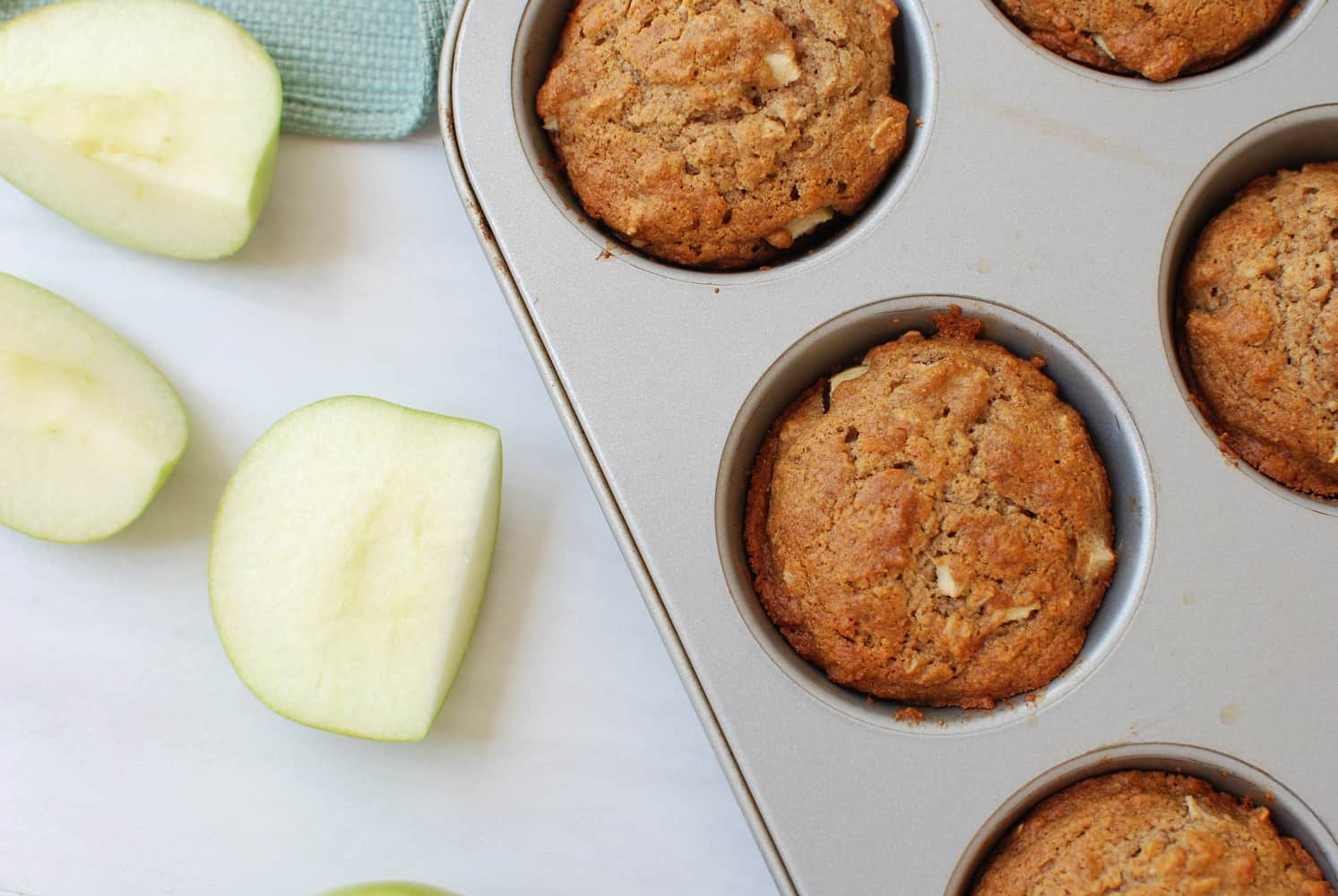 Low sugar, delicious vegan apple muffins!
By using both of these "specialty" ingredients in this muffin recipe, I'm able to create a delicious vegan apple muffin that has just 135 calories, 7 grams of sugar, and 6.5 grams of fiber. YES!
[Tweet "Who's in the mood for a tasty apple muffin?! These have just 135 calories and 6 grams of fiber!"]
Besides the nutrition facts, you'll love this recipe since it…
Makes a tasty healthy snack or part of a balanced breakfast.
Is great for adults and kids alike.
Is a good source of healthy carbs for runners and triathletes.
Fits multiple dietary needs, since it's dairy free and vegan.
Give it a whirl soon and let me know what you think in the comments!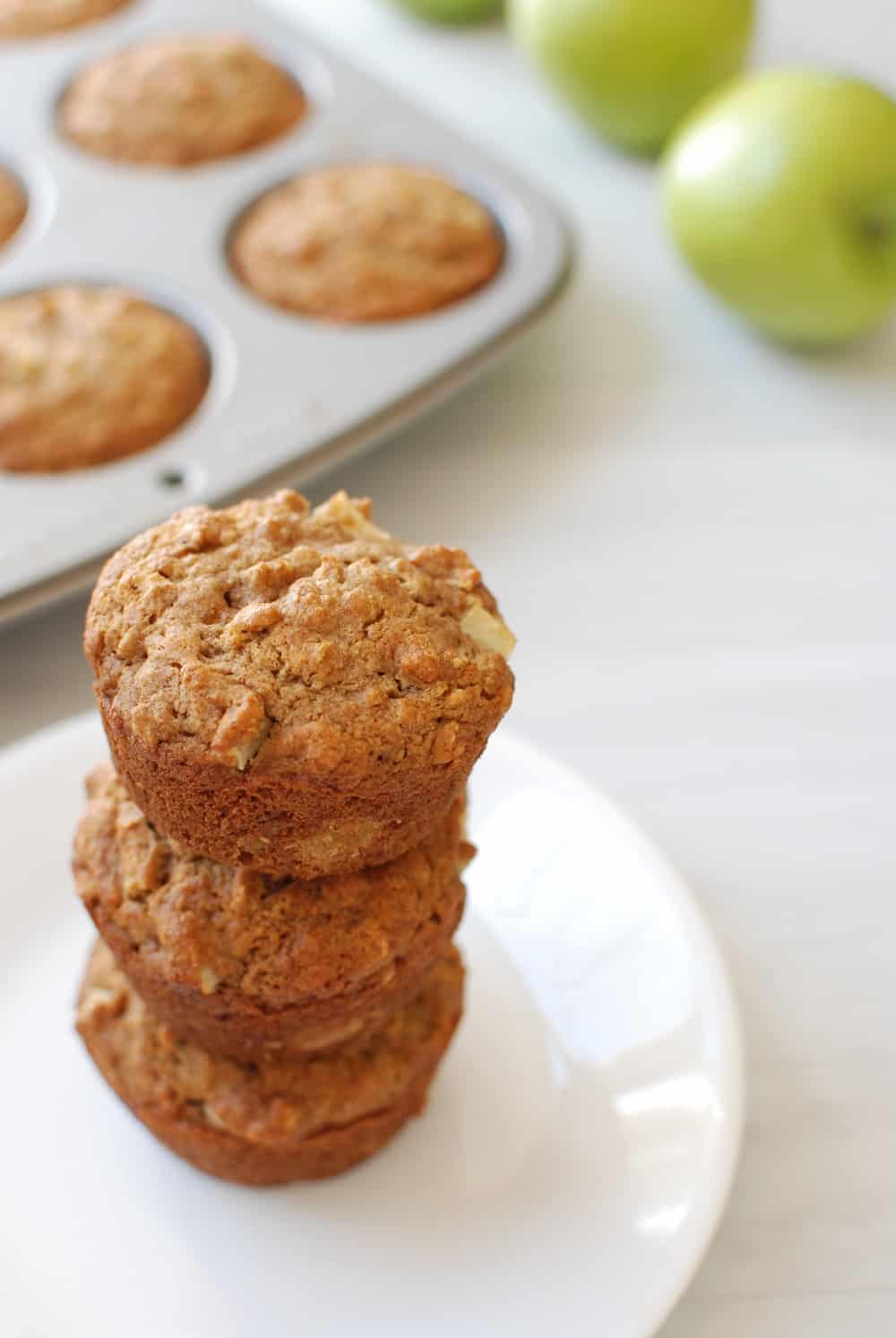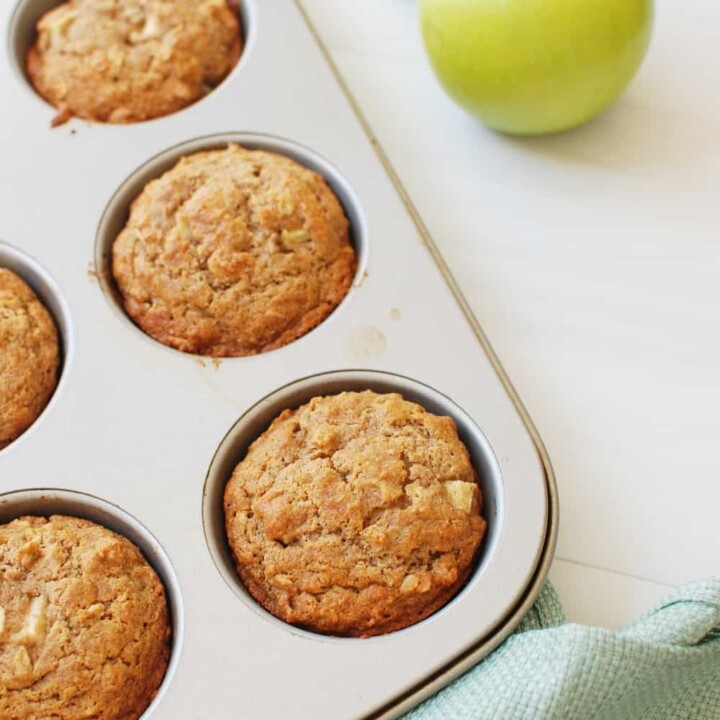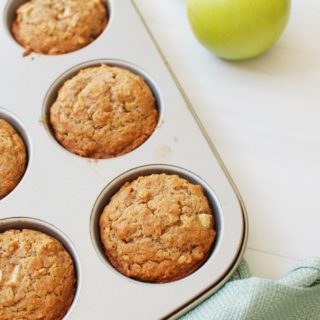 Whole Wheat Vegan Apple Muffins
These whole wheat vegan apple muffins are low in sugar, but rich in fiber and flavor! A perfect healthy snack for kids and adults alike.
Ingredients
1

tbsp

ground flax seed

3

tbsp

hot water

1/4

cup

coconut oil

1/2

cup

Sugar2.0

(or regular sugar)

1/2

cup

applesauce

1/2

cup

vanilla almond milk

(or coconut milk)

1

tsp

cinnamon

1 1/2

cups

whole grain einkorn flour

(or whole wheat pastry flour)

1/2

cup

rolled oats

2

tsp

baking powder

1

tsp

baking soda

1/2

tsp

salt

1

apple

peeled and chopped
Instructions
Preheat oven to 375 degrees. Lightly grease a baking pan with cooking spray or coconut oil.

Mix 1 tbsp ground flaxseed with 3 tbsp hot water in a small bowl. Set aside for a few minutes. (It will become gelatinous, like an egg).

In a large mixing bowl or stand mixer, combine coconut oil, Sugar 2.0, applesauce, almond milk, and cinnamon. Add flax egg and mix until combined.

Add whole grain flour, rolled oats, baking powder, baking soda, and salt. Stir until everything is combined. Fold in the peeled and chopped apple.

Pour batter into your muffin tin. Bake at 375 degrees for 16-20 minutes, or until a toothpick/knife comes out clean. Enjoy!
Notes
Notes:
Sugar 2.0 is Vegan. If you are using regular sugar, keep in mind that some sugar products are filtered through bone char. If you are a strict vegan, choose a sugar product that you know is not filtered this way.
For a nut-free option, use coconut milk rather than almond milk. This can be a great modification for school treats for kids that are nut-free.
Dairy-free, vegan, and soy free makes this a great option for MSPI moms.
Nutrition analysis (approximate per muffin):
135 calories, 5.5 g fat, 4 g sat fat, 266 mg sodium, 21 g carbohydrate, 6.5 g fiber, 7 g sugar, 2 g protein, Vitamin A: 1%, Vitamin C: 5%, Calcium: 9%, Iron: 5%
Nutrition
Share with me: Have you ever tried einkorn flour or Sugar 2.0? What's a secret specialty ingredient that you keep in your kitchen? Are you pumped to try these vegan apple muffins?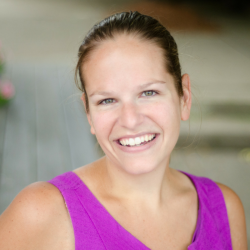 Latest posts by Chrissy Carroll
(see all)