This beet lemonade is sure to be your favorite drink to sip on all summer!
When I was a kid, I loved setting up a lemonade stand in the summer. That entrepreneurial spirit kicks in young, right?! I was all about setting up a table, mixing up the lemonade, and trying to make a few dollars.
At that point in my life, I thought all lemonade came from a Minute Maid container or a Crystal Light powder, since that's what we always had in my house as a kid. I didn't realize that people actually used real lemons to make lemonade until far later in life. 😉
Whether it's store bought or homemade though, lemonade often has an irrational "health halo." People envision that it's a better alternative to soda because it's made with fruit. In reality, an 8-ounce cup of lemonade contains about 100 calories and 26 grams of sugar – the equivalent of an 8-ounce cup of soda.
Since I've been dreaming about warmer months lately (can we be done with snow now? pretty please?), I decided to create a better-for-you lemonade that you can sip on this summer. It's a wonderfully bright and invigorating beet lemonade!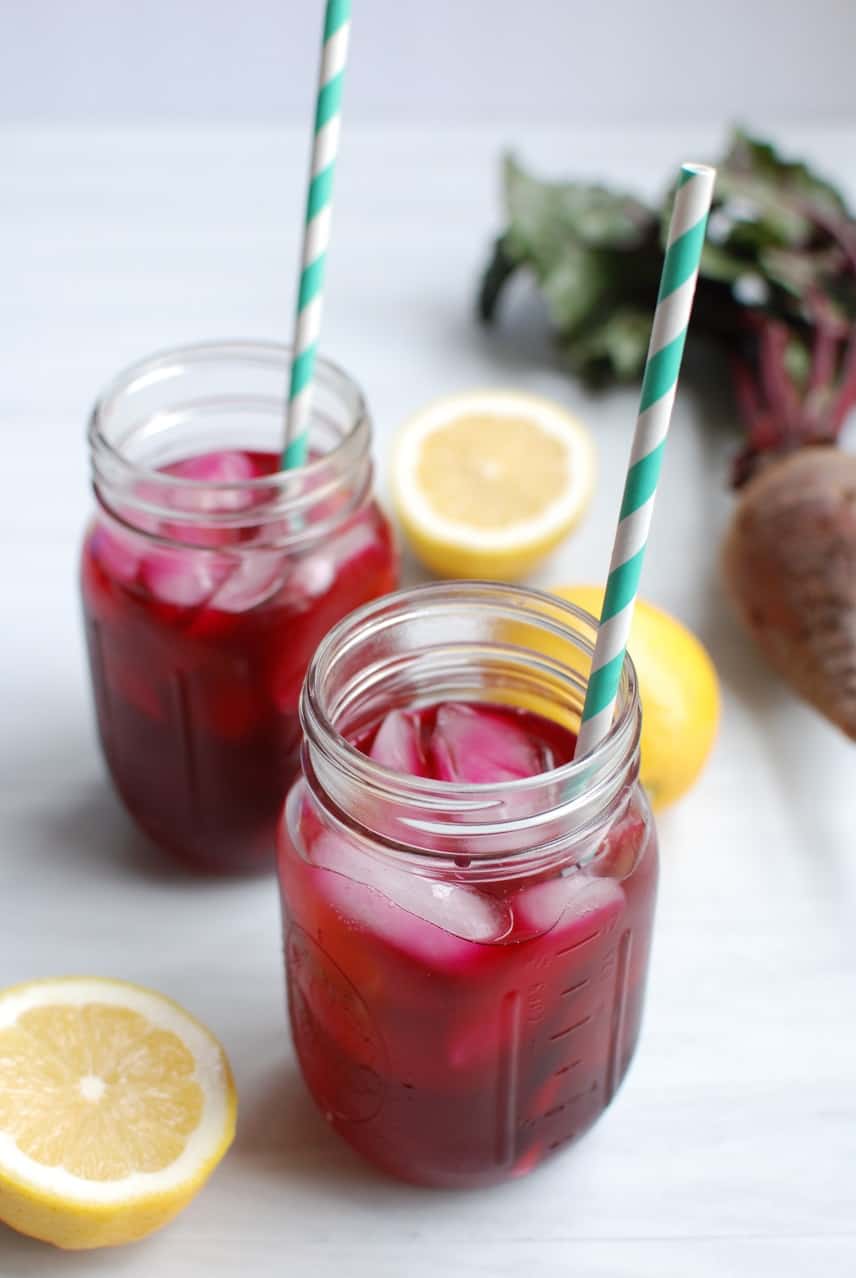 Here are a few reasons I love the beet lemonade, from a dietitian's standpoint:
It's made with just 3 ingredients, plus water. Easy peasy.
This version has just half of the calories and sugar compared to your typical store-bought or homemade lemonade. And it's still just as sweet and refreshing!
I've also eliminated any refined sweeteners in this drink, so you won't be pouring in scoops of sugar. Instead, you'll use 100% white grape juice as the sweetener. This means that all the sugar in the beverage comes naturally from fruit. Don't get me wrong, sugar is sugar at a chemical level. But if there are ways to use naturally occurring sugars in fruit (which may come with vitamins, potassium, and phytochemicals) in my recipes, I'm always game for using that.
Of course, there's the addition of beets to this recipe! An unexpected twist from traditional lemonade, the beets add a pleasant, earthy flavor and a stark pink brightness to the drink.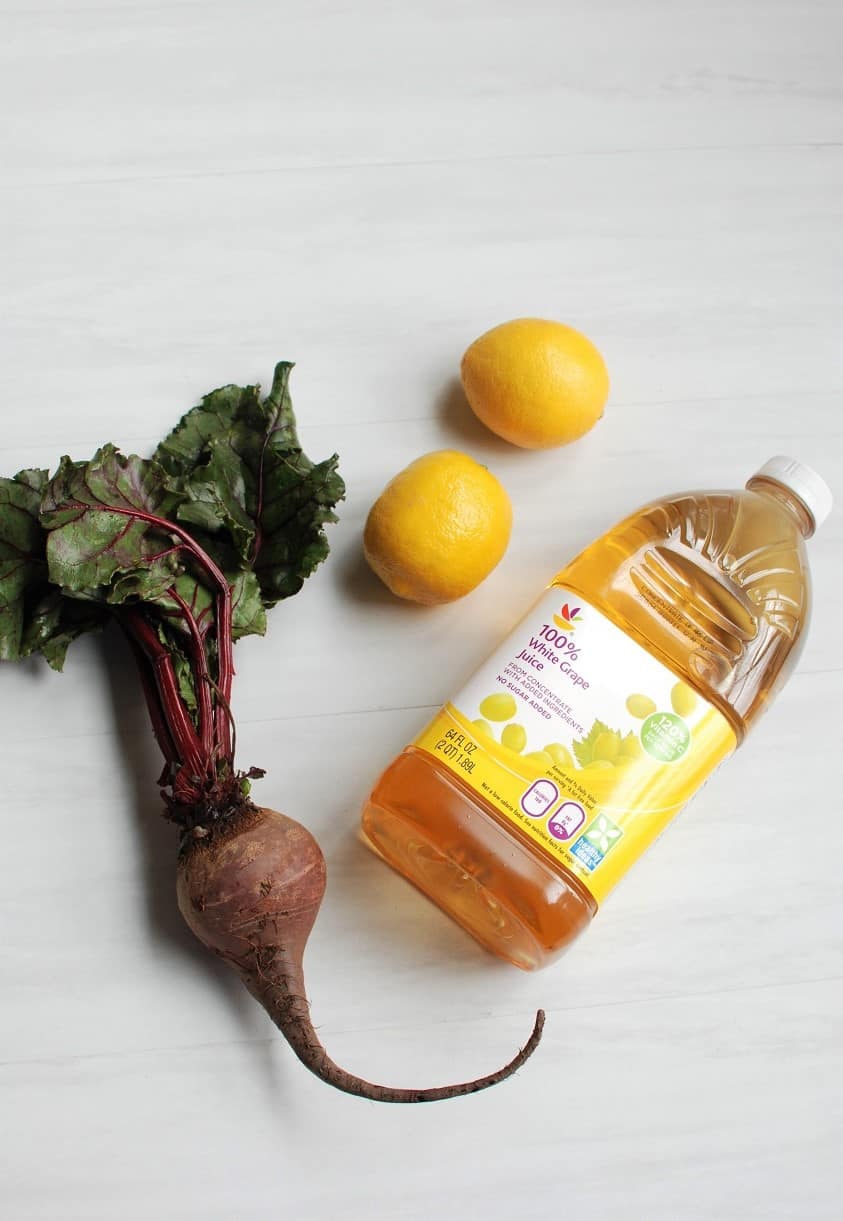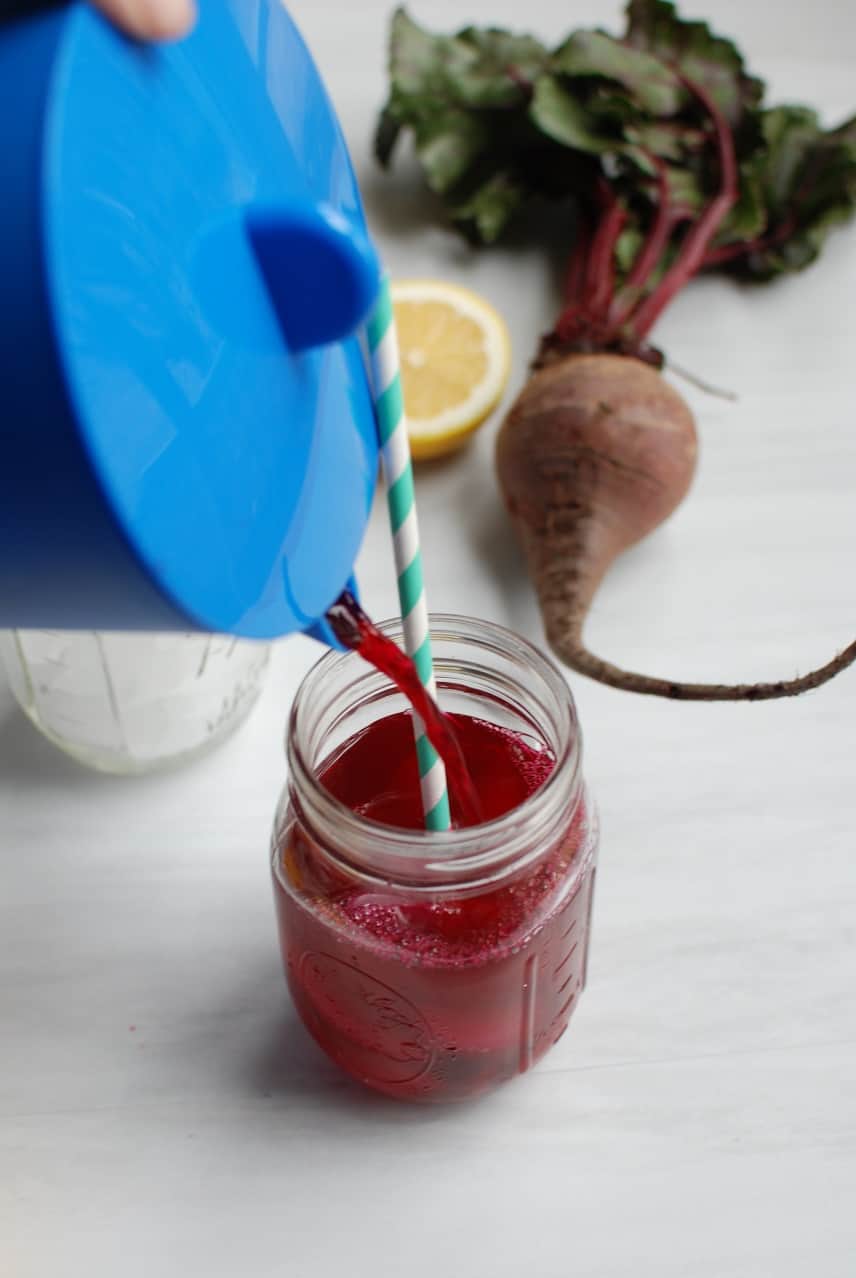 Your end result is a delicious drink that is perfect when you're just craving a sweet beverage.
It's certainly not meant to replace the water you drink regularly. But a cup of beet lemonade over ice in a mason jar, on the porch on a summer night? Yes, yes, and more yes. You may even find your kiddos trying to sneak a sip…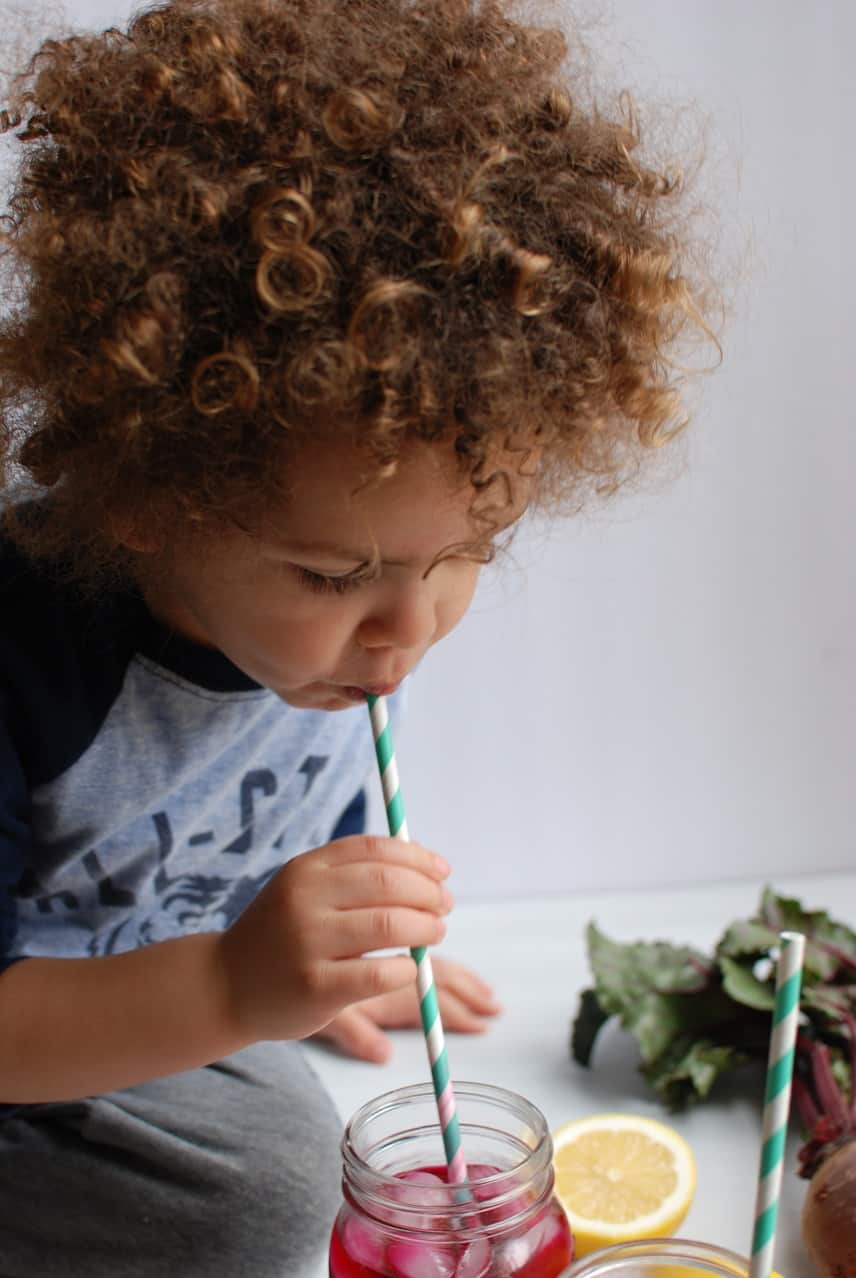 Beet Lemonade & Runners/Triathletes
I shared some teaser pictures of this on social media a few days ago and got two questions that I wanted to answer regarding this drink for athletes:
Can you use beet lemonade as a sports drink?
For any of you runners & triathletes, this drink is a great way to replenish carbs and fluid post-workout. Since it tastes delicious, it's easy to get down.
It can also be a fun alternative for kiddos that want a "sports drink" between games at a soccer tournament or hockey tournament.
As far as use during exercise – that depends on your personal tolerance. The good thing is that the sugar and fluid content is pretty comparable to a sports drinks, so as far as concentration goes it's at a similar level to what you're used to. And adding a pinch of salt per cup will bring the sodium levels up to a sports-drink level.
However, most commercial sports drinks have a specific ratio of different types of sugars to maximize absorption and minimize GI upset. This beet lemonade contains a bit more fructose than some people may be able to tolerate for a sports drink during intense exercise.
It all depends on your personal tolerance – so feel free to try it out on a low intensity ride or run if you'd like. Cyclists tend to have more flexibility with fuel choices thanks to the limited amount of stomach jostling. If you have GI upset, it's not the best choice for you. (If you're looking for a homemade sports drink option, this lemon lime homemade sports drink might be a little better tolerated).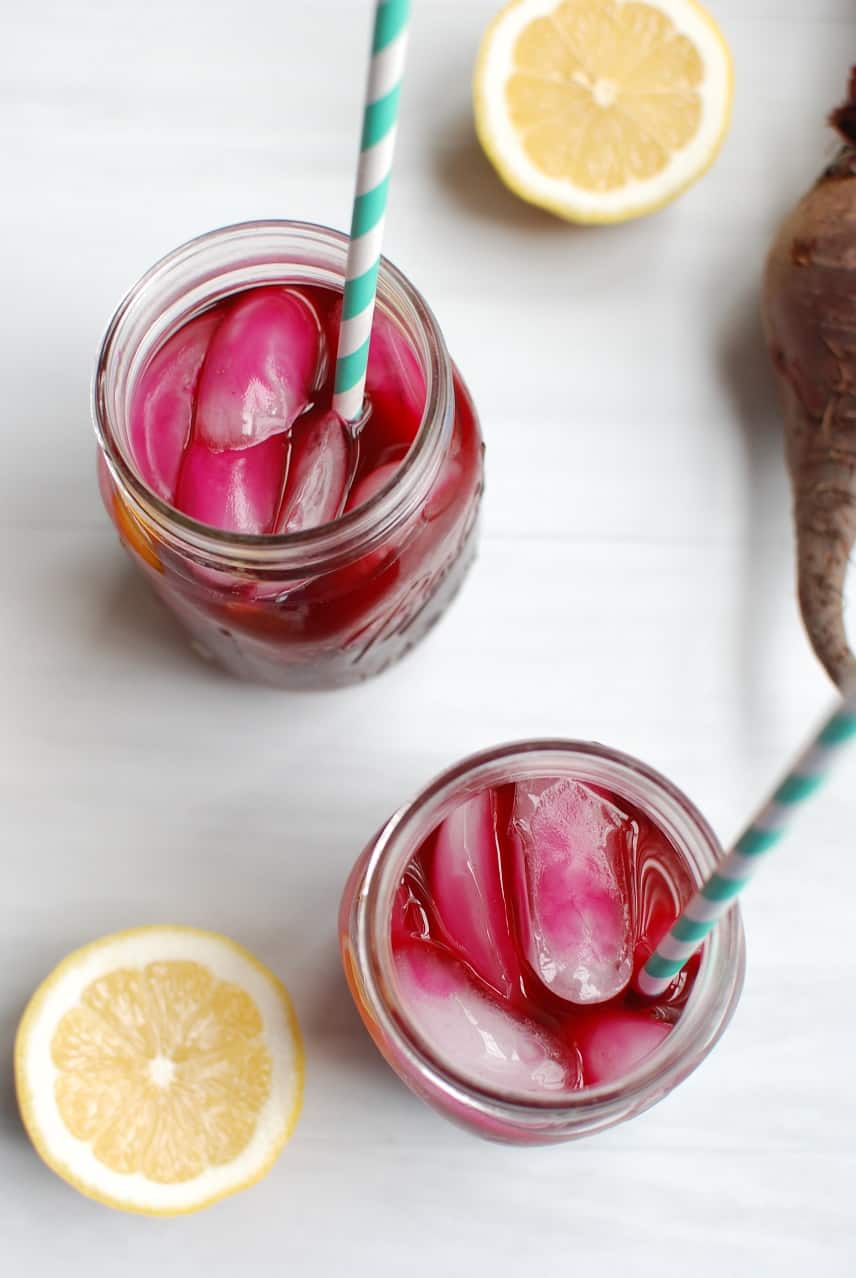 Does the beet juice in this lemonade boost performance?
Beets themselves are definitely a performance enhancer. They have a rich concentration of dietary nitrates that are thought to help increase blood flow and oxygen to the muscles.
Now, the amount in this lemonade is probably not enough to give you any real benefit. But you can try mixing in a few additional beets if you're looking for the performance boost. The taste will be much earthier than the original version, but still palatable. Drink 16 ounces before 2-3 hours before a long training session and see how you feel!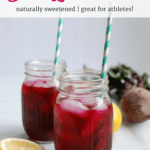 Beet Lemonade
This beet lemonade is sure to be your favorite drink to sip on all summer! It's sweet, earthy, and refreshing.
Ingredients
1

beet

peeled and chopped

½

cup

lemon juice

2

cups

white grape juice

3

cups

cold water

Ice
Instructions
In a good blender, combine the peeled and chopped beet along with the lemon juice and 1 cup of the grape juice. Blend until everything is well combined, about 20-30 seconds.

Place a fine mesh strainer over a pitcher. Pour the lemon/beet mixture through. Press down on what's left in the strainer with a spoon to extract as much juice as possible. Discard the beet pulp left in the strainer (or save separately to use for mixing into baked goods!).

Add another cup of grape juice, 3 cups cold water, and a handful or two of ice cubes. Stir well and serve!
Recipe Notes
Nutrition facts (approximate per serving; 1 serving = about 1 cup):
59 calories, 0 g fat, 0 g sat fat, 10 mg sodium, 15 g carbohydrate, 13 g sugar, 0.5 g protein, Vitamin A: 0%, Vitamin C: 16%, Calcium: 1%, Iron: 2%
Share with me: Beets – take 'em or leave 'em? Have you ever tried making beet lemonade? What's your favorite summertime drink?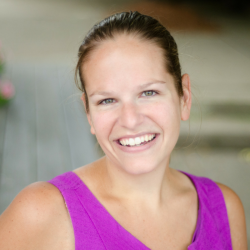 Chrissy Carroll is a Registered Dietitian and USAT Level I Triathlon Coach. She specializes in sharing nutrition and fitness tips, as well as recipes, for runners, triathletes, and active women.Chrissy holds a Bachelor's Degree in Nutrition, a Masters Degree in Public Health, and is also an ACSM Certified Personal Trainer.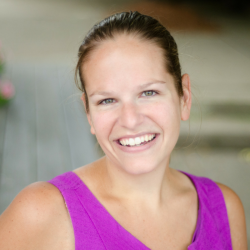 Latest posts by Chrissy Carroll (see all)