Disclosure: I was compensated by KIND to perform mini running nutrition sessions at the Boston Marathon Expo. As always, all opinions expressed here are my own.
Did ya'll watch the Boston Marathon on Monday? We were lucky enough to find a live stream in another language (since we couldn't get access to the normal free live stream – what's up with that?!). So while we couldn't understand any of the commentating, it was amazing to watch the runners tackle the course.
Many of you know that I had really hoped to run this year's race on a charity team, so it was a bit bittersweet letting go of that dream (read more here) and watching all. But when that opportunity didn't pan out, little did I know that I'd still get to be involved in this year's race festivities in a different way!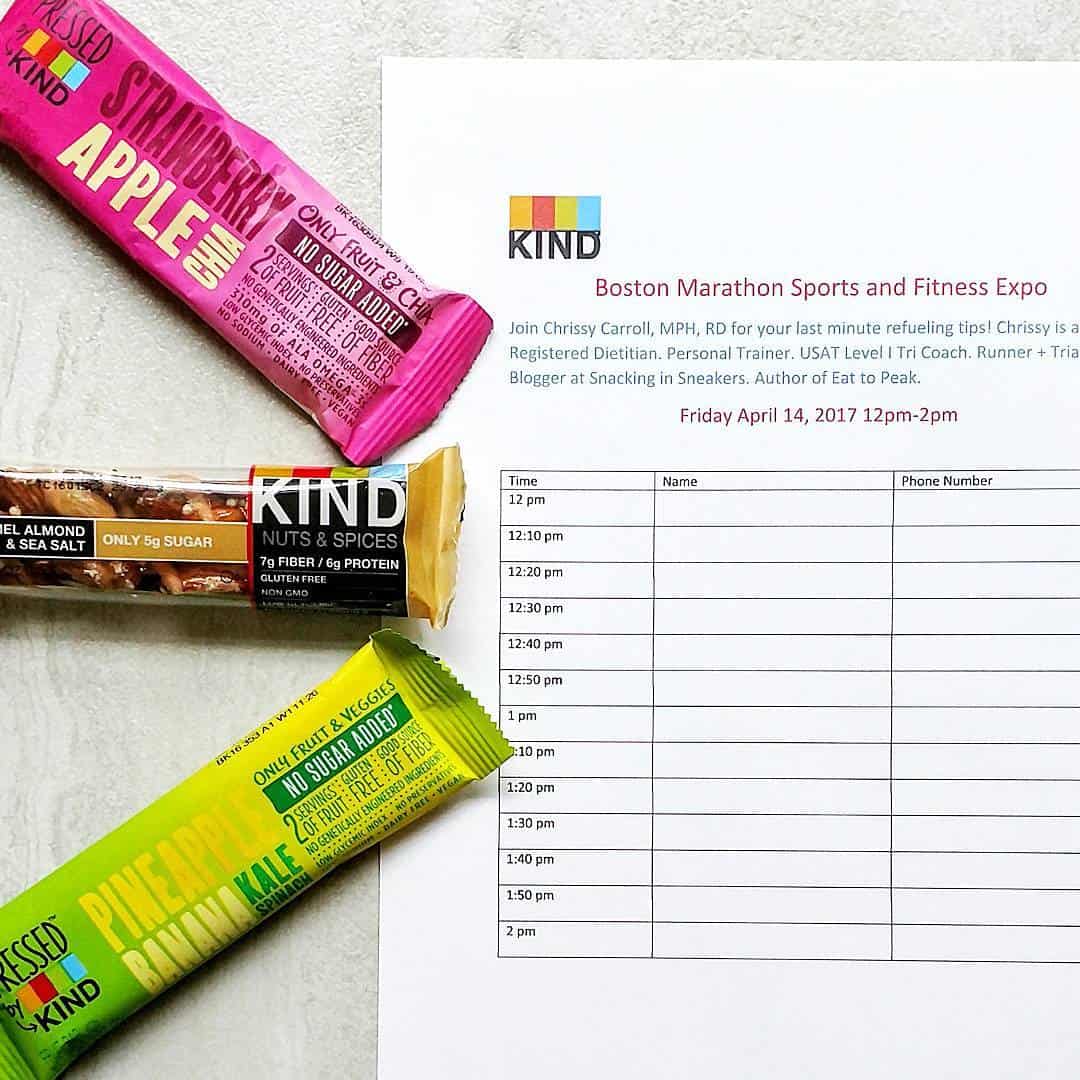 KIND Snacks approached me a few weeks ago and asked if I would be interested in partnering up to provide mini sports nutrition sessions at the Boston Marathon Expo. I (of course) enthusiastically agreed, and so Friday and Saturday I found myself decked out in a KIND t-shirt at their expo booth.
For two hours each day, I was able to chat about running nutrition with athletes and help them get comfortable about their plans leading up to the big day. Lots of runners also had questions about sports nutrition for future training too, so I was able to delve into all of my favorite topics – hydration, electrolytes, carb loading, and more.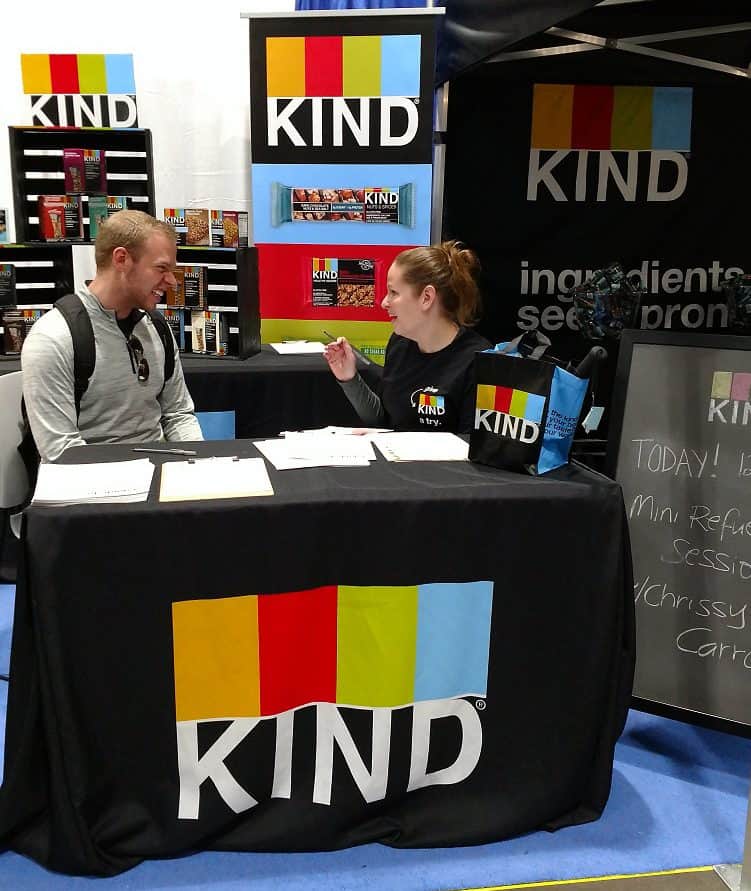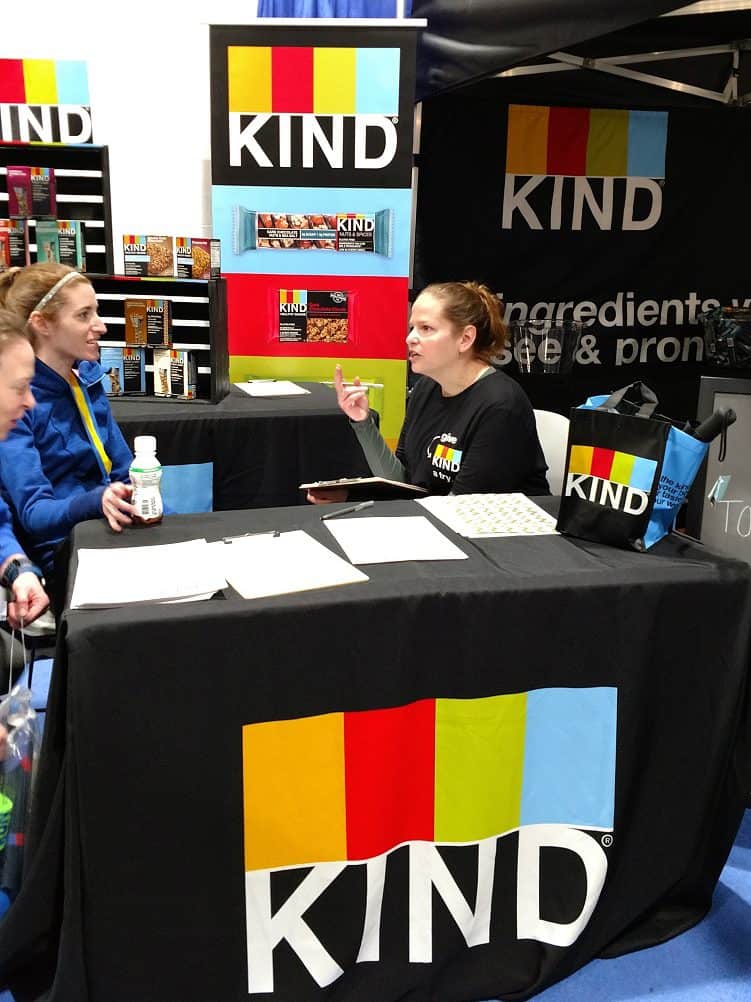 It was also fun to be able to share how KIND products can fit into a runner's meal plan. For example, I am ob-sessed with Pressed by KIND bars for a carb-rich snack that comes naturally from fruits and veggies or fruits and chia. They're great to be able to incorporate as a pre-run snack for training or in the days leading up to a race while carb-loading. I even know some athletes that will use the lower-fiber varieties (like the pineapple banana kale bars) as real food fuel during trail runs and bike rides.
On the flip side, I really like the Strong & KIND bars for a recovery option. With 10 grams of protein, you can pair them with a piece of fruit and a glass of milk to round out an easy recovery snack.
Since I was able to talk to quite a few athletes at the expo, I thought it might be helpful to answer some of the common running nutrition questions I received:
1. Should runners go to a more ketogenic, high fat style diet?
This was the most common question I received at the expo, and I'm not surprised. It's a very popular topic right now. The short answer: there is no current evidence that the keto diet helps performance on its own. Where people may experience a benefit is when they lose weight on a keto diet and then naturally run faster at a lower weight. That said, you can also work on weight loss while still incorporating plenty of healthy carbs. I don't personally recommend runners switch to a keto diet for performance benefits. You can read more about the research on keto and runners in this post.
2. How should I handle the timing of the Boston Marathon when it comes to my race day breakfast?
This was the second most common question I got. So many of us runners are used to eating at the crack of dawn and going out for a long run within an hour. But Boston trips people up with the late start. My recommendation is usually to do breakfast when you wake up, but then bring another carb-rich mini breakfast or big snack to have while you're in Hopkinton. It should be something easily digestible that you've had in training which you know sits well in your stomach. Take this in about 1-2 hours before the race to help provide energy to keep you going throughout.
3. How much should you drink during a race?
Since we all sweat at different rates, this is a really individualized question. The best way of finding out how much to drink is conducting a sweat test during a long run with conditions that you think will be similar to race day. (I know we don't always know the weather). To do a sweat test, weigh yourself before and after a long run. If you've lost more than 2-3% of your body weight, you probably want to work on hydrating a little more while you're out there. Above all, though (and especially if you haven't conducted a sweat test) – pay attention to your body's signals for thirst and overdrinking. Dry mouth and feeling thirsty = drink more; sloshing and nausea = pull back a bit on hydration.
4. Do you really need to carb-load?
Carb loading is effective for events lasting over 90 minutes; research supports a performance benefit. I think people picture carb loading as these massive plates of pasta for a week leading up to the race. In reality, focus on increasing easily digestible carbohydrates in the 2-3 days prior to the race. You don't need gigantic portions – too much of anything can make you feel uncomfortable. Instead, eat comfortable sized portions of a variety of different carb-rich foods (think pasta, rice, pancakes, fruits, starchy veggies like potatoes, etc).
5. What types of real food fueling options can be used during runs/tris/cycling events/etc?
Sports nutrition is so individualized; it really depends on your preferences and how your stomach tolerates foods. It also depends on the intensity and type of sport – an intense run leaves less flexibility than a long bike ride, for example. In general though, some of the 'real food' options that you might use could include (*note not all of these are made from natural ingredients, but are all things you could find at a grocery store):
Bananas
Salted boiled potatoes
Dried fruit like dried pineapple and raisins
Pressed by KIND bars (lower fiber varieties)
KIND popped snack bites
Gummy bears / sweedish fish
Fig bars
Pretzels
You always want to practice with these options during training. Never try anything new on race day!
There ya have it – the five most common questions I got! I hope the answers are helpful for you too.
Share with me: Did you run Boston this year – and if so, how was your race?! Did you attend the expo? What running nutrition questions do YOU have?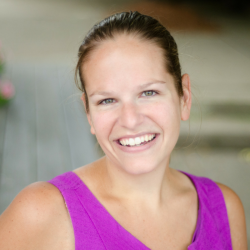 Latest posts by Chrissy Carroll
(see all)