If I have the choice between sweet or salty treats, I'm 100% a sweet person. I like a salty snack here or there, but I'm far more likely to crave all the cookies, brownies, ice cream…you name it.
Of course, traditional versions of those treats aren't exactly ideal for a dietitian (or anyone) to eat daily. So I'm always on the hunt for better-for-you desserts that will satisfy my sweet tooth in a more nutritious way.
This broiled grapefruit totally does the trick.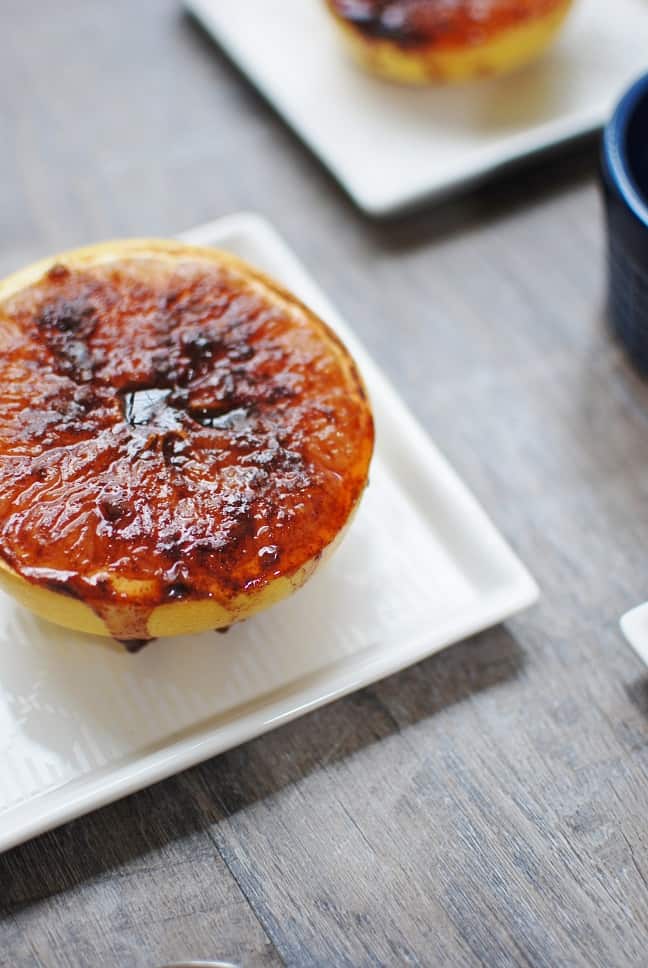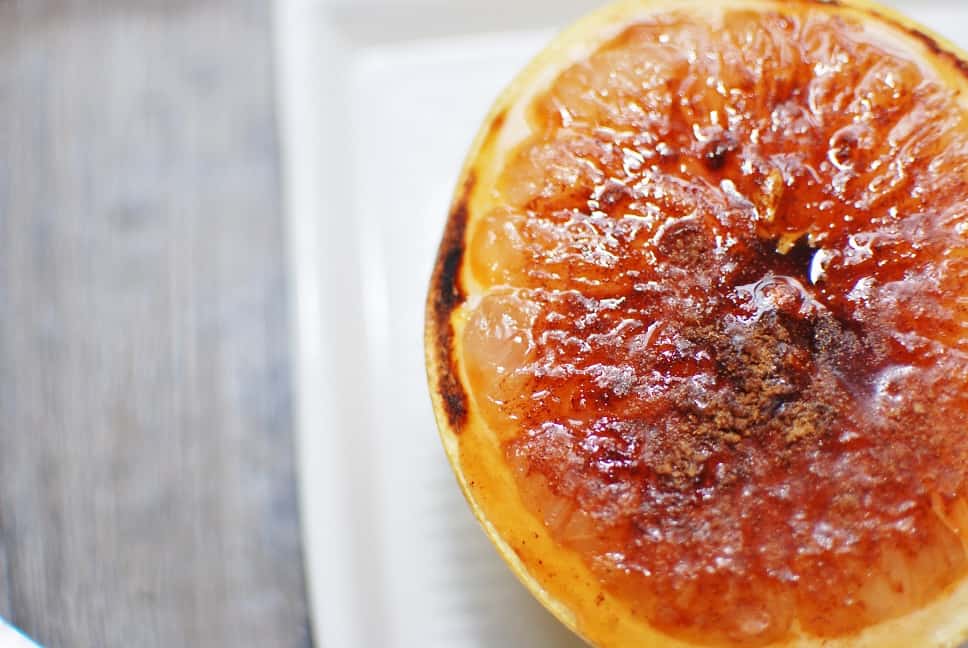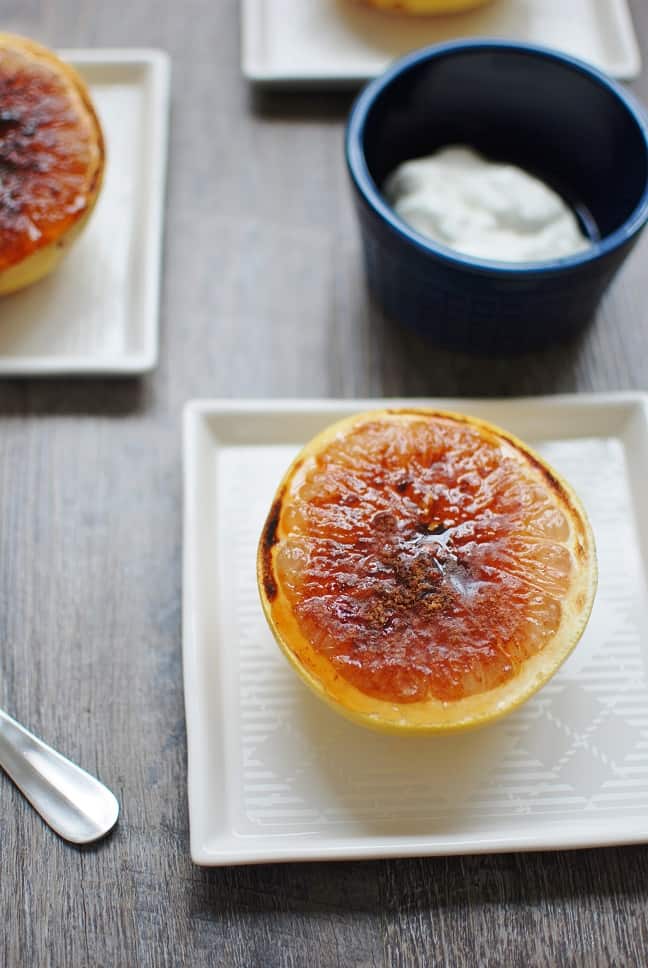 This is the first time I've really developed an affinity for grapefruit all on its own. I like it as a juice (especially mixed with some seltzer for a "faux soda") and I love it as an ingredient to add a citrus punch to fish or chicken. But I have only eaten the fruit solo a few times. The tart taste was a bit too jarring on its own in the past, so I never got into it.
Last week the supermarket had some grapefruits on sale for 39 cents each, so in frugal fashion I bought a few and vowed to think of a creative way to use them. After remembering that grilling fruit has become a big trend, I thought – why not broil this?!
I topped each with a little brown sugar and cinnamon, threw it under the broiler for 5 minutes, and voila – a tasty dessert with more nutrition than your average indulgence.
[Tweet "Broiled grapefruit?! Mind. Blown. Find the recipe here:"]
This dish packs in Vitamins A and C, essential for healthy eyes, skin, hair & healing. If you top it with a little greek yogurt, you also add protein and calcium – plus a nice cool creaminess to contrast the warm caramelized grapefruit. And for only about 100 calories (104 to be exact), you can treat yourself to this dessert any night of the week!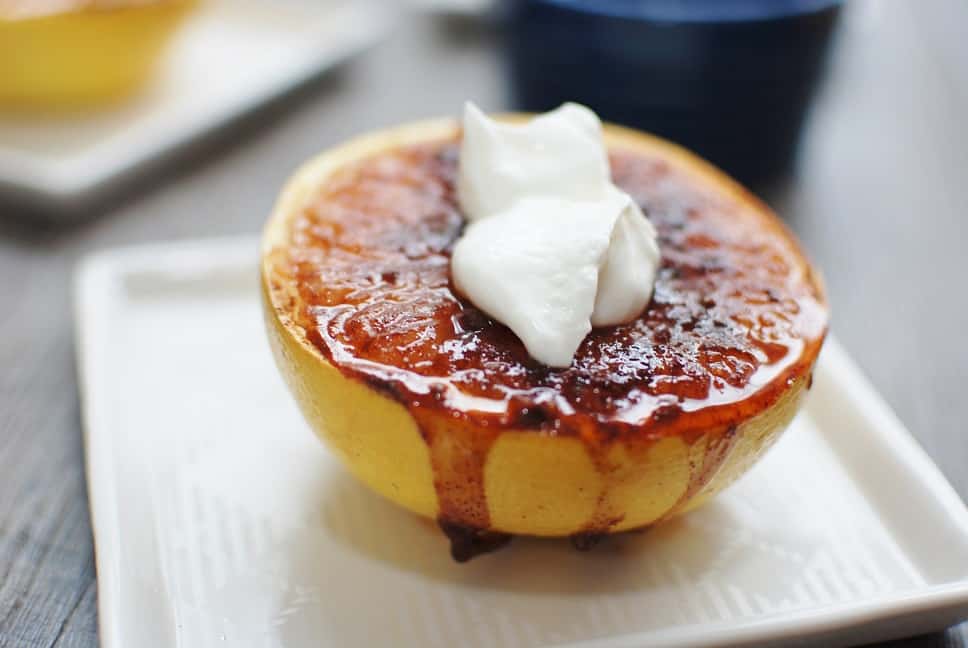 I'm sure someone will read this recipe and knock me for the added sugar, but I'm a definitely believer that a) a little added sugar can fit into a healthy diet, and b) these small amounts can help to make certain nutritious foods more palatable and enjoyable (think plain oatmeal vs. oatmeal with a little brown sugar). The smidge of brown sugar you add to top the grapefruit helps cut through the tart acidity of the grapefruit, making it much more pleasurable for those who don't like the fruit on its own.
Give this a try, and be sure to let me know in the comments what you think!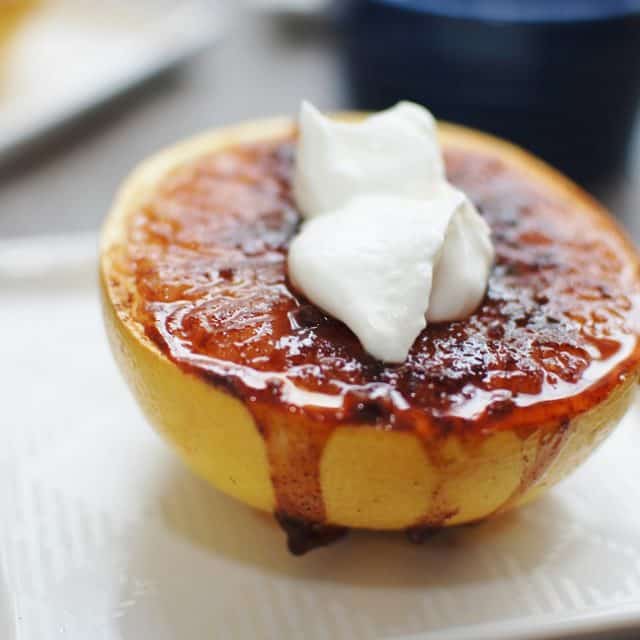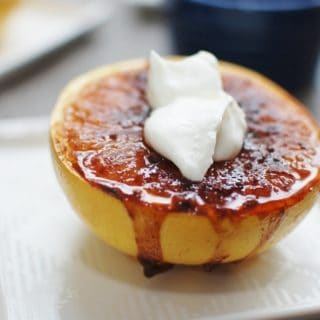 Broiled Grapefruit
For just 100 calories, this broiled grapefruit makes an amazing healthy dessert! It packs in Vitamins A and C, and topping it with an optional dollop of greek yogurt helps add protein and calcium to the dish.
Ingredients
For Broiled Grapefruit:
2

grapefruits

2

tbsp

brown sugar

1

tsp

cinnamon
Optional for Topping:
1

cup

plain nonfat greek yogurt

(can use coconut milk yogurt if vegan)
Instructions
Slice grapefruit in half and place on a baking sheet, cut side up. If grapefruit halves do not sit flat, slice a little off the bottom so that it will.

Turn broiler to high.

In a small bowl, mix brown sugar and cinnamon. Spoon the mixture onto the grapefruit halves.

Place on a top rack in the oven so that it is relatively close (but not touching) the broiler flame/coils. Cook for about 5-7 minutes, until the sugars have just caramelized on top of each grapefruit.

Top each with plain greek yogurt (optional but I love the taste of it), grab a spoon, and dig in!
Notes
Nutrition analysis (per serving, including optional greek yogurt):
104 calories, 0 g fat, 20 g carbohydrate, 2 g fiber, 15 g sugar, 6 g protein, Vitamin A: 28%, Vitamin C: 64%, Calcium: 10%, Iron: 1%
Nutrition
Share with me: Are you a sweet or salty snacker? Do you like grapefruit on its own? Have you ever tried broiled grapefruit?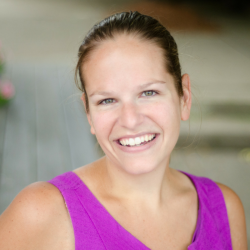 Latest posts by Chrissy Carroll
(see all)