I made this recipe last week, and it was soooo good. Definitely one of those recipes that you'd never guess was healthy because it tastes so delicious.
The hubby was a big fan. In fact, he told me if I made this every night, he'd be happy. It's obviously going to be making a regular appearance in our weekly meal plans.
In this version of cashew chicken stir fry with zucchini noodles, the traditional rice or noodles that would normally be used are instead replaced with zucchini. This helps boost the veggie content and reduce the calorie/carbohydrate content.
As I mentioned in my post about shrimp scampi with zucchini noodles – you don't need fancy tools to make zucchini noodles. Of course, if you have a spiralizer, you can get great spaghetti style noodles. But I simply use a vegetable peeler and just run it down the zucchini over and over again. It doesn't take long and you end up with great pappardelle style noodles!
Now, go grab your purse, head to the supermarket, and get the ingredients to make this – you won't be sorry you did!
Cashew Chicken Stir Fry with Zucchini Noodles
Adapted from SkinnyTaste
Makes 4 servings
Ingredients:
4 medium (or 3 large) zucchini
1 tbsp + 1 tbsp sesame oil, divided
1 pound boneless skinless chicken breast, chopped into 1 inch pieces
Salt & pepper to season chicken (a pinch of each)
1 bell pepper (any color), chopped
2 cloves garlic, minced
Sauce:
3 tbsp lower sodium soy sauce
1 tbsp chili paste
1 tbsp rice wine vinegar
1 tsp sriracha
2 tsp sugar
2 tbsp water
1 tbsp cornstarch
Toppings:
2 scallions, chopped
1/3 cup cashews, crushed (or more/less to your taste preferences)
Directions:
1. Using a vegetable peeler, peel zucchini into pappardelle style noodles (or use a spiralizer for spaghetti style noodles). Set aside.
2. In a bowl, mix together all ingredients for the sauce. Set aside.
3. Heat 1 tbsp sesame oil in a large skillet. Season chicken with salt and pepper, and add to the skillet. Heat until cooked through (proper cooking temperature for poultry is 165 degrees).
4. Remove chicken from the pan and set aside.
5. Add the other tablespoon of sesame oil to the skillet and heat. Add the garlic and bell pepper and cook until peppers start to get tender, about 3-5 minutes.
6. Add the sauce ingredients to the pan and cook for a few minutes until it starts to reduce and become thicker. Toss in the zucchini and cook for an additional 1-2 minutes. Mix in the cooked chicken and remove from heat. [Depending on how big your skillet is, you may want to wait and just add the chicken to the bowls you're serving the food in. The zucchini takes up a lot of room!]
7. Divide into 4 portions and top with scallions and cashews. Enjoy!
Visit SkinnyTaste for the original version of this recipe (called Kung Pao Chicken Zoodles) which is a bit different and includes the addition of ginger and hoisin sauce!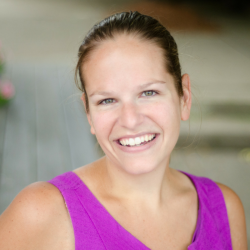 Chrissy Carroll is a Registered Dietitian and USAT Level I Triathlon Coach. She specializes in sharing nutrition and fitness tips, as well as recipes, for runners, triathletes, and active women.Chrissy holds a Bachelor's Degree in Nutrition, a Masters Degree in Public Health, and is also an ACSM Certified Personal Trainer.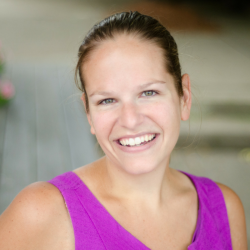 Latest posts by Chrissy Carroll (see all)