Today was my first "-athlon" – either duathlon or triathlon – of the season, the Coast Guard Duathlon.  I was supposed to have done Race of Rams earlier in May, but my hip was bothering me and I didn't want to take a chance on injuring myself.  I'm glad I waited, because I felt really good out there today!
The race was in Bourne, Massachusetts – only about an hour from where we live now.  My one small pet peeve about the race was that there was no directions on the race website other than "take the Route 28 entrance."  While the entrance was right off of 28, it was at a rotary and we easily missed it because it was around the other side of the circle.  It would have been helpful if there were just more specific directions into the coast guard facility.
Other than that though, it was an awesome day and well organized race!
Here's my race recap:
Run 1 (2 miles):  22:06
The first run felt good.  I'm typically very motivated by music while running, so it's always a little different for me in triathlon/duathlon compared to road races since you can't use headsets in these races.  So instead, I focus on my breathing, and when I get really bored, I just play a mental version of I-SPY in my head, noting everything that I'm seeing along the way.  I felt strong when I entered T1.
T1: 0:42  (still don't have clip in shoes, so that's why it's a pretty quick transition)
Bike (12 miles):  51:15
It was a two loop bike course totaling 12 miles.  The first half of each loop had super strong headwinds.  There were definitely times where I felt like I was pedaling hard and was barely moving.  It did make the second half of the loop feel a lot easier though, and the course was flat otherwise.  And since it was at a military reservation, there was virtually no car traffic on the course.  I would have liked to have finished a tiny bit quicker, but I'm pretty happy with the time given the wind.
T2: 0:37
Run 2 (2 miles):  22:52
I started the second run and my legs were like jello.  I'm generally used to this in these races, but they felt extra wobbly today – maybe from the wind.  The first quarter mile I was alternating between about 30 seconds running and 15 seconds walking.  Another runner came up beside me and started chatting, and I decided I was just going to stick with her as long as I could.  That was so helpful, because chatting with her distracted me from feeling tired and I kept a much better pace alongside her.  I kept with her until about 1.75 miles, let her go ahead as I took about 30 seconds to catch my breath, and then finished the last quarter mile strong.  I was actually shocked that my second two miles were as quick as they were (which is pretty fast for me!)
Overall time:  1:37:34
It was a great event for both me and Terry, as I ended up placing 2nd place in my category (Athena) and Terry placed 3rd in his category (Age Group – Men 25-29)!!  After the race, we snacked on some watermelon, waited to get our medals, and caught up with other racers we met/knew.  Overall, a really fantastic day at the Coast Guard Duathlon!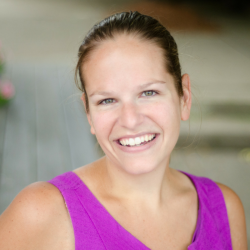 Latest posts by Chrissy Carroll
(see all)