Even if you don't have children, you probably will be involved in some sort of Halloween festivities.  Whether it's a friend's party, passing out candy to the trick-or-treaters, or pumpkin-themed treats at the office – Halloween is full of tasty temptations.
Consider these scary statistics when it comes to candy consumption and Halloween:
Consumers spend over $2 billion dollars each year on Halloween candy, according to the National Confectioners Association.
The average child collects between 3500 calories and 7000 calories worth of candy on Halloween according to Dr. Donna Arnett, chair of the Department of Epidemiology in the University of Alabama at Birmingham's School of Public Health.
90% of parents sneak candy from their kids' trick-or-treating stash.
Americans consume 24.7 pounds of candy each year.
Woah!  That's a lot of Halloween candy.  Keep in mind these tips for your own well-being, and then check out the tips below that for those of you who have children…
Tips for you!  (Don't pretend with me – you know you might be sneaking some candy this Halloween – and I will too!  The key is not to overdo it…)
Practice moderation.  There's nothing wrong with eating candy sometimes.  An occasional fun size treat won't break the calorie bank – but a few fun size treats everyday can lead to a few pounds of weight gain in a month's time span.  The key is balance.
Wait until the night of Halloween to purchase candy (if you've made it to today, good job)!  The less time the candy is sitting around the house, the less likely you are to overeat it.
Stick to fun size or miniature candy bars.  If you start eating multiples, leave the wrappers in front of you to remind you how much you've eaten and hopefully encourage you to not overindulge.  Avoid stocking up on full size bars – let's be realistic, if you open up a big one, you're probably going to eat the whole thing.  (Or is that just me?!)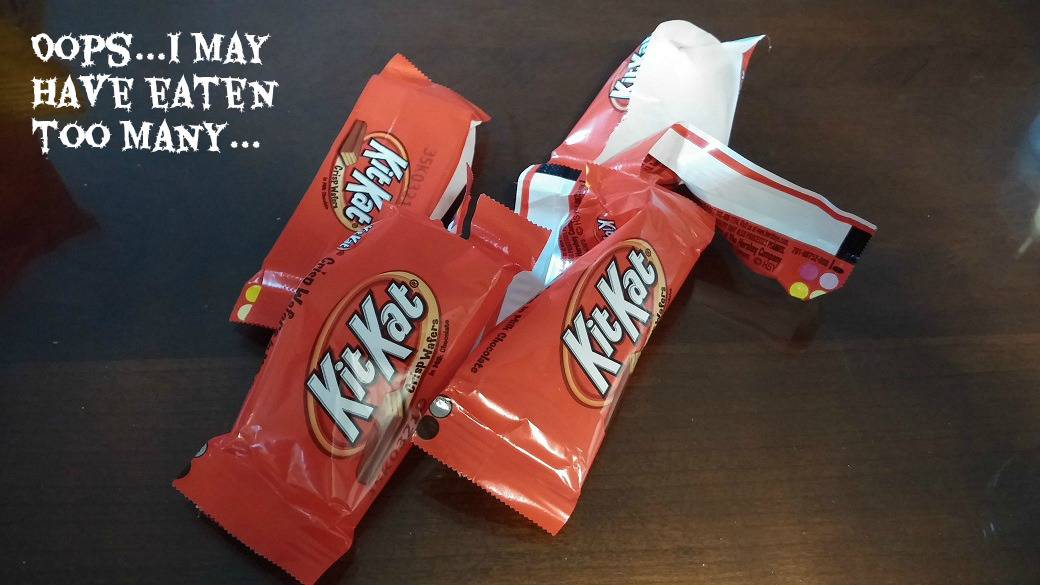 Better yet, buy a type of candy to pass out that you don't like if you worry about resisting the candy in the house.
Keep candy where you can't see it, and preferably where you can't easily reach it.  A high cabinet that requires a stepstool is perfect.
Freeze leftover candy.  You're more likely to let a craving pass if you know it's going to take a little time to defrost or eat.  And if you really want it as a treat, then you'll be able to wait and enjoy it.  [You can also use the frozen candy later in December to decorate gingerbread houses.]
After Halloween, avoid the discounted candy.  Yes, you might be able to get 14 pounds of chocolate for 17 cents, but unless you have some serious willpower, it would probably be hard to practice portion control everyday until that's gone.
Keep the house stocked with ready-to-eat healthy snacks, like pieces of fruit, string cheese, or portion controlled servings of nuts.  If you don't have the healthy choices readily available, you're more likely to reach for the unhealthy candy.
Tips for those of you with kiddos!
First off – I want to emphasize that there is nothing wrong with a child trick or treating and eating candy.  It's fun, candy is delicious, and there's no reason to make a child feel bad for eating candy on Halloween.
If your child has a hard time regulating sweet intake in the weeks after Halloween, there are a few strategies you might try out.  For example, after your child goes trick-or-treating, have them sort their stash into two piles – favorites and not-so-favorites.  They can keep their favorites and toss or donate the other pile.
Or try keeping the remaining candy somewhere out of sight – not hiding it, but putting it behind a cabinet where it's not in open sight every time you walk by.  You might be surprised at how many children forget about the remaining candy after a few days.  My parents used to keep it in a bowl in a cabinet on top of the fridge and I know we'd forget about it after a while.
Don't let candy be a substitute for normal, nutritious snacks and meals.
You can ask your child if they'd like to trade in some of their candy at a "buy-back" event.  Participating dentists will "buy" children's candy in exchange for prizes.
Don't use the candy as punishment or reward – i.e. "if you clean your room, you can have more Halloween candy."  This sets up negative relationships with food and overrides a child's natural signs for regulating hunger and satiety.
Share with me:  What strategies will you use to stay healthy this Halloween?  And on the flip side, what's your favorite Halloween candy indulgence?  (Mine is Kit Kats!)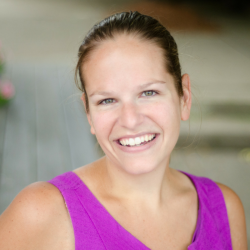 Latest posts by Chrissy Carroll
(see all)