A cornflake crusted French toast loaded up with sweet pineapple compote topping? Bring on brunch!
Disclosure: This post is sponsored by Dole Packaged Foods. As always, all opinions are my own.
Time to fess up – I'm totally a New Year's Day versus New Year's Eve person. Staying up past midnight while people blow those irritating party horns over and over? Not my cup of tea. 😉
But waking up New Year's Day and thinking about the fresh start to the year? An untouched canvas of 365 days of awesomeness? Yep, that's my style.
My typical New Year's Day routine involves either a solo run or a road race first thing in the morning, followed by watching the Rose Parade right after. (Benefit of being on the East Coast = time to do both of those things in the morning!).
There's something about all the work and detail that goes into those floats that's inspiring to watch, especially at the start of the year. I'm pumped to see Dole's float again this year, since they've always got something amazing on tap – it makes sense why they hold the parade record for most trophy wins!
While watching the parade, I'll be serving up some tasty treats for brunch. If you've been following the blog for a while, you know that I love to special breakfasts and brunches for my family on the weekends and holidays!
My brunch entrée of choice for this New Year's? Crispy cornflake crusted French toast, topped with a simple sweet pineapple compote.
Heck-to-the-yes.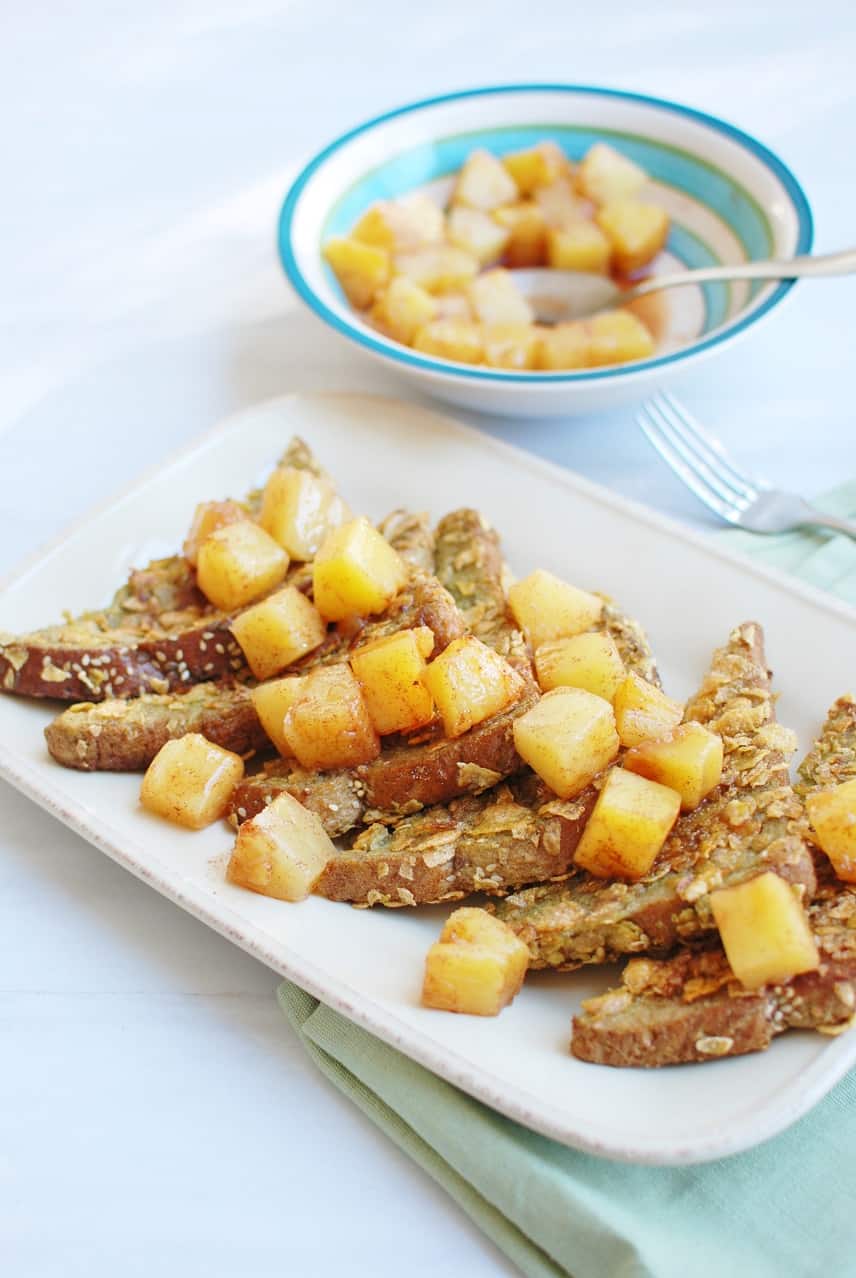 The best part about this brunch is that it sounds super indulgent, and tastes that way too, but it's still relatively wholesome!
[Tweet "New Year's Day brunch just got an upgrade with this pineapple-topped french toast!"]
Here are five ways this cornflake crusted French toast recipe is a nutritious choice:
1. It uses whole grain bread rather than white bread.
I love hearty multigrain breads for this French toast, both because it adds extra in the way of fiber and protein, and also because it holds up well for the cornflake coating.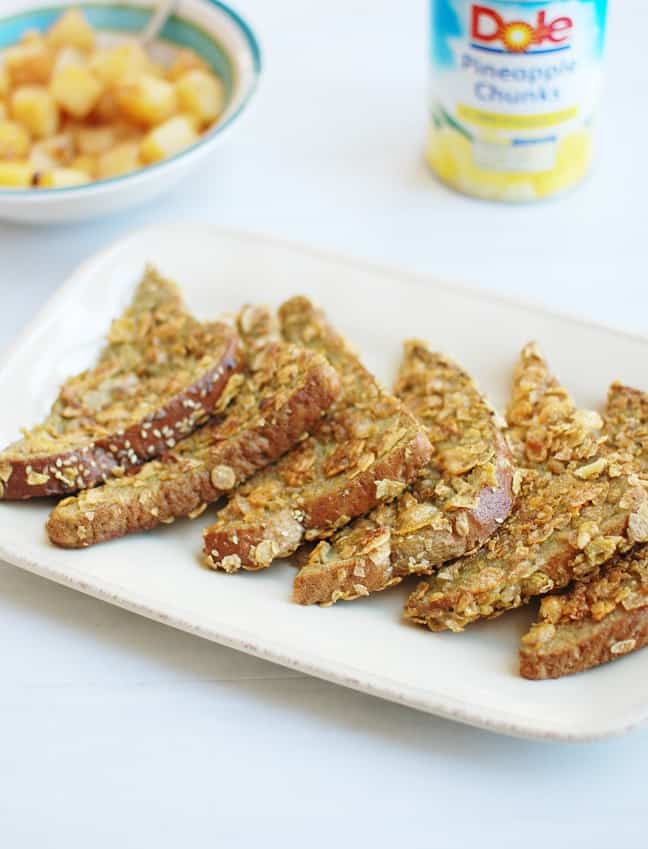 2. There's a secret ingredient…spinach!
Before you immediately click the back button on your browser, I promise you – you cannot taste the spinach in the finished dish. And I love this little hack. Simply blend spinach into the egg mixture, and voila – a little vitamin and mineral boost.
Plus, greens are a traditional New Year's Day food because they're thought to symbolize luck with money. The myth goes that for every bite of greens you eat on New Year's Day, you'll make an extra $1,000. So you better believe I'm going to eat my fair share on the first. 😉
3. No added sugar!
That's right, instead of pouring on the syrup, you'll use Dole canned pineapple packed in juice to make a delicious, sweet pineapple compote topping that's all natural. I love purchasing Dole for this, since you can easily find pineapple packed in 100% juice in BPA-free cans.
It's incredibly simple – just empty the can of pineapple along with all the juices into a pan, add some cinnamon and lemon juice, and let it cook for about 5 minutes. The juices will reduce a bit into a nice syrupy texture and it's just delightful on top of this French toast.
And in certain Asian cultures, pineapples are also associated with luck, wealth, and prosperity. Between the spinach and pineapple, I'm thinking 2018 is going to be pretty darn lucky!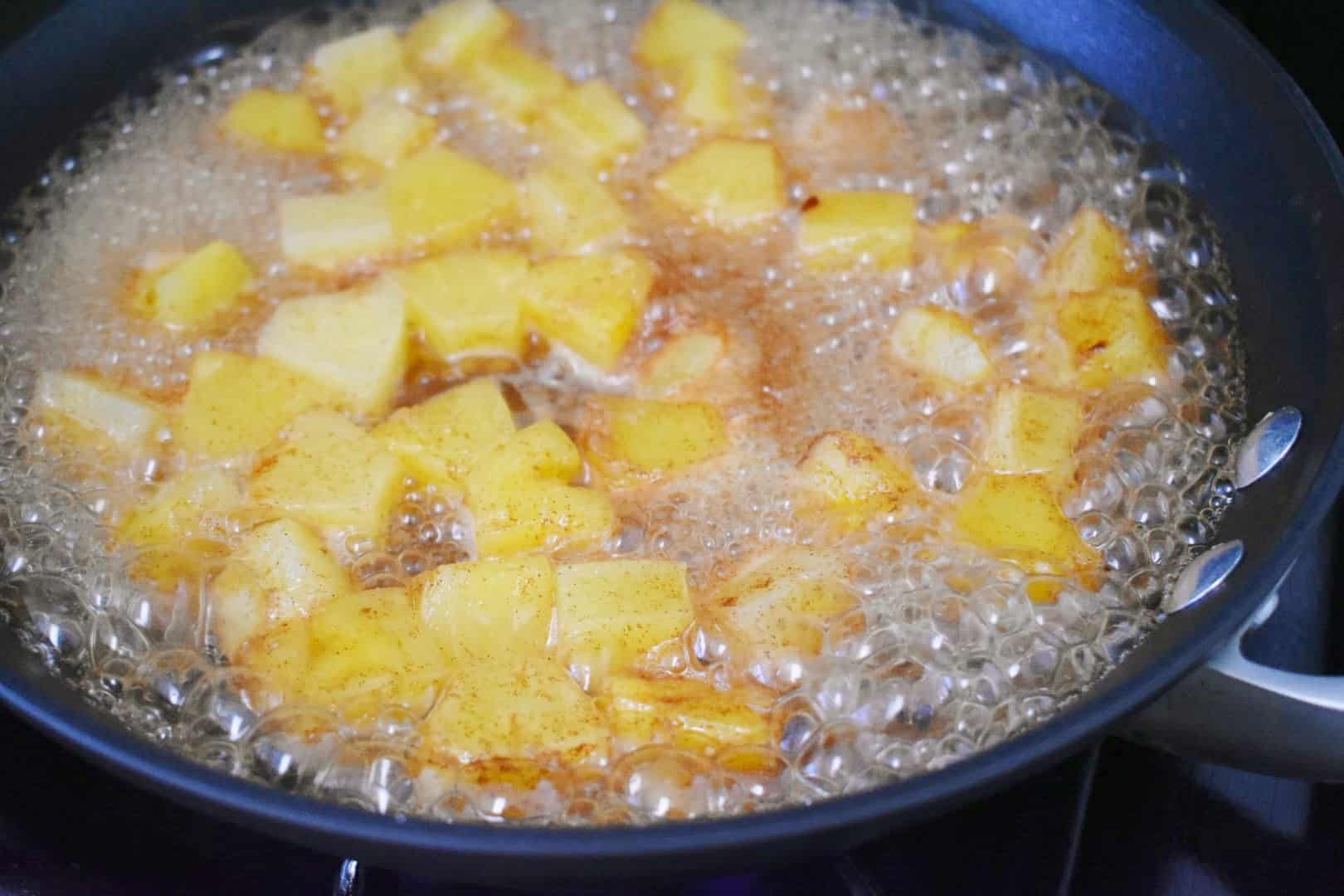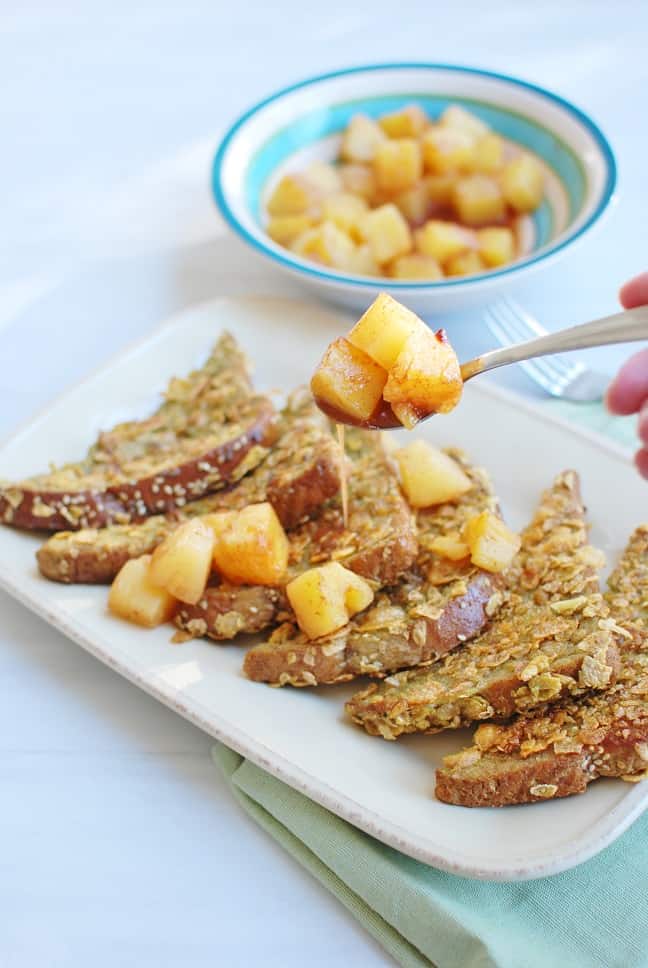 4. Easy to adapt for dietary modifications.
If you're wondering about dietary modifications, I've put together a few easy swaps for you:
Dairy Free – use a milk alternative rather than milk
Vegan – use aquafaba (liquid from a can of chickpeas or beans) rather than eggs; double check that your bread does not contain dairy or eggs
Gluten Free – use gluten free bread rather than regular bread and ensure that your brand of corn flakes does not contain malt flavoring derived from barley
5. Great post-workout brunch!
If you're also going to be getting in a workout before the Rose Parade, you should know that this is a bomb recovery option. You can eat it as is, or you could also add a little coconut greek yogurt on top to boost the protein. Either way, you get a great blend of carbs and protein to help you replenish and recover after a long run or ride.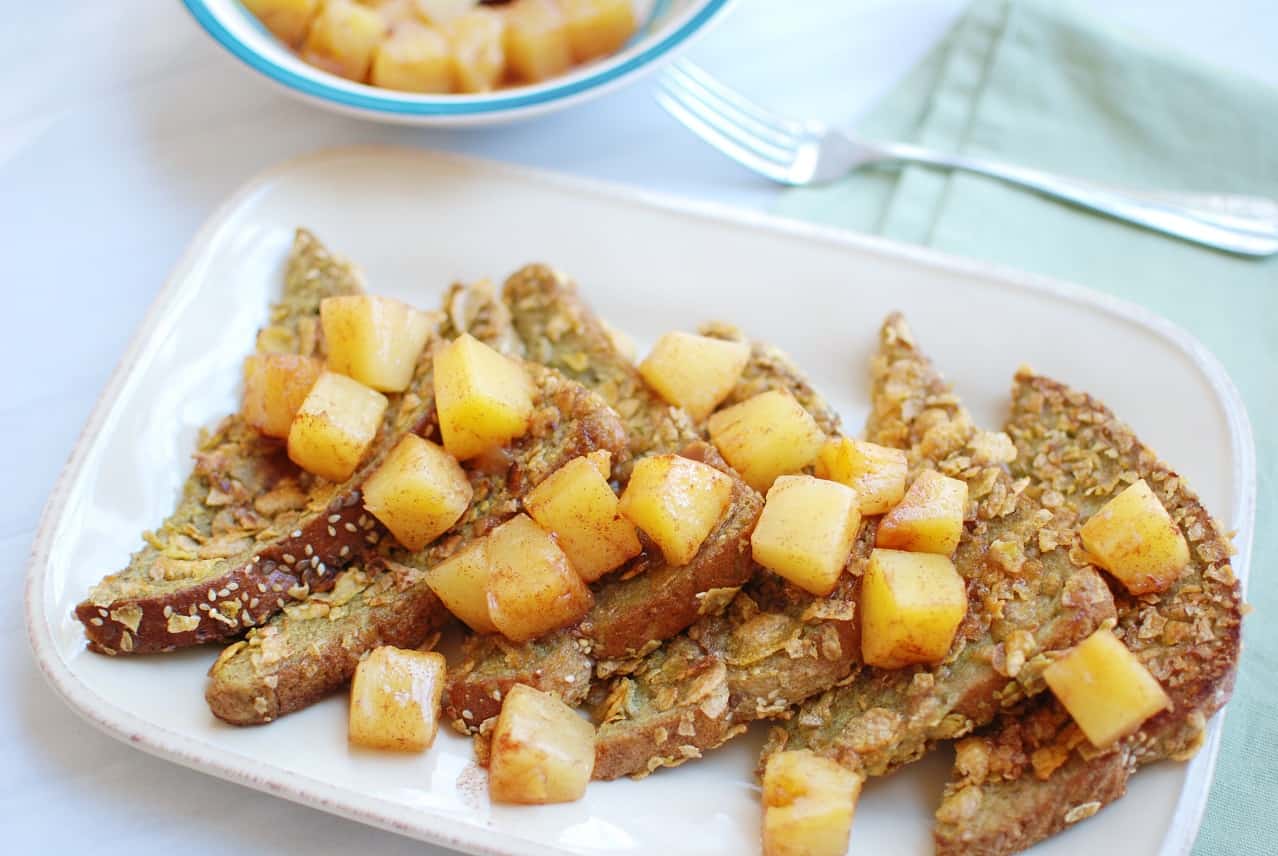 "Join me" for brunch on New Year's!
I know you're going to love this dish as much as I do – so come "join me" for brunch on New Year's! Get the Rose Parade playing on the big screen, then bring up Facebook on your phone or laptop so I can share this recipe with you live from my Facbook page on Monday, January 1st at 11:00AM EST/8:00AM PST. Be sure to grab the ingredients you need this weekend (including your Dole canned pineapple!) so you're all ready to make it on Monday. 🙂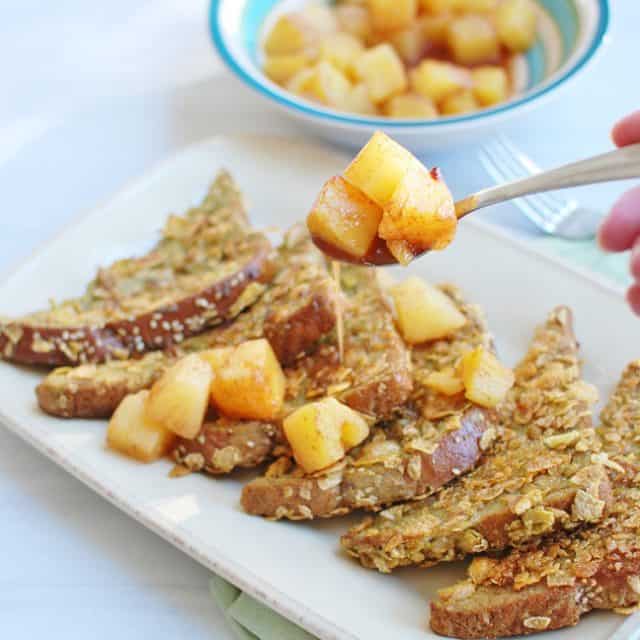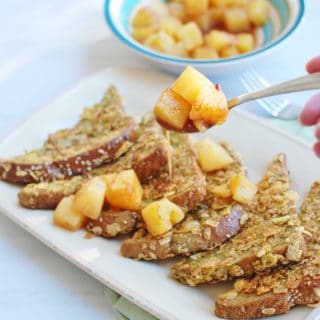 Cornflake Crusted French Toast with Sweet Pineapple Compote
A cornflake crusted French toast loaded up with sweet pineapple compote topping? Bring on brunch!
Ingredients
For pineapple topping:
1

20-ounce

can of Dole pineapple chunks in 100% pineapple juice

1/2

tsp

cinnamon

1

tbsp

lemon juice
For French toast:
3

eggs

1/2

cup

1% milk

or milk alternative

1/2

cup

raw spinach

1

tsp

cinnamon

1

tsp

vanilla

6

slices

hearty multigrain or whole wheat bread

3

cups

corn flakes cereal

3

tbsp

oil

or butter
Instructions
Prepare the pineapple topping by placing the can of pineapple chunks – including all the juice – in a large skillet or saucepan. Add cinnamon and lemon juice, and cook over medium-high heat for about 5 minutes or until juice is reduced by half. Set aside for now.

Place eggs, milk, spinach, cinnamon and vanilla in a blender. Blend until smooth (you want the spinach to blend in seamlessly). Pour mixture into a bowl.

On a plate, place one cup of cornflakes. Crush them a bit with your hands. Place the plate on your counter next to your bowl of egg mixture.

Heat 1 tbsp of oil in a large skillet over medium heat. Meanwhile, dip bread into the egg mixture, then press the bread into the crushed cornflakes to coat both sides.

When oil is hot, place bread into the skillet. Work in batches of two at a time. Cook for approximately 2-3 minutes per side. Repeat process, adding another cup of cornflakes to the plate and another tablespoon of oil to the skillet. Do this twice to finish all the slices of bread.

Pour pineapple topping over the French Toast (you can pop the skillet back on the stove for a minute or two if the topping got cold while you were working on the French Toast). Enjoy!
Notes
Notes:
This makes four servings. The serving size for this dish is three halves of French Toast, topped with a quarter of the total pineapple topping.
I prefer using oil for this recipe because I think it gives a crispier coating to the French toast. But butter works as well!
Nutrition analysis (approximate per serving):
499 calories, 17 g fat, 2 g sat fat, 495 mg sodium, 72 g carbohydrate, 7 g fiber, 27 g sugar, 15.5 g protein, Vitamin A: 24%, Vitamin C: 27%, Calcium: 12%, Iron: 39%
Nutrition
Share with me: Are you a New Year's Day or New Year's Eve person? Will you be tuning into the Rose Parade on New Year's Day? Have you ever made cornflake crusted French toast with pineapple compote?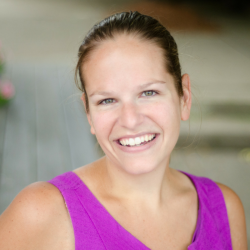 Latest posts by Chrissy Carroll
(see all)