Today is my two year wedding anniversary, and Terry & me are stronger – both in our relationship, and our workouts! – than ever. So I'd do a quick post highlighting some of the ways my husband and I stay healthy together.
I'm lucky that I have someone who is so incredibly supportive in all aspects of my life – but particularly in health. Terry will try any crazy healthy food concoction I come up with – and of course, not all of them are good. Beet cake, for instance, was an epic fail – but I know he appreciates the no-added-sugar chia seed jam, and the homemade flatbread! He'll listen to me talk about nutrition research that I'm sure he has no interest in, but makes it seem like he's super intrigued (i.e. "wow, so it's the dietary nitrates in beets that help with that?!"). He'll cheer me on at just about every race that I participate in (and if you know me, you know I race a lot), and signs up for most of them with me. And he's always willing to tackle a new fitness challenge with me, because he knows I like having a buddy to try something new with.
Having that support makes it easier for me to stay on track, and makes staying healthy a whole lot more fun. If you don't have a significant other who supports you, try finding a workout buddy at the gym, a friend who shares the same passions, or a group (there are lots of running and triathlon groups) with scheduled workouts!
Without further adieu, here are some healthy highlights from my relationship with my husband…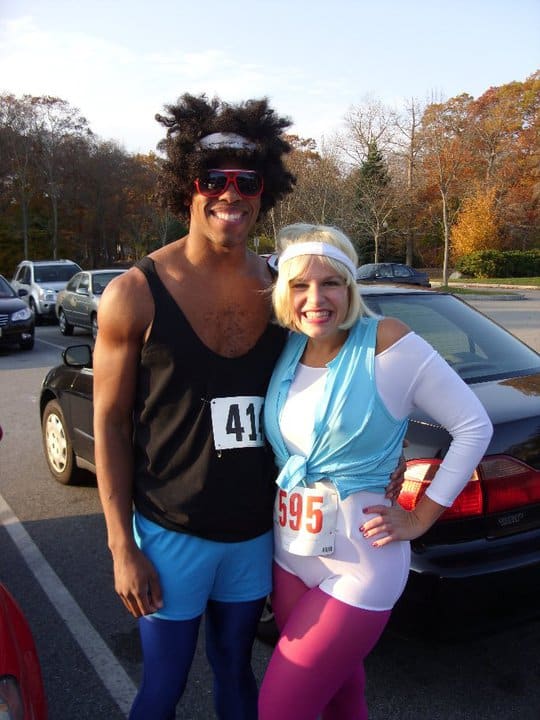 This was our fourth date, about two weeks after we met. A Halloween 10K. You can see why I love the guy, right?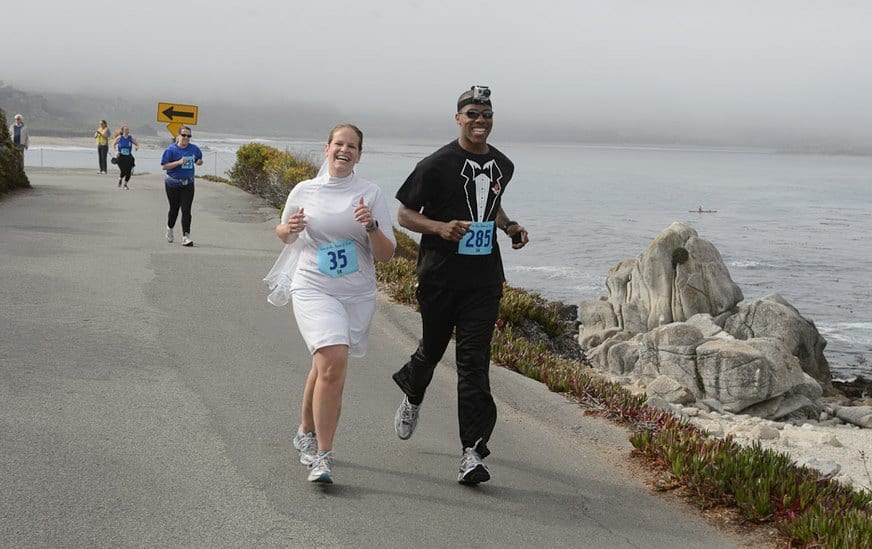 And this was our wedding day – June 17th, 2012, at the Run in the Name of Love 5K in Carmel, California. We ran the race like this and tied the knot after the finish. A random girl we met that finished around the same time as us was our witness.
On our wedding trip in California, we did the "4 mile trail" (actually 5 miles, each way) at Yosemite. It was exhausting but reaching the top and seeing that view – just incredible.
From a snowshoeing trip up in Maine. We stayed at these awesome huts in the middle of the woods. Little does everyone know that this photo was taken after I had to slide down a very large hill on my butt because it was too steep for me to snowshoe down it. Terry has a video somewhere which is very embarrassing.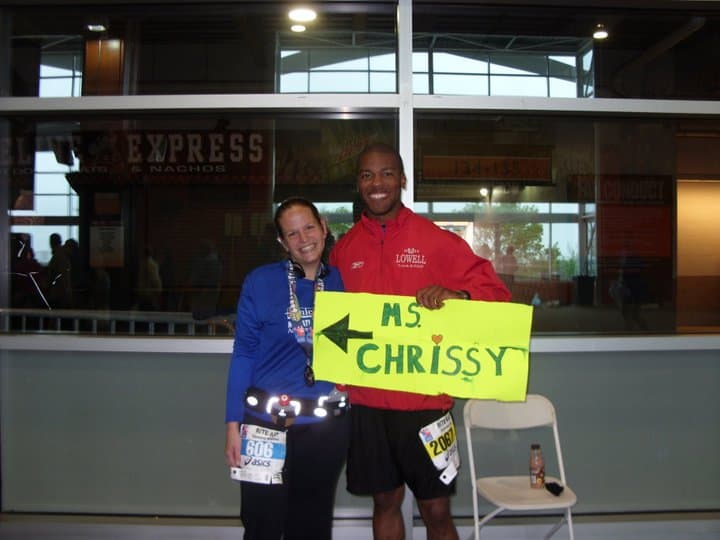 Terry flew out with me to Cleveland a few years ago where I completed my second full marathon. He did the 10K that morning, and then met me a few miles from the finish with this sweet sign, and ran the last few miles in with me. (I used to teach nutrition in Boston Public Schools where I was known as "Miss Chrissy")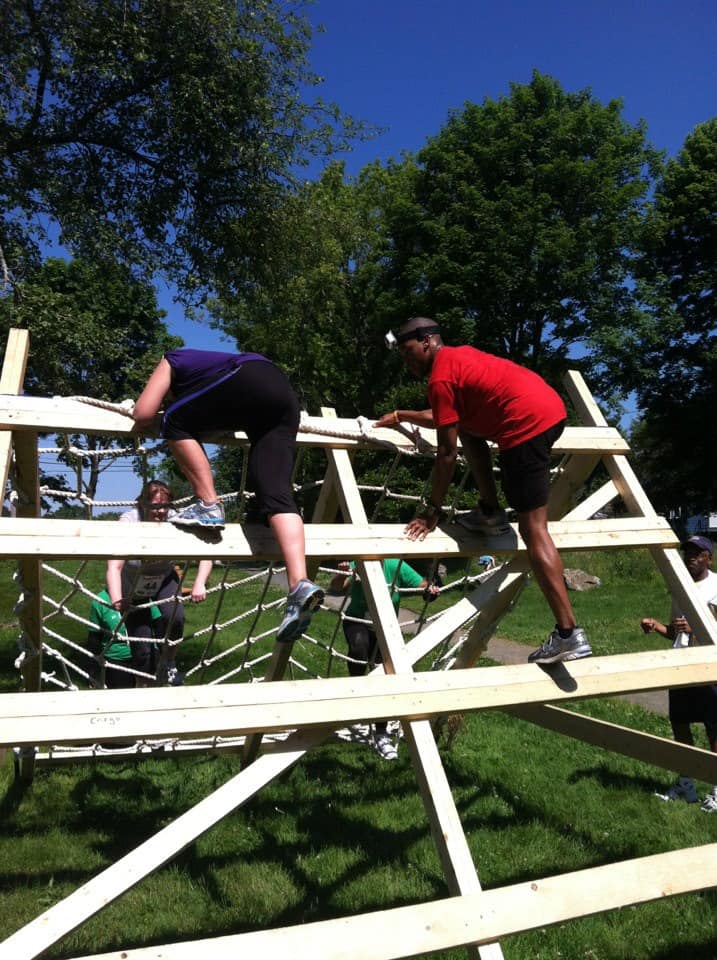 Climbing over the cargo wall at Extreme Urban Run in Salem. While I did fine on the cargo wall, climbing over fences was not my forte. I'm pretty sure he had to boost me over several of them.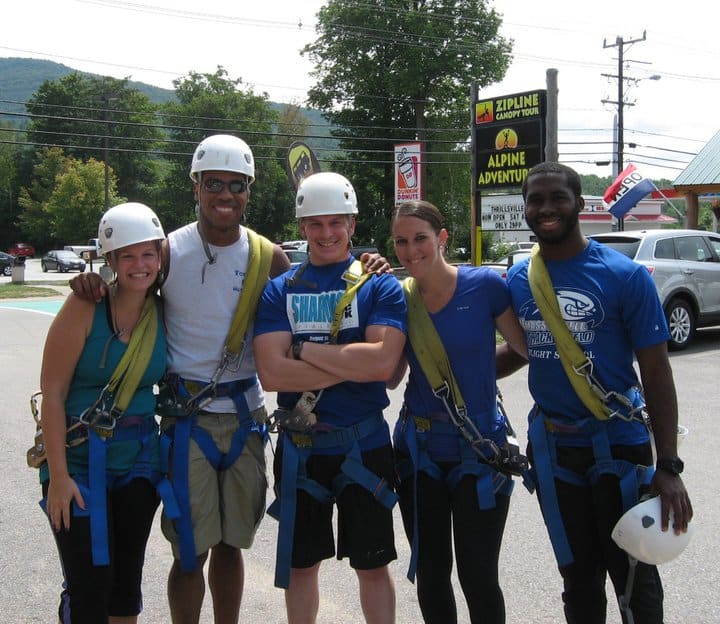 Ziplining with a group of friends up in New Hampshire. While it wasn't super intense, there was a lot of climbing and walking from one spot to the next. When fitness is fun, and with friends, it's easier to stick with it!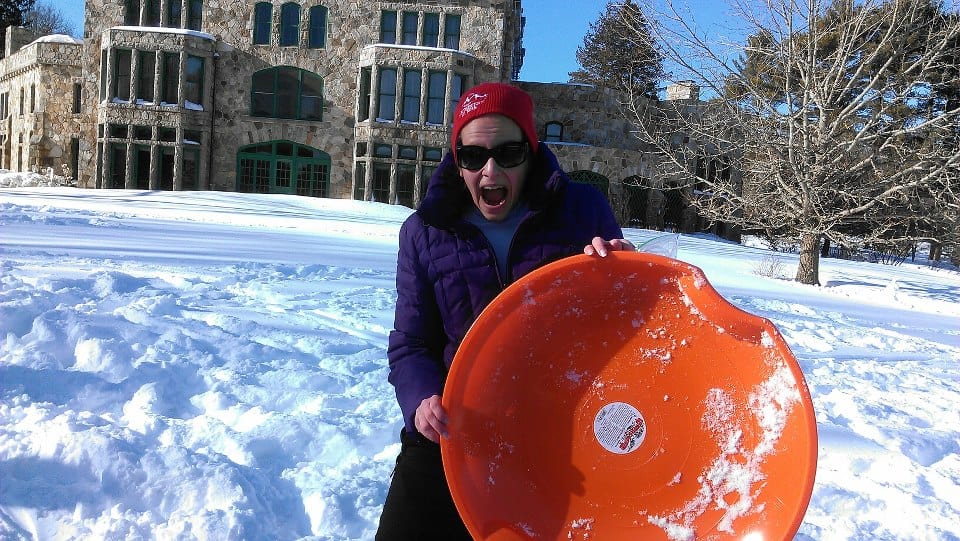 Sledding at Borderland State Park. We kind of felt like creepers being the only adults there without kids, but who says adults can't go sledding too?!
Share with me – how do you stay healthy with your significant other or your friends?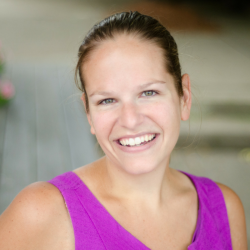 Latest posts by Chrissy Carroll
(see all)