Sometimes it's hard brainstorming a workout that you can fit in quickly at home. While going out for a walk or jog is always an option, what about wanting to squeeze in a quick total body workout? Not to fear, my friends! Below is an easy mix & match home workout that you can do anytime, anywhere.
Start with a 5 minute warm up walk. Then, you can choose one from each category and repeat several sets of each, or throw all of them into a hat and choose a new exercise each minute. Aim for 20-30 minutes total for a quick & challenging home workout.
Cardio
Jumping jacks
Jump rope
Run in place, around the block, or in your yard
High knee runs
Butt kick runs
Skip
Run up and down stairs
Side shuffle
Hopscotch
Dance
Step ups on a stair (use a low stair and focus on moving quickly)
Lower body strength training
Squats (standing, wall, sumo)
Lunges (forward, backward, walking, side)
Standing hip extensions
Side hip abductions
Calf raises (on a ledge or stair)
Donkey kick
Step ups (use a higher stair or bench)
Core strength training
Crunches (regular, twisting, bicycle)
Leg lifts from laying position
Planks (on hands, forearms, side planks, etc)
Bridge pose
Supermans
Mountain climbers
Upper body strength training
Push-ups (regular or modified)
Wall push-ups
Tricep dips using a chair
Upper body using weights, resistance bands, gallons of water, bottles of laundry detergent, etc:

Bicep curls

Upright rows

Tricep extensions

Bent over row

Lateral raises
Need help figuring out how to properly do these?
Visit the ACE exercise library for demonstrations and/or photos of most exercises!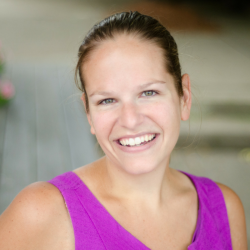 Latest posts by Chrissy Carroll
(see all)