I'm currently in Las Vegas (woohoo!), getting ready to attend the Dietitians in Business & Communications DPG's "Comm Camp".  It's a conference designed to help dietitians enhance communication and business skills.  On the flight out today, I started – and finished – a book called "The Paradox of Choice."
This book is actually several years old, but still super relevant (and perhaps even more relevant now) to today's life.  It discusses how the overwhelming number of choices that we have and growing material affluence is causing the population to be unhappier as a whole, rather than happier.  The jist is that when people have more choices to make, they spend more time making the decision and compare it more (to expectations, perceived losses, their social circle..) – often resulting in anticipated or actual regret, or just a lower level of satisfaction.
There were a few parts of The Paradox of Choice that I thought were particularly relevant to fitness and wellness, and I wanted to share a quick summary and my takeaways from those parts…
Ending Your Workout
There was a fascinating section in the book about unpleasant experiences.  They summarized a study where men were getting colonoscopies done, and had to rate how unpleasant the experience was both during and afterward.  One group had a regular colonoscopy, while the other had a colonoscopy followed by an additional 20 seconds at the end where the doctor just left the scope stationary before removing it.
Because the second group experienced less discomfort at the end when the scope was stationary, they rated afterward as less unpleasant than the first group!  Even though they experienced the same thing the remainder of the time – and in fact, during the event rated it equally uncomfortable – the fact that they had some relief before the end of the procedure meant that they reflected on the experience as a whole to be better.
It sounds silly, but there were other examples of a similar phenomenon in the book too.  It got me thinking about how we can apply this knowledge to our workout routines.
I'm sure all of you have had workouts that end tough – maybe you are just starting out and are physically exhausted at the end, or perhaps you feel like your workout didn't go as well as you had planned.
Based on the information in the paradox of choice – what if you made an effort  to include something at the end of your workout that you enjoyed?  It might make a difference between having a positive perspective on your workout – and making it more likely you'll stick to your routine – versus reflecting back and thinking "Ugh, I really don't like exercise."
Takeaway:  Consider maybe playing your favorite song in the last few minutes of your workout, or giving yourself a few extra minutes to cool down and stretch.  Ending on a good note may help you feel better about your routine and stick to it.
Choosing a Diet or Exercise Routine
People often place greater weight and importance on personal and anecdotal stories, compared to research that looks at large groups of people.  I feel like this is why so many people end up on fad diets.  It's really easy to get sucked into an emotional success story from a live person (even when you don't necessarily know them personal).  Yet, in reality, research does a far better job of estimating what will work and what won't work, because it's based on logic, science, and averages among many people throughout the population.
Takeaway:  Choose nutrition and fitness habits that are based on science rather than personal anecdotes.
Joining a gym
Inactive inertia is a phenomenon where we decide not to take action (yet) because of some perceived loss if we take it now.  When it comes to the fitness world, think of something like gym memberships.  Maybe you're just getting started on your fitness journey and you are searching for a gym.  You come across one that you like and they have a sale going on where you don't have to pay a start up fee to join.  You aren't 100% sure that you want to join that gym, so you decide to look into lots of other options first.  A few weeks later, you go back to the first gym because you feel it was the best for you.  But the sale is no longer going on and now there is a start-up fee.  A lot of people are likely to decide not to join after all, because they essentially feel they're getting a worse deal now.  They may justify it by saying "I probably wouldn't go there anyway" or "they didn't have as many classes as I'd like."
Again, there's nothing wrong with making educated choices.  But in the situation above, now that person has spent weeks and has still not started their fitness journey – and we have no idea when they will, because they've now decided the gym they liked best wasn't right anymore due to the fee.
Takeaway:  Avoid analysis paralysis.  Don't let the overwhelming number of choices stop you from taking action.  Weigh your options, but give yourself limitations and a time frame to make that decision regardless.
Success as an Athlete (or even an average gym go-er)
A look into Olympic medalists told an interesting tale.  If you were comparing bronze medalists to silver medalists, you'd expect the silver medalists to be more happy, right?  I mean, they finished ahead.  In reality, silver medalists generally rate themselves as less happy.  The smaller the gap between what we did and what we picture as success, the more frustrated we become that we didn't reach our goal.  You know – "if only I had ______ (ran faster, jumped higher, practiced more, etc)."
Critiquing your performance in an athletic event or in a workout isn't always bad, and in fact it is necessary to know if there were things that were in your control that you can improve upon next time.  However, don't let that stop you from being content with a great accomplishment.  Perhaps you didn't hit your half marathon goal of under 2 hours, but you still PR'ed at 2:05.
Takeaway:  Change your frame of thinking to celebrate the success rather than focus on the failure.
Share with me:  Have you read the Paradox of Choice?  What are your thoughts on the connections to wellness and fitness?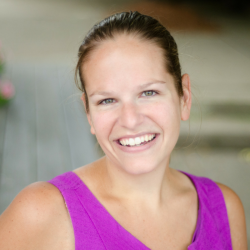 Chrissy Carroll is a Registered Dietitian and USAT Level I Triathlon Coach. She specializes in sharing nutrition and fitness tips, as well as recipes, for runners, triathletes, and active women.Chrissy holds a Bachelor's Degree in Nutrition, a Masters Degree in Public Health, and is also an ACSM Certified Personal Trainer.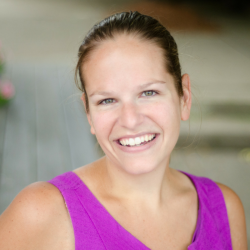 Latest posts by Chrissy Carroll (see all)