The past week has really centered around the theme of a fresh new look – both personally and in the bloggersphere.
On a personal note, I was a hair model for a style class at Living Proof Style Lab. I know I don't usually share style type stuff on here – because let's face it, I'm like the least stylish person on the planet – but I just am so excited about this that I had to share a little.
They had stylists from Canada that were learning about advanced techniques and the Living Proof product line, and invited women (myself included) to come in for complimentary haircuts or styles. Of course, you have to be a little open to change to make something like this worthwhile, both for you and the stylist. The only guidelines I gave her were "it'd be great if I could still pull some of my hair back in a ponytail for running." From there, I let her do her thing…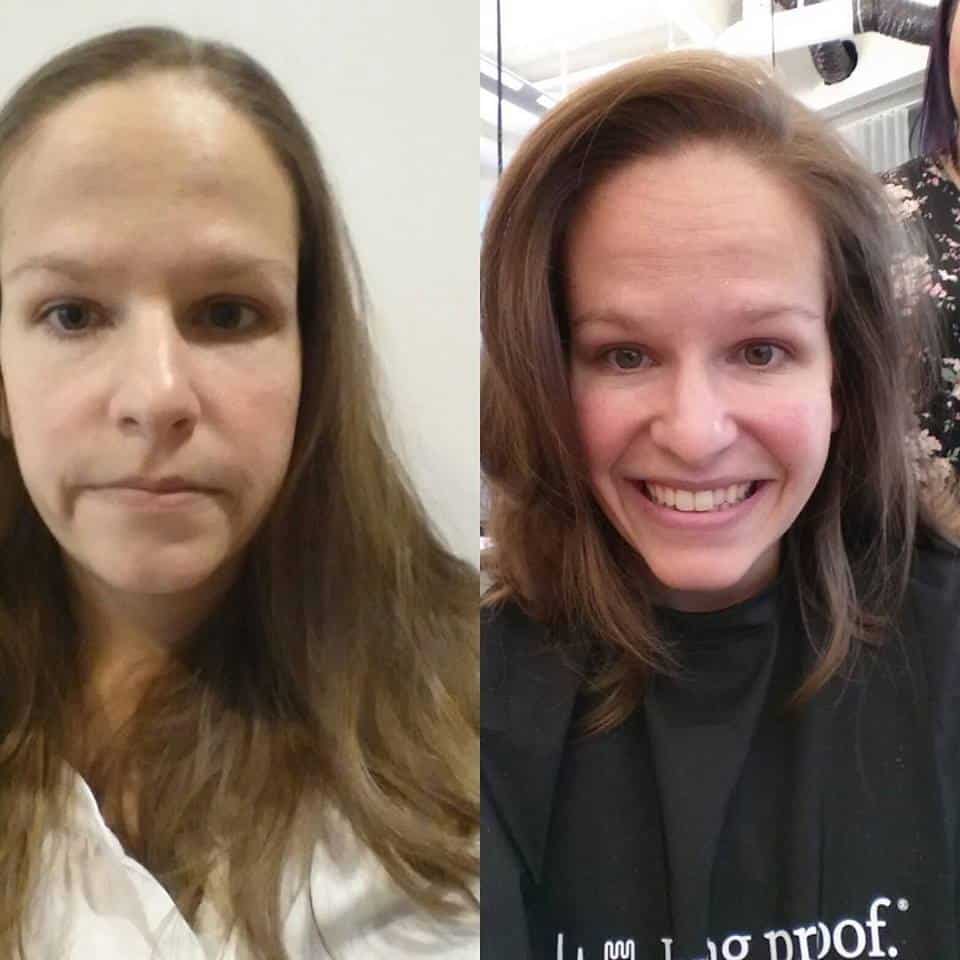 …And I LOVE it. My hair had gotten really long and hadn't been cut since June, so it was just looking so blah (side note – that before picture was snapped right before I went in, so that's an accurate photo of my hair although the lighting makes my non-smiling face look pretty awful, haha. Terry says I look like I'm intentionally trying to look like a "before" picture there.) She did a medium length style with some layers and razoring and also gave me a little side bang, which is long enough that it can be styled back (a la the after photo) or styled more across the forehead and to the side of the face.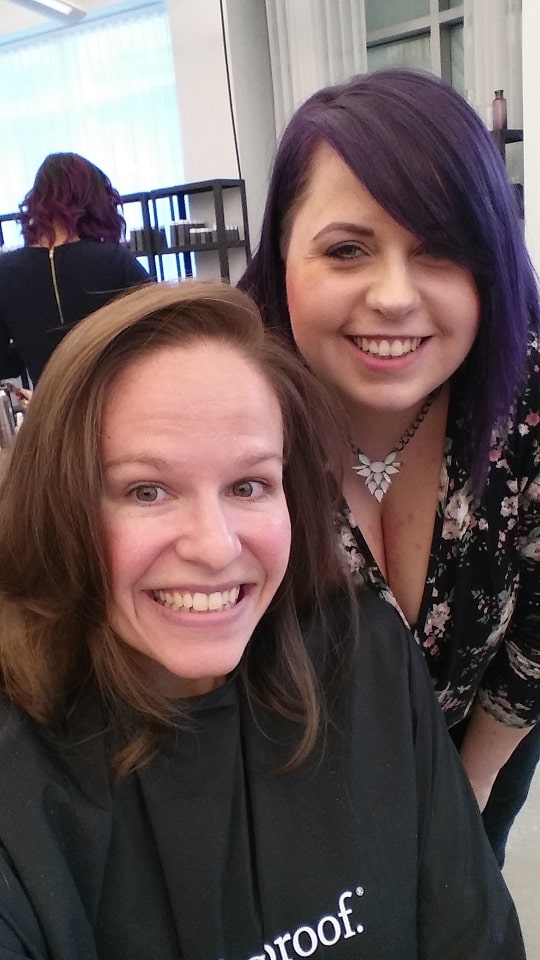 And as you've probably noticed, I'm not the only one that got a makeover this past week. Snacking in Sneakers also got a whole new look thanks to Amanda over at ALB designs. I love the cleaner look that also embraces some fun colors and really lets my personality shine through. I also love the new Recipe Box, so now my recipes are all categorized and organized so you can find exactly what you need. (Curious? Click "recipe box" up top and then you can browse categories like desserts, entrees, vegetarian, and more).
The redesign is something I've been wanting to do for a while, but I'm not super tech savvy and it sometimes takes me forever to learn how to do things. Yet I didn't feel like I wanted to spend crazy amounts of money for a web designer, because the framework for the blog and brand was there, it just needed some tweaks. Amanda offered the perfect services for bloggers like me – or new bloggers who are on a budget but want a custom look – with a makeover using a new theme along with a little design work in terms of colors, fonts, email opt in, and more.
I'm so happy with both the blog's new look and my new look!
Share with me: Have you ever been a model in a hairstyle class? How did you like your new haircut? If you've been reading Snacking in Sneakers for a while – what do you think of the new look?!