I've been working really hard the last few weeks to get back into a steadier workout routine.  While I've been working out since 6 weeks post-partum, but I'll be honest – some weeks have been a bit lackluster.
I knew things would be very busy as a new mom; I did not anticipate just how busy.  My adorable son is a good night sleeper and a pretty happy baby, but he only likes taking three 30 minute naps a day.  Among trying to combine taking care of him full time, balancing my blog and my corporate wellness business, keeping the house from looking like a tornado hit it, and fitting in regular workouts – things can definitely get crazy some weeks.
The house is the first thing to fall by the wayside.  A la this picture that I just snapped…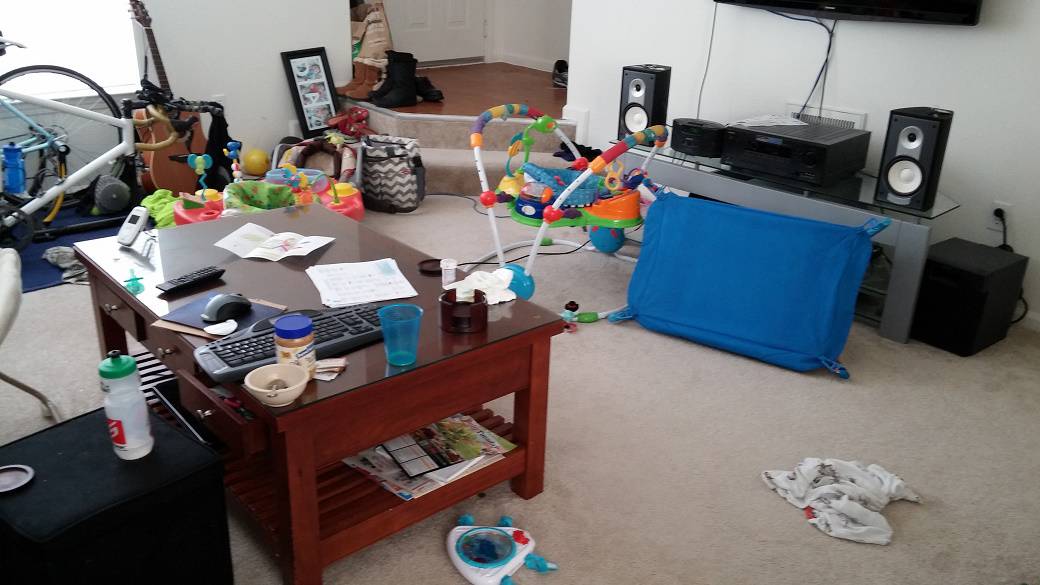 (Thank goodness I've set aside some time this weekend to take care of this craziness)
Workouts sometimes get off track too, but I've really been making an effort to prioritize getting in at least 4 workouts a week the last few weeks, and it's felt amazing.  I know that there are times I need to cut myself slack if I have to skip one, but it seriously makes me such a happier person when I'm exercising regularly.  (If you have doubts about this, ask my husband.  When I'm being cranky he always says "I think you need to go for a run.")
Below are last week's workouts and this week so far.  I'm hoping to start sharing some more of my personal workouts regularly – in addition to making a good blog post, it's like a running log so I can see keep track of what I've been doing.  Right now, I'm focusing on boot camp and interval style workouts since I'll be teaching those at a corporate site in a few weeks, as well as on running since I have the Rock N Roll Brooklyn Half Marathon coming up in October (disclosure – I received a free race entry as part of the Rock N Blog team).
2nd week of August
Monday, 8/10 – 3 mile run
Tuesday, 8/12 – Outdoor interval workout (resistance band bicep curls, tricep extensions, squat jumps, push ups, burpees, jumping jacks, side shuffles).  During this workout, I was fooling around with the resistance band and actually managed to somehow get it caught in my hair.  How do I get myself in these situations??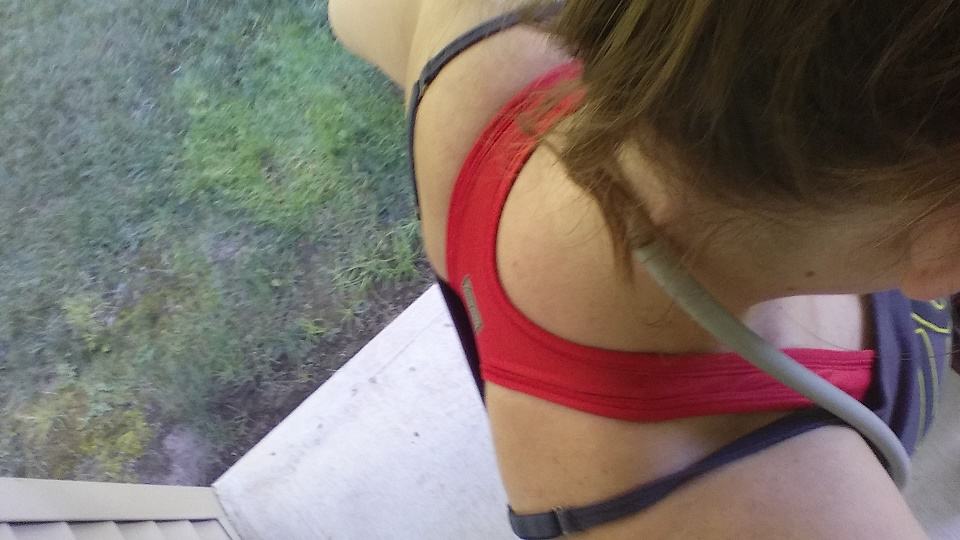 Thursday, 8/14 – 3 mile run
Saturday, 8/15 – 5.5 mile run (so HOT outside!  Lots of walking breaks included; this has been my longest run to date post-partum)
3rd week of August
Monday, 8/17 – Light swimming
Tuesday, 8/18 – 3.5 mile run
Wednesday, 8/19 – Outdoor boot camp workout using a modified version of this "Battle of the Body Weights" workout (LOVE this!)
Share with me: 
-What workouts have you been up to the last few weeks?
-Moms, did you struggle fitting in workouts after your little ones were born?
-What are your favorite outdoor boot camp moves?
-Have you ever gotten a resistance band caught in your hair?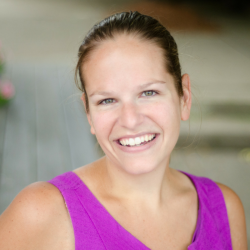 Latest posts by Chrissy Carroll
(see all)