We just started getting our CSA two weeks ago, and I love it.  If you're unfamiliar with the term, CSA stands for community supported agriculture.  Basically, you pay a farm a flat fee upfront (typically paid in the spring by April or May in the Northeast).  Then you receive a basket or box of produce each week for the length of your CSA!
For example, we have a half share CSA from Paquette Farm, a farm local to us in Shrewsbury, Mass.  We paid $275 for a half share, and the CSA runs June-October.  Each week we pick up two baskets of produce.  The pic above is of our first week's haul!
Here's what I love about having a CSA:
It's fresh & nutritious.
When we pick up our produce, we know that it was picked fresh for our baskets from the farm.  It didn't have to travel days to get to the grocery store, so it retains higher levels of nutrients compared to older produce.  Plus, farm fresh ingredients just taste better!
Great value.
I find that the amount of produce I get each week is higher in value than what I'd pay at the grocery store when you break down the weekly cost over the length of the CSA.
Supports the local economy.
By purchasing a CSA, you help to support your local farm and the local economy.
Forces you to be creative.
When you purchase a CSA, you may have an idea of what you will receive in your basket based on what's common in the growing season in your area at that time of year – but you typically don't know exactly what you will receive until you pick it up.  Some people consider this a downside, but I love it.  Picking it up each week is a fun surprise, kind of like those surprise goody bags at the dollar store that I used to beg to get when I was younger.  Who knows what will be inside! 🙂
The past few weeks, we've gotten lettuce (a few different types), tomatoes, cucumbers, radishes, asparagus, and kale in our baskets.  Here are just two examples of fun meals we've made using some of these ingredients (sorry for the bad photo quality; I was snapping the pics quick with my phone!):
1)  Salad with green leaf lettuce, grilled chicken, sliced peaches, roasted asparagus, and avocados, with a balsamic vinaigrette dressing.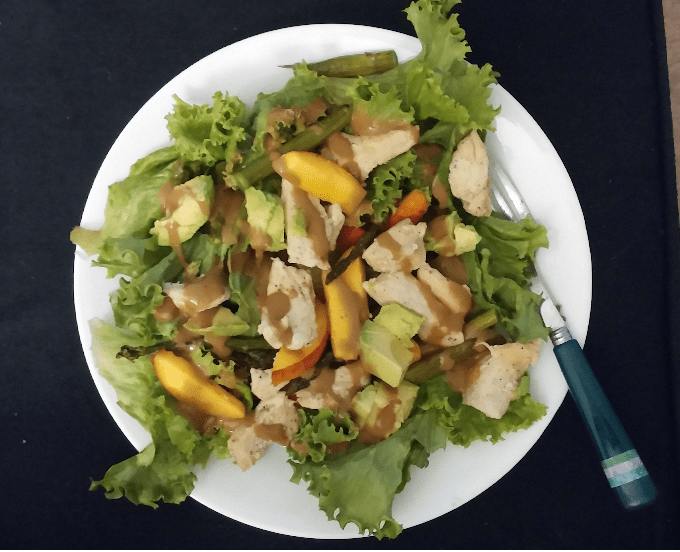 2)  Quinoa salad with tomatoes, cucumbers, and avocado with a citrus vinaigrette, along with sides of sauteed asparagus and bacon, as well as crispy kale chips.  (And just to note, that big plate was for me and my husband, not just me, haha!)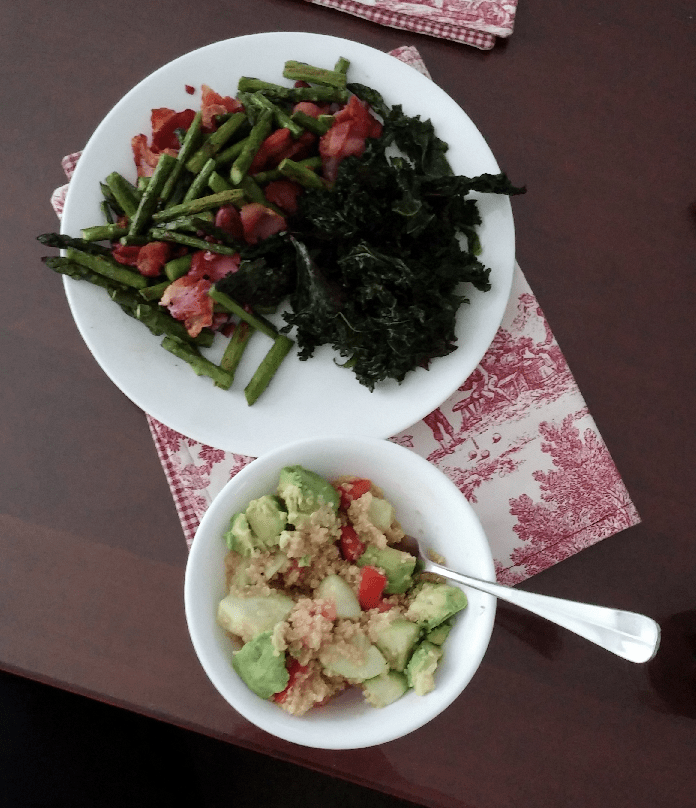 Share with me:  Do you get a CSA?  What are some creative meals you've made with your CSA produce?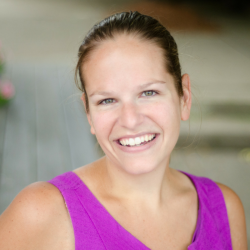 Chrissy Carroll is a Registered Dietitian and USAT Level I Triathlon Coach. She specializes in sharing nutrition and fitness tips, as well as recipes, for runners, triathletes, and active women.Chrissy holds a Bachelor's Degree in Nutrition, a Masters Degree in Public Health, and is also an ACSM Certified Personal Trainer.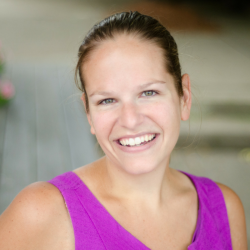 Latest posts by Chrissy Carroll (see all)