My husband Terry and I met online through Plenty of Fish.  I noticed that he was a runner, and I had just completed my first marathon at that point – so I reached out with some super dorky message, and mentioned "maybe we can go for a run together sometime."
In my head, all runners were the same – we all do long distance running, of course!  But after meeting and getting to know my hubby, I realized that his training and competing was way different than mine.
Terry was a track athlete in high school and college, competing in things like sprints, hurdles, and the long & triple jump.  I get the impression that jumping has always been his forte, and he still competes in it today.
If you're scratching your head – yes! Grown ups can still compete in track meets!  I didn't realize this but I guess a lot of track and field athletes are aware of this fact.  I just thought it was one of those things that stopped at the college level.  At some of his meets, there's a pretty big range of ages, but at a lot of them – it is mostly college kids.  I find it hilarious because I'm always on the side lines with moms that are there watching.  The conversation usually goes like this:
Someone's mom:  "Aw, are you here watching your boyfriend jump?"
Me:  "Actually it's my husband.  The guy is the red & black."
Someone's mom:  "Oh, that's great!  Where do you both go to school?"
Me:  "Actually, I'm almost 30.  We graduated a while ago…"
Someone's mom:  "Oh!  They still let him compete?"
Or some rendition of that.  It'll probably be even more entertaining this year once I'm carrying our baby around to watch.
Anyway – I think it's awesome that he still competes.  The past two years, he's been lucky enough to represent Greater Boston Track Club in USATF Club Nationals.  He went to Seattle in 2014 and NYC in 2013 for the competition, which seems like an amazing experience for an athlete.
Terry's triple jump training is much different than my training as a distance runner.  When I train for a half marathon (probably my favorite distance to run), I'm focused on slow and steady running and getting enough mileage to feel comfortable out there on race day.  I am slow, but I'm fine with that.
When Terry goes out to run, he's going to the track.  He warms up with some jogging and dynamic movements, and then goes into practicing things like bounding and sprinting.  It's so different than anything I'm used to, so I'm always intrigued by his workouts and competitions.  It's a much higher intensity sport.
He also spends a considerable amount of time in the weight room during the winter to work on strength so that he has the power for the quick movements necessary.  He focuses on large muscle groups through exercises like squats, dead lifts, bench presses, lat pulldowns, and a few others.  It's basically a 5×5 style workout, which he got me into last winter and I loved it.  I didn't stick with it during the summer, and then when I got pregnant I didn't want to start it up again – so I look forward to starting it again later this year.
Here's a quick video from his meet this past weekend.  Terry wrote up a great summary on his blog where he broke down all the parts of his jump and what he wanted to improve upon.  This isn't his PR, but it's still solid – a 13.51 meter jump.  His goal is to eventually hit 15 meters.
I really hope he hits his goal this year in 2015!
Share with me:  What type of sport or fitness activity do you do?  Is your training super specific or more general?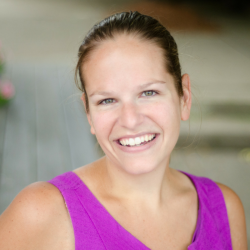 Chrissy Carroll is a Registered Dietitian and USAT Level I Triathlon Coach. She specializes in sharing nutrition and fitness tips, as well as recipes, for runners, triathletes, and active women.Chrissy holds a Bachelor's Degree in Nutrition, a Masters Degree in Public Health, and is also an ACSM Certified Personal Trainer.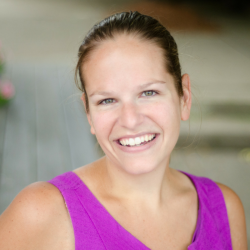 Latest posts by Chrissy Carroll (see all)