This is a sponsored post written by me on behalf of DICK'S Sporting Goods for IZEA. All opinions are 100% mine.
Do you all come from a family of die-hard football fans? My family definitely fits the criteria. With a mixture of Dallas Cowboys (my dad), Giants (my brother), and Patriots (my husband) – we've got some rival allegiances between us all. After living in Mass for the last 14 years, I've gotta side with the hubby on this one and throw my hat in the ring for the Patriots.
Of course, no super fan is complete without the most important piece of fan gear – the jersey. I mean, even the little one has gotta have his on to represent….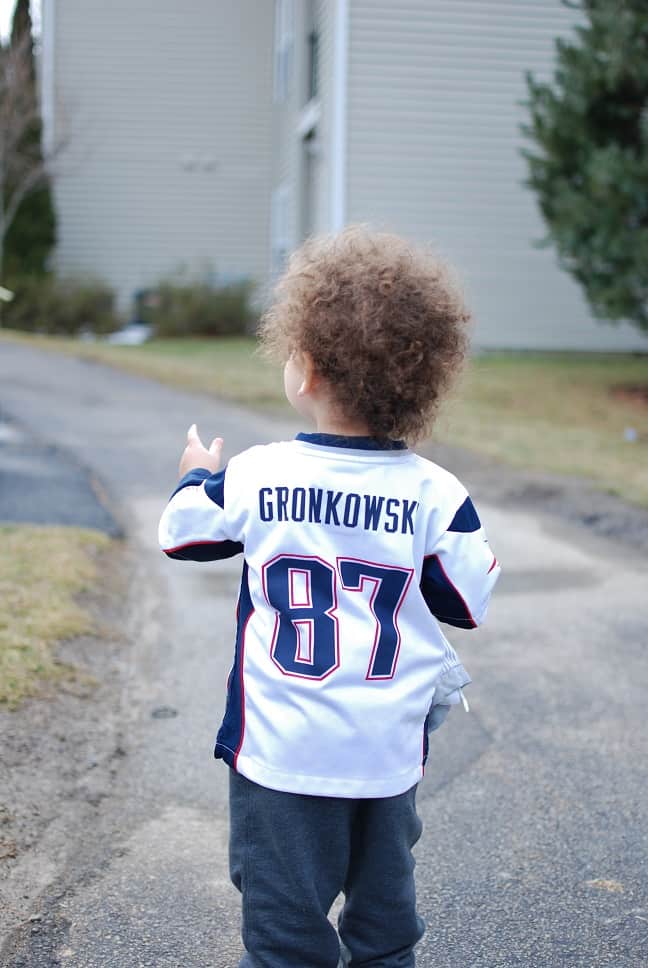 And in the US, there are definitely some top favorites when it comes to whose jerseys the football aficionados are sporting. The Jersey Report from DICK'S Sporting Goods helps to show you just who is winning the NFL's popularity contest by ranking the top selling jerseys. There are even options to filter, so if you want to see who is most popular on offense versus defense, or who is most popular in the past week versus the whole season – you can sort accordingly.
Plus, you can follow along with DICK's Sporting Goods on Facebook and Instagram to see weekly fun facts about the Jersey Report!
I took a look at the top five players for the season. Here's current breakdown: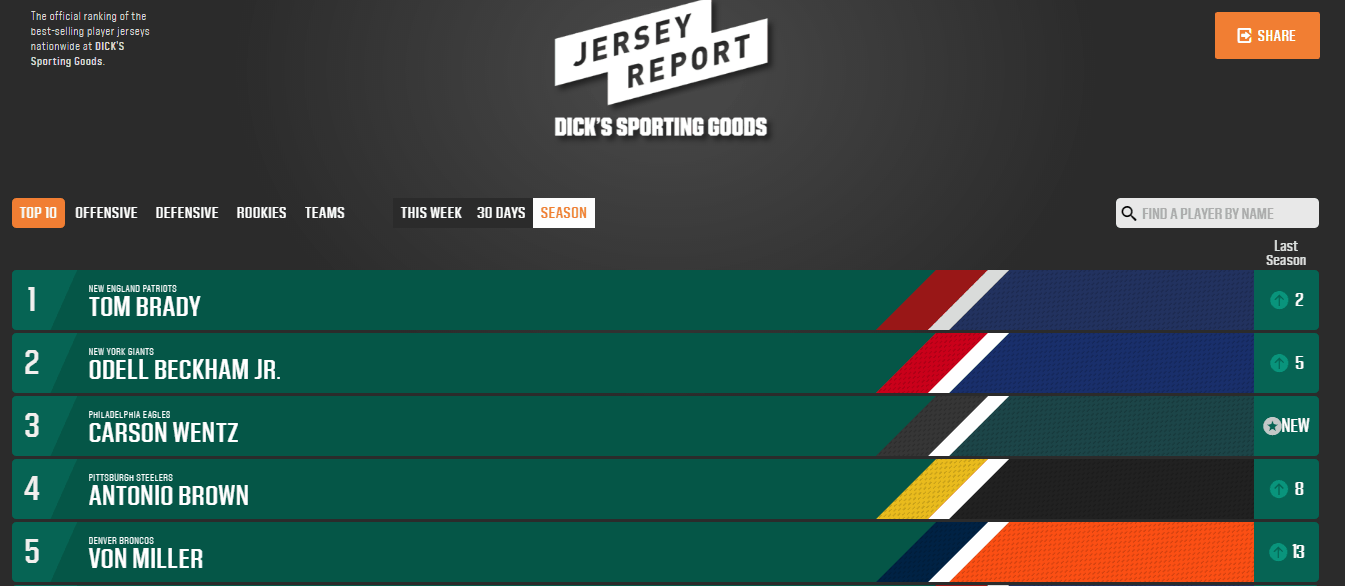 As I read through these top five, it reminded me how almost all of these guys are passionate about their nutrition beliefs. Now, some of their beliefs may be a bit off the rocker. Tom Brady not eating tomatoes because they cause inflammation? Come on, Tom. Bring on those red beauties. Or Antonio Brown's chef not serving any "dead carbohydrates like white bread or whole wheat bread" and instead only using sprouted grains (because they're "living"). I've got no hate for sprouted grain bread, but there's also nothing wrong with eating the proclaimed "dead" whole wheat bread.
Quirky views and pseudoscience aside, I DO love that these guys care about what they're putting in their bodies. And despite being a Patriots fan thanks to the hubby's influence, as a sports RD I've got a soft spot on this list for Von Miller.
He's been in the media in the past discussing the impact of nutrition on his performance. And out of all the top 5 players, he's the one that (I think) has the most logical views when it comes to nutrition.
In a GQ story from November 2016, Miller says about his diet:
"No matter if it's in-season, the offseason, I'm going to eat the same regardless. I'm always going to try to keep all the saturated fats off my diet. Keep all the candy and sugar off my diet. I'm trying to eat clean every day. Of course I have cheat days and cheat moments, but 90 percent of the time, Von is gonna be 100 percent on the nutrition beat."
His views are logical. Feasible. Nutrition beliefs that support his performance without branching off into unnecessary restrictions or pseudoscience.
So in honor of Miller and the other top 5 ranked jerseys, I've rounded up my top healthy game day snacks. Time to throw your jersey on and whip these up for your next Sunday afternoon game time.
[Tweet "These 10 better-for-you game day snacks are packed with flavor to please any football lover!"]
It's a mozzarella stick…no it's a jalepeno popper….no, it's cauliflower hummus bites! These might look like something unhealthy, but just a few simple ingredients form these nutritious veggie-filled baked bites.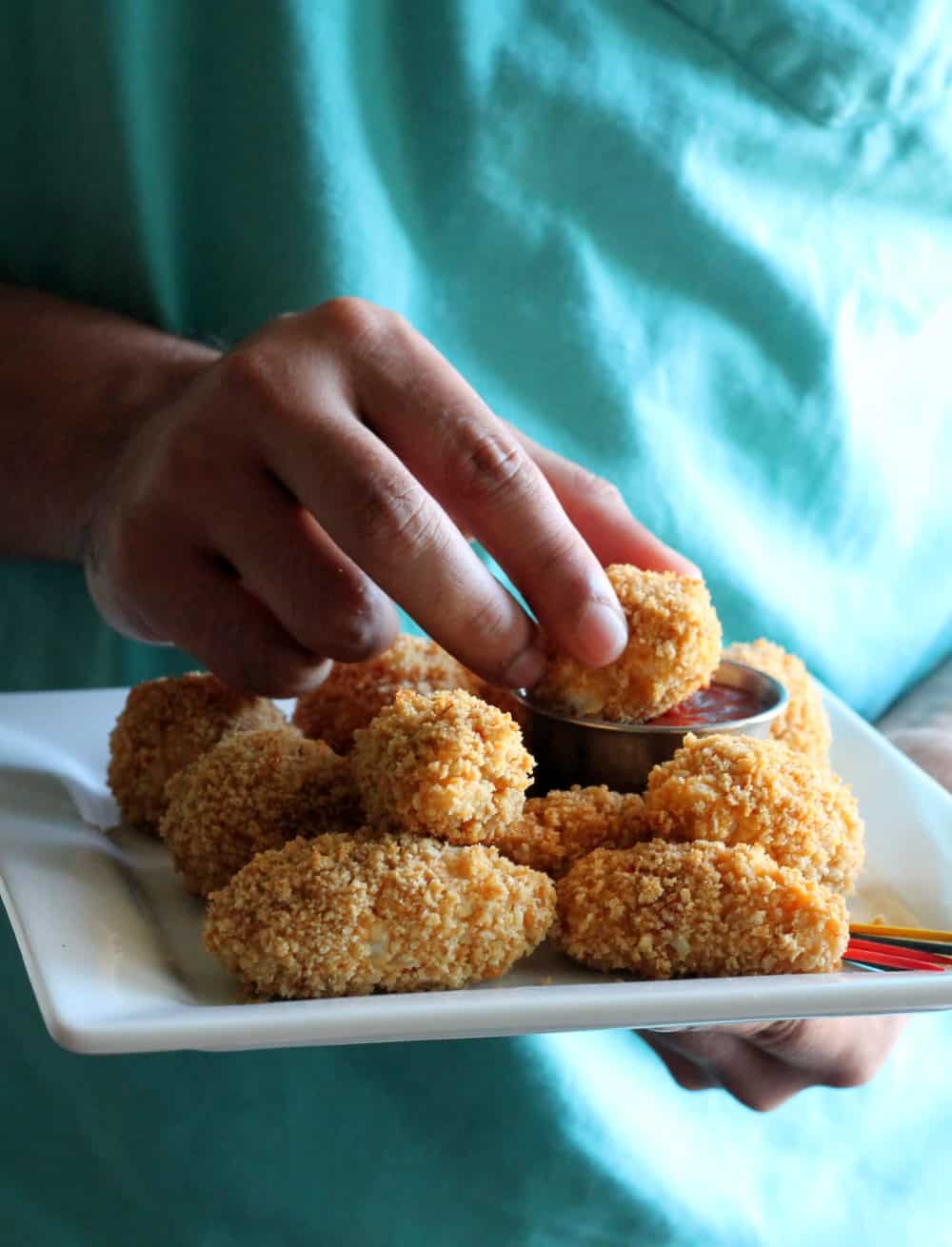 If your crowd is a fan of sweet versus savory snacks, try these healthy apple nachos. They are a perfect blend of flavors and are great for adults and kids.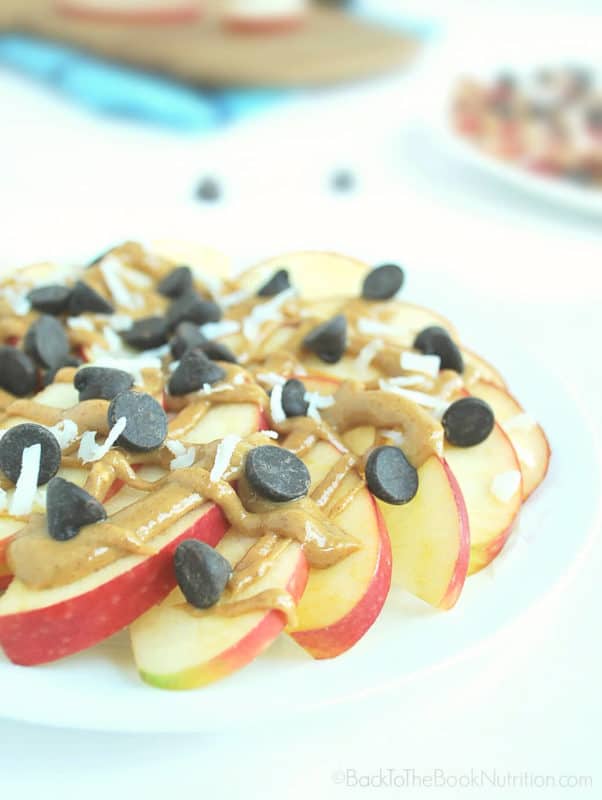 I have my own version of these that I plan on bringing the blog soon, but they are pretty darn similar to Sarah's version here. You'll sub those chips for nutrient-dense sweet potato rounds for healthy and filling nachos.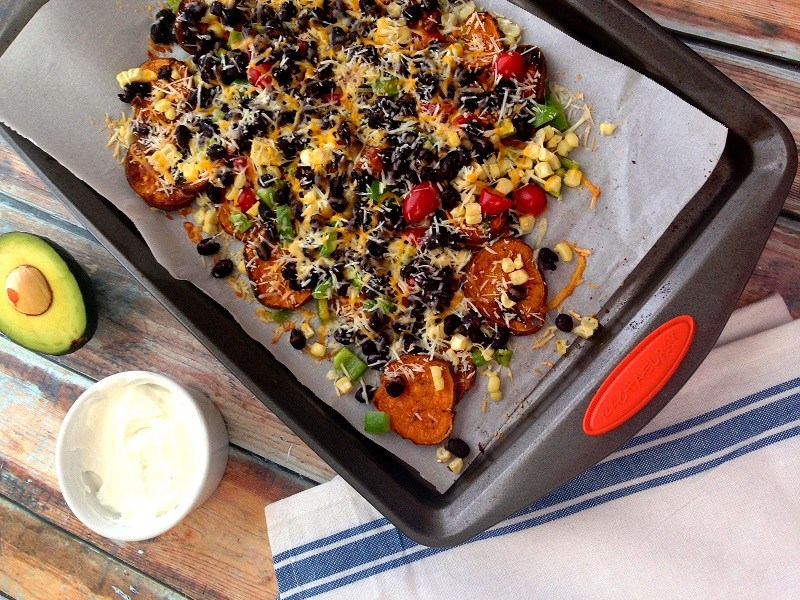 Bring on the tomatillos! I love salsa verde with a few tortilla chips or veggies. Though it can be a messy one – be careful not to get that jersey dirty! Or am I the only one who's a messy salsa eater? 😉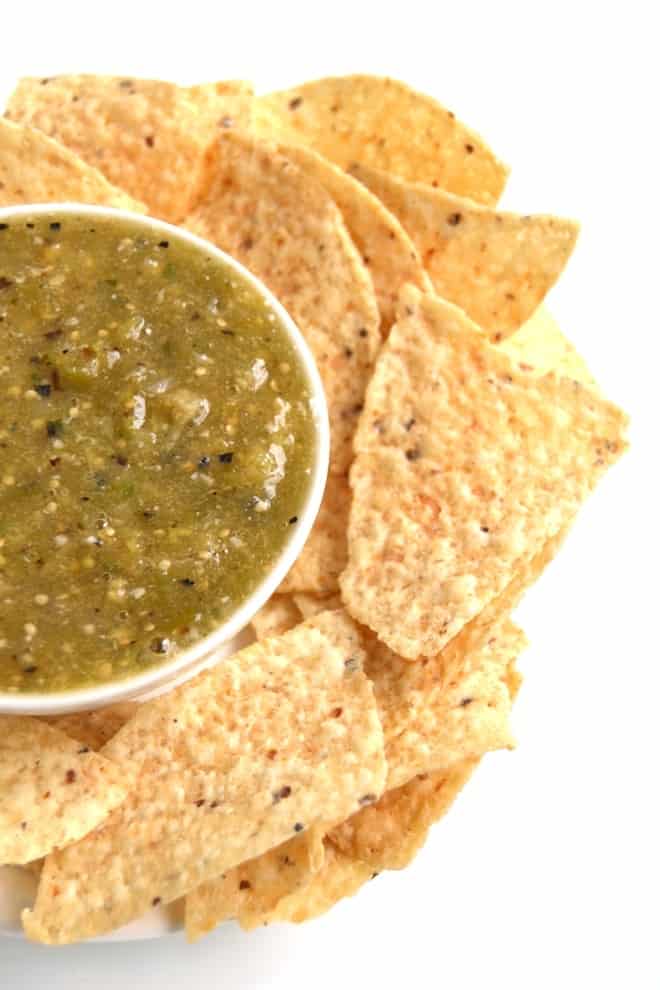 These vegetarian buffalo wings are made from cauliflower rather than chicken, giving you another way to pack extra veggies into your day!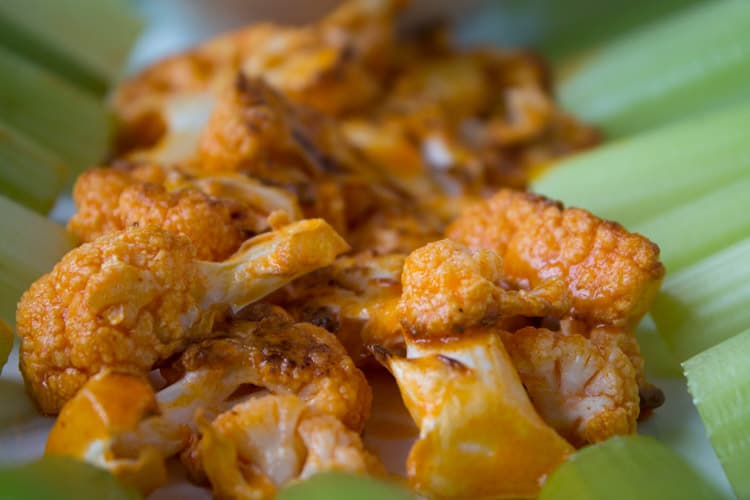 I love these because it's kind of like reverse guacamole and chips. Instead of smushing up the avocado (a la guac), you'll crush some tortilla chips to coat the outside of the avocado and bake into fries!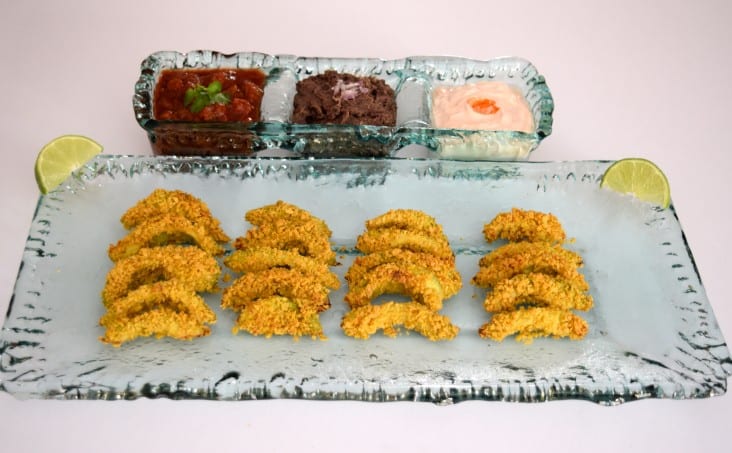 These hearty mini burgers are (in RD Marissa's words) a major touchdown! Packed with flavor and protein, these have got some satisfying sticking power.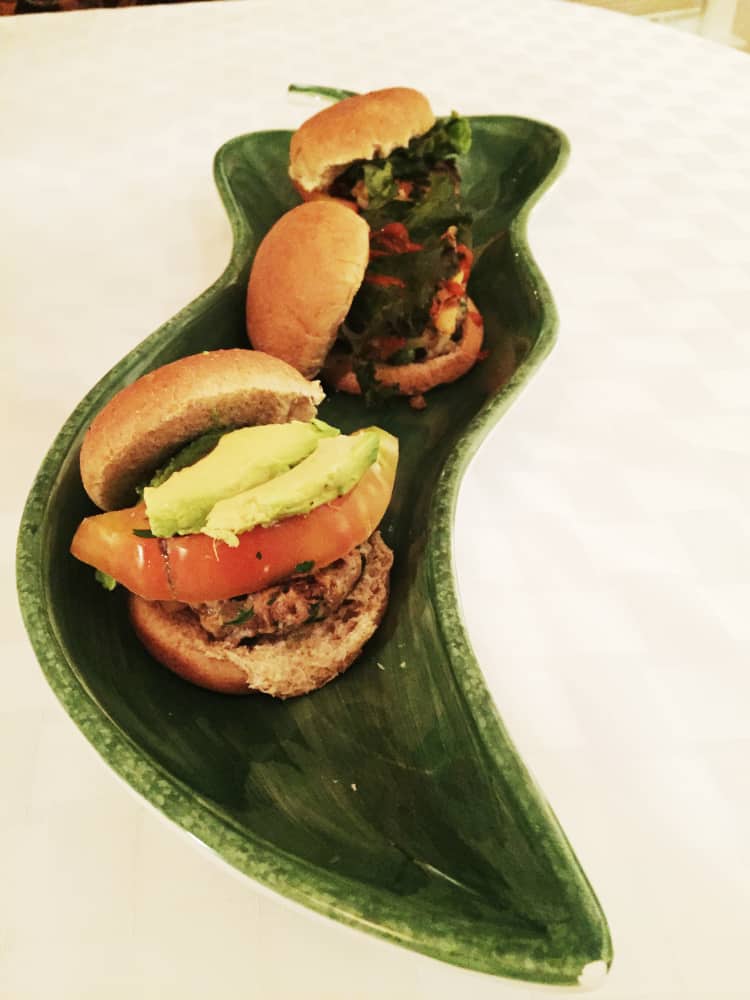 I had to include a second slider recipe on here for those of ya'll who prefer fish to meat. These tuna quinoa sliders have just 5 simple ingredients, and are baked in a simple muffin tin – easy peasy!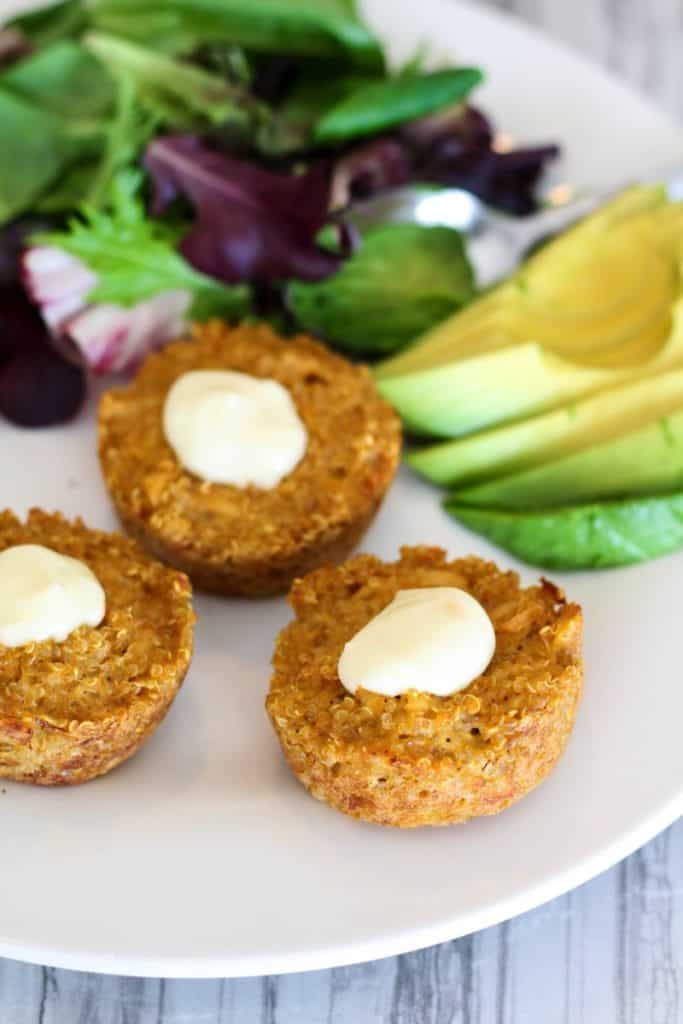 Normal spinach artichoke dip is loaded with cream cheese or sour cream, making it pretty heavy. But not this version, which brilliantly uses white beans and cashews to create a creamy, savory texture with far more fiber and protein.
Nothing says "game day" to me more than buffalo chicken. While traditional wings or pizzas are not exactly diet-friendly, this buffalo chicken flatbread totally is. An entire single serve pizza will run you just 310 calories with 34 grams of protein!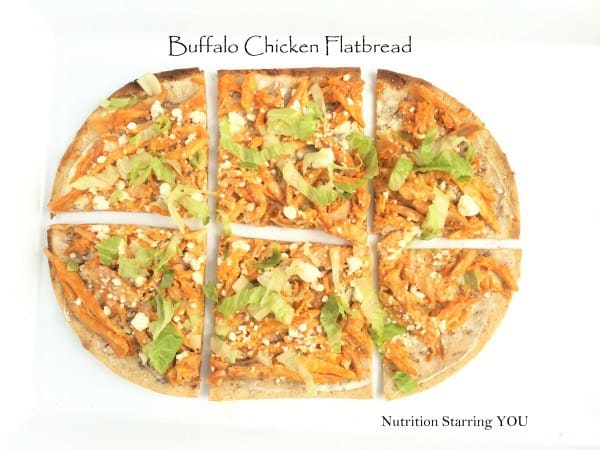 Share with me: Who's the name and team on your favorite jersey? What's your favorite game-day snack? Which would you like to try from this list? Do you think Tom Brady should eat tomatoes? 😉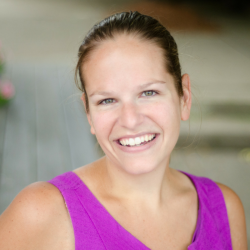 Latest posts by Chrissy Carroll
(see all)