As we approach June in just a few weeks, I'm sure many of ya'll are getting excited about kicking off the summer season soon. To me, nothing says summer like firing up the grill.
I love grilling for a few reasons: it means the house doesn't get all hot and steamy from the stove or the oven; it's generally a quick method of cooking; and so many foods taste wonderful coming off of those fiery grates. Plus, I can usually put the hubby on grill duty which means I get a little chance to relax from my normal cooking duties!
This grilled lettuce salad with turkey (such a versatile protein!), plums, and mozzarella is a perfect dish to kick off the summer grilling season. It's flavorful, light, and filling. If you want to elevate your next backyard barbecue – in a super simple way – this salad is the answer.
You'll start by grilling up a nice lean piece of turkey tenderloin. I'm always pleased with how well this protein cooks up on the grill. Many people forget about turkey outside of Thanksgiving and turkey burgers – but seriously, there are so many ways to use it! You'll definitely want to head over here to check out more recipes for turkey tenderloin, turkey sausage, turkey breast, and all the other delish cuts of turkey.
And turkey tenderloin in particular gets a gold star from me since it's an excellent source of lean protein, is low in saturated fat, and contains a variety of vitamins/minerals. For all my fellow fit mamas, getting that lean protein throughout the day is key for both satisfying your appetite and helping with muscle repair and recovery.
Back to the salad – in addition to grilling the turkey, you'll also grill the lettuce and plums! This is where you'll really impress your guests.
Now you might be looking at this saying "Grilled lettuce salad? Is this for real?!" But don't knock it 'til you've tried it. There's something about that warm, charred, smoky flavor of the grilled lettuce which creates a whole new way to mix up your salads.
[Tweet "Salad on the grill?! YES! Grilled turkey, romaine + plums topped with fresh mozz = perfect!"]
Romaine is an optimal choice, since it's pretty hearty and holds up well to the heat. The lettuce does wilt a bit as part of the grilling process, so you want to avoid those that are super delicate which will break down quickly.
When you combine it all together, you've got that warm charred lettuce, caramelized plums, salty rich mozzarella, and tender grilled turkey. It's really a lovely blend of flavors that's incredibly simple to make, because it requires just a few ingredients! And it's a powerhouse of good nutrition.
You can top off this grilled lettuce salad with any dressing of your choice. I prefer vinaigrette style dressings, and I love citrus-based ones for some extra pop. For this salad, I often make the simple lemon dressing I included below. It's pretty tangy which I love – but you can also just use whatever you prefer.
Whip this up for your next barbeque or just your next dinner at home – it's sure to please!
Grilled Lettuce Salad with Turkey, Plums, and Mozzarella
This grilled salad is a perfect summer recipe! You'll combine grilled turkey, grilled romaine, and grilled plums with a little fresh mozzarella for a healthy, low carb dinner or lunch. Great barbecue recipe to impress your guests!
Ingredients
Ingredients for Salad:
1

lb

turkey tenderloin

1

tsp

olive oil + 2 additional tsp olive oil

1/8

tsp

salt

1/8

tsp

black pepper

2

small heads of romaine lettuce, halved

or one large head quartered

4

plums, halved and pitted

4

ounces

fresh mozzarella, sliced
Ingredients for Lemon Dressing - optional; you can use your own favorite instead!
1

tbsp

lemon zest

2

tbsp

lemon juice

1

tbsp

apple cider vinegar

3

tbsp

olive oil

1/4

tsp

salt

1/4

tsp

black pepper
Instructions
Directions:
Heat your grill. Brush turkey with 1 tsp olive oil and season with salt and pepper. Place on the grill. Grill for approximately 12-15 minutes over medium heat, flipping once about halfway, until internal temperature reaches approximately 165 degrees. Let rest for a few minutes before slicing.

While the turkey is resting, drizzle remaining 2 tsp olive oil on lettuce and plums. Place those cut side down on the grill, and cook for about 3 minutes. Lettuce should be slightly wilted with some char marks, and plums will will turn a golden brown and start to caramelize.

Chop lettuce and serve on a plate topped with turkey, plums, and fresh mozzarella cheese.

To make the lemon dressing to top this salad, combine lemon zest, lemon juice, olive oil, apple cider vinegar, salt and pepper in a small jar. Shake and pour over your salad. Or, top with your own favorite dressing!
Notes
Nutrition analysis – salad (approximate per serving):
290 calories, 12 g fat, 5 g sat fat, 327 mg sodium, 11 g carbohydrate, 3 g fiber, 8 g sugar, 34 g protein, Vitamin A: 172%, Vitamin C: 48%, Calcium: 19%, Iron: 14%
Nutrition analysis – dressing (approximate per serving; 1 serving = approx. 1.5 tbsp):
94 calories, 10 g fat, 1 g sat fat, 146 mg sodium, 1 g carbohydrate, 0 g protein, Vitamin A: 0%, Vitamin C: 9%, Calcium: 0%, Iron: 0%
Nutrition
Share with me: What's your favorite way to use turkey outside of Thanksgiving? Have you ever tried a grilled lettuce salad before?
PS – Don't forget to check out the Serve Turkey website, Facebook page, and Twitter page for more delicious recipe inspiration!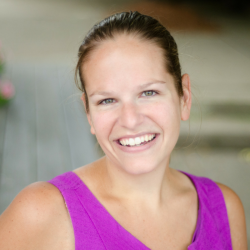 Latest posts by Chrissy Carroll
(see all)