I made this recipe for the first time last night and knew I had to get it up on the blog asap. It was simply amazing – I loved the strong lemony wine taste in the scampi sauce.
And it's healthy! Shrimp is a great lean protein choice. There are a lot of misconceptions about shrimp – people claim it's not healthy due to its cholesterol content. Except we know now that the cholesterol we eat in food plays a far less role in heart health compared to the unhealthy fats and refined carbohydrates we eat. Of course, if you have heart disease, and you are sensitive to the effects of cholesterol in food, then it makes sense to limit it – but otherwise, shrimp is a super healthy choice to include in your meal plan.
Plus, this recipe cuts out regular pasta and uses zucchini noodles instead. This cuts back significantly on the calories in the meal – a medium zucchini only has 30 calories total! – and it boosts your daily veggie intake.
A lot of people are intimidated at making zucchini noodles because they think they need special tools to do so. While a spiralizer or a mandoline does make it easier to get pretty spaghetti-like noodles, you can also make thicker zucchini noodles with a peeler. Just keep peeling each zucchini over and over, and you'll end up with pappardelle style noodles!
I can't wait for you to give this healthy shrimp scampi with zucchini noodles a try. This recipe has been slightly adapted from Just a Taste, which is one of my favorite food blogs out there. It just has so many interesting and delicious recipes. I'd encourage you to check out some of the other recipes on the site, including two of my other favorites: Shredded Kale and Brussels Sprout Salad with Lemon Dressing and Quinoa Guacamole Salad.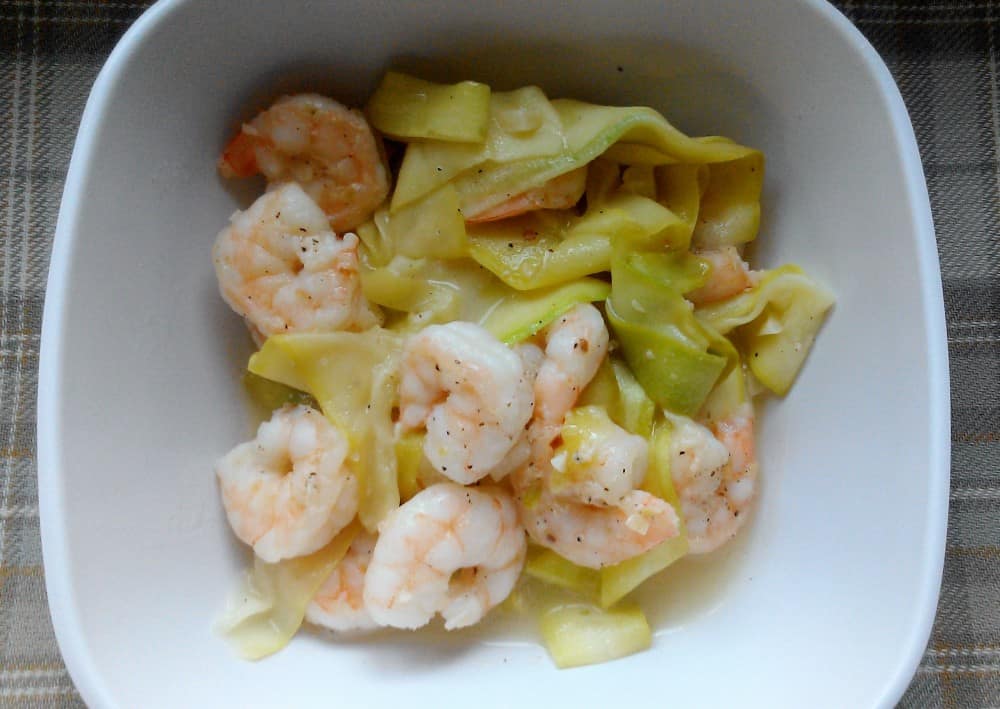 Healthy Shrimp Scampi with Zucchini Noodles
Adapted from Just a Taste
Makes 3 to 4 servings
Ingredients:
2 Tablespoons olive oil
2 cloves garlic, minced
1/4 teaspoon crushed red pepper flakes
1 pound large shrimp, shelled and deveined (perhaps a little more – 1.25 lbs – for 4 full size servings)
Salt and pepper (to taste)
1/4 cup white wine
Juice of 1 lemon
3 to 4 medium zucchini, cut into noodles (I'd use 4 if you're aiming for 4 full size servings)
Directions:
1. If using frozen shrimp, defrost under cool running water. I like to put this at the beginning of the directions, because I always forget! [I like frozen shrimp because you don't have to use them immediately and they are often cheaper. It only takes about 15 minutes to defrost.] 2. While shrimp are defrosting, cut zucchini into noodles.
3. Heat 2 tbsp olive oil in a skillet over medium heat. Add garlic and red pepper flakes; heat for about a minute.
4. Add shrimp and season with salt and pepper to taste (I just sprinkle it in, but probably about 1/8 tsp each). Cook until the shrimp turn pink. Set shrimp aside in a bowl but leave any remaining oil/liquid in pan.
5. Add wine and lemon juice to the pan. Cook for 2-3 minutes until wine has reduced a bit. Add zucchini noodles to the pan and cook for 1 to 3 minutes, depending on the texture of the noodles you like. If you like noodles with more texture, cook for a minute. If you like softer noodles, cook for 3 minutes.
6. Return the shrimp to the pan and toss to mix and heat evenly. Remove from heat and serve!
Notes: This recipe is seriously amazing as is, but there are lots of different ways you can change it up a bit – for example, adding some extra veggies like mushrooms or some sliced cherry tomatoes. I also think you could do more of a Caribbean take on it – maybe seasoning the shrimp with jerk seasoning, and making the sauce with lime juice and cilantro instead of wine and lemon (haven't tried this, just a thought!).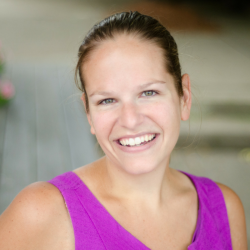 Latest posts by Chrissy Carroll
(see all)