I recently saw that Alysia Montano had her baby girl this month, and it reminded me that I never got a chance to write a blog post about her. So here it is, albeit a little late!
When Montano ran the 800 meters at the U.S. track and field championships back in June, I was impressed. She was 8 months pregnant, and still speedier than I could ever be. I thought, "you go girl."
But not everyone was as enthusiastic. I've seen tons of harsh comments on twitter or in the comments section of news articles about her (I know, I know – my husband tells me I should never read the comments because they're just infuriating most of the time). People were accusing her of neglect, child abuse, and other awful things.
I would like to highlight some of the more ridiculous comments I read on various sites…
"This heffa is gonna damage this baby before she even gives birth to it #iswear"

"Good way to have a heart attack."

"If that poor baby has something wrong with him/her, we know why."

"Seeing as the fetus would be bouncing around in there… doesn't seem good for the baby to me… shaken baby syndrome"
This lady was an Olympic athlete and highly experienced runner. She had her doctor's ok to continue training, and finished more than 30 seconds slower than her PR. She did this the right way for an athlete who wants to continue competing. I'm not quite sure why people are so hostile about it. Nor am I sure that the population understands basic anatomy and physiology – in a healthy active woman, being pregnant does not increase your risk of a heart attack while exercising, nor does running cause shaken baby syndrome (with the baby cushioned by amniotic fluid and all).
Exercise is, in fact, quite beneficial for pregnant women, for many reasons. Exercise during pregnancy can:
Help maintain your fitness level (you're not starting from scratch again 9 months down the road)

Improve mood – exercise is proven to help address anxiety and depression

Reduce the risk of excess weight gain (or, for me, enjoy some homemade butter pecan ice cream a bit more often…)

Improve sleep quality

Aids in keeping that digestive system moving and regular

Reduce backaches

Possibly reduce the risk of problems like gestational diabetes or high blood pressure
And the general rule of thumb is you can continue your routine from before pregnancy once you are pregnant – with your doctor's okay, and as long as you feel okay. If you feel tired or fatigued, you slow down.
Montano did just that (and I love her recap and thoughts on the event on her blog). I plan to do just that as well, though my 800 meter time is more like 5 or 6 minutes, rather 2:32. 🙂
Share with me: What are your thoughts on Montano competing while 8 months pregnant?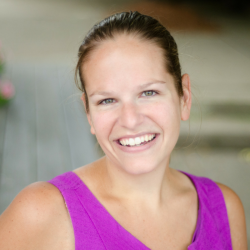 Chrissy Carroll is a Registered Dietitian and USAT Level I Triathlon Coach. She specializes in sharing nutrition and fitness tips, as well as recipes, for runners, triathletes, and active women.Chrissy holds a Bachelor's Degree in Nutrition, a Masters Degree in Public Health, and is also an ACSM Certified Personal Trainer.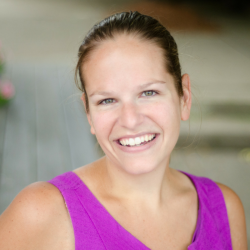 Latest posts by Chrissy Carroll (see all)