Ever hit that 2pm slump at your job?  You know – you've already eaten lunch, you've still got a few hours before you can go home, but you already feel ready for the day to be done?
I know, I've been there before.  But there are some great wellness strategies you can put into place throughout the day to boost your energy at work!  Yesterday, I presented on this topic at one of my corporate sites (my other business, Inspired Wellness Solutions, offers corporate wellness services – check it out!).  I thought I'd share some of the key points from that wellness seminar with my friends over here.  Enjoy!
How to Boost Your Energy at Work
Get Enough Sleep!
It's pretty clear that not getting enough sleep will immediately affect your ability to function the next day at work – you'll feel tired and unable to focus as well.  But lack of sleep also causes increased hunger hormones and reduced willpower to workout – meaning you may not take steps to eat right and exercise that day either, which can lead to even less energy.
Most adults need 7 to 9 hours of sleep each night.  If you are falling far short of this amount, try going to bed 15 minutes earlier each night to increase your sleep time.  If you have trouble sleeping through the night, consider strategies like exercising during the day, avoiding caffeine and alcohol at night, and lowering your thermostat at night – all of which may help you fall asleep quicker and stay asleep longer.
Balance Your Meals
Eating right can give you more energy throughout the day!  Your meals and snacks should generally contain some healthy carbohydrates (fruits, vegetables, whole grains, dairy, and/or legumes) to provide your brain with its preferred source of energy.  But it's important to combine these healthy carbohydrates with fiber and protein – both of which help to slow the rise in blood sugar in your body and create a more sustained release of energy.
Think of things like a veggie omelet with a side of fruit for breakfast, a turkey and avocado pita pocket with a side salad for lunch, and plain greek yogurt with berries for a snack – all nutrient-rich, balanced options that will keep your energy levels up throughout the day.
Navigate Nutrition Challenges at Work
Office celebrations and treats might seem like they'll boost your energy, but due to large portions and sugary treats, they'll often lead to you feeling even more tired a few hours later.  If there's a celebration at work that involves not-so-healthy treats, consider skipping it and replacing it with a healthy option – or set a goal to eat a proper portion that day and avoid any leftovers.
Stay Hydrated
Your body is made up of mostly water, and that includes your blood.  If you become dehydrated, your blood thickens and your heart has to work harder to pump that blood – which can lead to fatigue.  Mild dehydration can also cause problems concentrating.
To avoid this, the answer is simple – stay hydrated!  The IOM recommends women drink about 2 liters of fluid each day, and men drink about 3 liters each day.
Get Moving at Work!
Short physical activity breaks are scientifically proven to improve cognitive function and increase productivity!  They help improve energy levels, reduce stress, and help you sleep better at night – thus improving energy for the next day too.  Here are a few ideas for getting active during your work day:
Hold walking meetings with other coworkers, rather than sitting in a conference room
Keep resistance bands and dumbbells next to your desk – and take an occasional few minutes to use them throughout the day
Recruit other coworkers to workout together before, during, or after work.
Walk or jog during your lunch break.
Do body weight exercises throughout the day, like squats and lunges.
Wear a pedometer or fitness monitor and try to reach 10,000 steps each day.
Other quick fixes
If you're still struggling to boost your energy at work, here are a few other quick fix ideas:
Splash some water on your face
Chew a piece of mint gum
Give your eyes a break from the computer screen
Stretch for a few minutes
Declutter a portion of your desk
Choose a task that makes you feel excited and invigorated to work on
Share with me – when it comes to how to boost your energy at work, what tips do you have?!  How do you stay energized at work?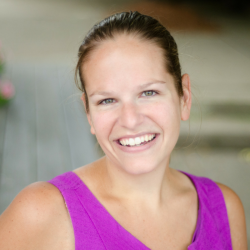 Chrissy Carroll is a Registered Dietitian and USAT Level I Triathlon Coach. She specializes in sharing nutrition and fitness tips, as well as recipes, for runners, triathletes, and active women.Chrissy holds a Bachelor's Degree in Nutrition, a Masters Degree in Public Health, and is also an ACSM Certified Personal Trainer.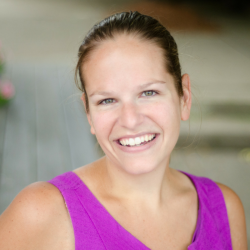 Latest posts by Chrissy Carroll (see all)