Injuries suck.  Plain and simple.
Last month, I sprained my foot while teaching a boot camp class.  It was my own fault; I was doing some high knee drills and came down into a divet in the ground.  Rolled my ankle and heard an entire class of people go "WOAH!" and cringe.  It didn't feel too bad at the time though.  I finished teaching on it and took two weeks off and tried to get back to a normal workout routine.  The ankle portion never hurt – just the outside and top of my foot were in a lot of pain.  But it gradually was getting better and I even did a 5K two weeks ago and felt pretty good while running!
Unfortunately, when I started getting arch pain a week or two ago, I knew it still wasn't fully healed yet.  I ended up getting a doctor's appointment a few days ago.  In addition to the ligaments that were stretched on the outside of my foot and top of my foot from the roll, the way that I had self-adjusted my gait (not purposefully, of course, but in order to avoid pain when walking initially) had now caused plantar fasciitis.
In addition to that, my knees had been bothering me the last few months – pretty much since a month or so after Devon was born.  At first I thought it was related to the extra post-baby weight, but at this point I'm only about 5 lbs away from my normal weight and it didn't seem to be improving.  So the doc took a look at those as well, and I have some ligament laxity and inflammation.  Ironically I never had any knee issues during pregnancy (or ever before then), but she thinks it's a postpartum issue that will likely last until I stop breastfeeding.
All in all, I feel like my body is falling apart at 30.  I know I'm exaggerating, but it's really frustrating to have to slow things down again when I was finally getting back into my longer distance runs and regular workout routine.  I had gotten back up to 8 miles of running and was feeling great.  These setbacks mean Rock N Roll Brooklyn this month is officially off the table (though I hope some of you will get out there and kick butt at that race!).
I guess the good news is I can still exercise, I've just got to modify a bunch of stuff, wrap/brace my ankle and foot for a while, and avoid certain exercises that are going to cause more stress on my knees.  I also have some meds to help decrease the knee inflammation.  And of course, focusing on Vitamin D/calcium for bones, as well as omega-3s for joint health.  Bring on the sunlight, calcium-fortified OJ, and fish!
My blogger friend Lora wrote a great post this weekend about seeing the positive side of injuries – taking time to slow down and reconnect with yourself and other interests, and gaining an appreciation of your love of running and other exercise so much more.  I want to be Zen like Lora but right now I'm just annoyed with it all, haha.  But I swear, I'm going to try to see this positive angle!
I'm going to try to follow modifications as much as possible the next month or two so that I can come back in 2016 as strong as ever.  Last year was my best race year yet, with PRs in the 5K and sprint triathlon (including two podiums in my athena division).  I'd love for next year to be even better than that!
Share with me:  Have you ever had an injury derail your training plan?  How did you handle it?  How did you keep your spirits up?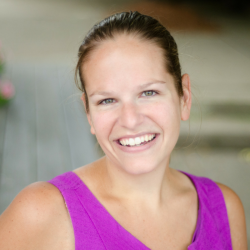 Latest posts by Chrissy Carroll
(see all)