I think salads get a reputation for being boring or "diet food" – but they are so much more than that! I love that you can combine and mix so many different flavors. A few of my favorites:
Southwestern Style Salad – spring mix, black beans, tomatoes, avocado, southwestern style dressing (if you can't find a good version off the shelf, I've used a greek yogurt based ranch and mixed it with taco seasoning)
Strawberry Spinach Salad – baby spinach, strawberries, chicken, sliced almonds, raspberry vinaigrette dressing
Crunchy Apple Salad – spring mix, chicken, sliced granny smith apple, pecans, dried cranberries, balsamic vinaigrette
Sun Dried Tomato & Avocado Salad – romaine, chicken, sun dried tomatoes, avocado, crushed tortilla chips, and balsamic vinaigrette
A new favorite I've discovered is this kale and chicken salad which was a recipe from Budget Bytes. You can check out the recipe on their website for the full directions and ingredient amounts, but it's pretty simple to make. You mix kale (I used earthbound farms organic baby kale, which I think has a more tender bite for salads), grilled or sauteed chicken, golden raisins, chopped celery, and almonds. Then top it with a homemade dressing made from mayo, apple cider vinegar, honey, dijon mustard, salt & pepper. The dressing sounds a bit strange but I promise it's delicious! Proof: My husband heard that I was making a kale salad with a dressing that included mayo for dinner. He was more than skeptical. After tasting it, he couldn't wait to finish the plate and brought the same salad for lunch the next day.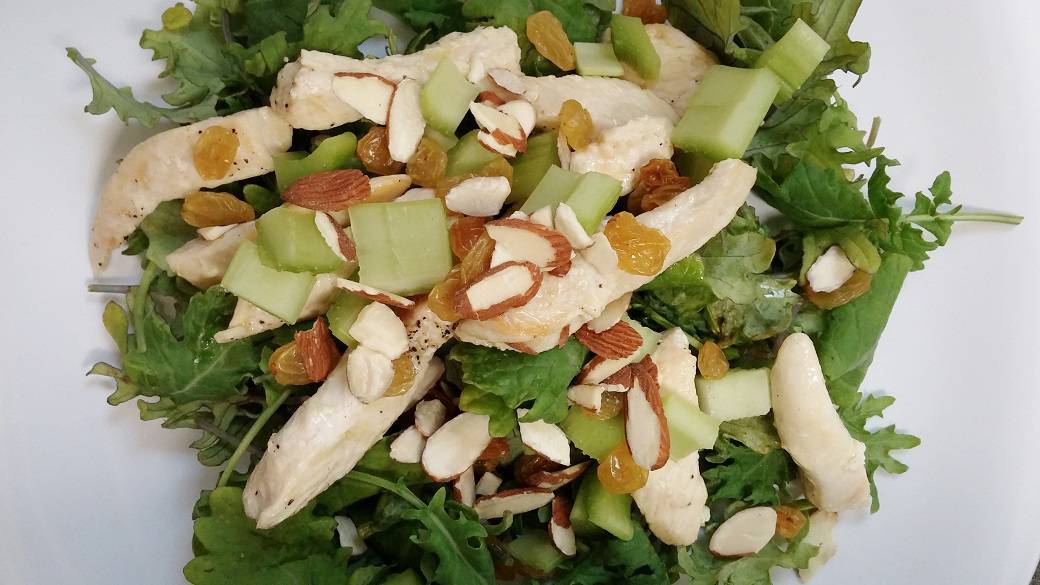 Doesn't that look amazing?! It was soooo good.
Share with me: What are your favorite salad combinations?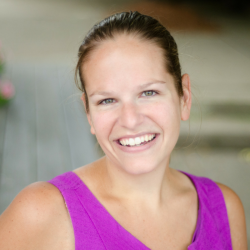 Chrissy Carroll is a Registered Dietitian and USAT Level I Triathlon Coach. She specializes in sharing nutrition and fitness tips, as well as recipes, for runners, triathletes, and active women.Chrissy holds a Bachelor's Degree in Nutrition, a Masters Degree in Public Health, and is also an ACSM Certified Personal Trainer.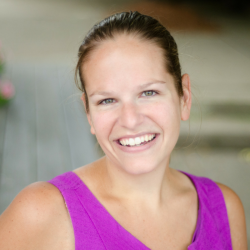 Latest posts by Chrissy Carroll (see all)