With any type of exercise, one of the key components for success is consistency.  If you decide to go out and start running, but only do it once every week or two, you probably won't see very many gains in terms of cardiovascular fitness or running efficiency.  The same goes for strength training – you won't see many changes in muscular strength and/or muscular endurance with an occasional monthly strength session, but you will see benefits when you do it regularly 2-3 times per week.
One thing that you can do to help with exercise consistency is keep a training log.  It will help you to see if you are meeting your goals, how quickly/slowly you are making progress, and if there are changes that need to be made to your routine.
Here are some tips for keeping your training log:
You can use either a paper journal or online journal.  A paper journal can be something as simple as a cheap composition or spiral notebook- it doesn't have to be a fancy expensive journal geared towards exercise (unless you want the fancy one)!  Online options might include those that sync with your watch (like how I can upload data from my Garmin) or you can use a third party website like Strava.
Write down the date and details about the workout you completed.  If you're doing a cardiovascular activity, you can make notes about your time, pace, intensity, route, etc.  For example, if I did a 3 mile run, I might write:  "11/16/12 – 3 mile run.  Flat roads.  Total time = 33 minutes.  Mile 1:  10:30, Mile 2: 11:30, Mile 3: 11 minutes."  This helps to track changes in my pace and distance over time.
For strength training workouts, include details like the name of the exercise, the weight you're using, number of repetitions, and number of sets.  This will help you to see how you progress over time and indicate when changes should be made.  For example, perhaps doing a bicep curl with a 15 pound weight was very difficult at first, but over a few weeks you've found that you can now do more than 15 repetitions easily.  It's probably time to increase the weight!
Jot down notes about how you feel as well – it may help to identify patterns or make it clear why you performed better/worse on a certain day.  For example, if you note that you always feel sluggish when you're cycling in the morning, you may need to eat a bigger breakfast before your workout.  Or maybe you jot down that you always feel great during kickboxing class, but you dread going to the gym by yourself.  Perhaps you need to add more classes to your routine.  If you jot down that you had a cold during a run, that might explain why your pace was slower than normal on that day.
Don't embellish anything – you'd just be cheating yourself.  No one is reading this except you, so be accurate and honest.
Keep notes on your warm ups, cool downs, and stretching too if you want to be really thorough.
Evaluating Your Training Log
After you fill out your log for a few weeks, consider asking yourself the following questions while reviewing your training log:
Am I meeting my training plan requirements or national exercise recommendations (moderate intensity cardiovascular exercises most/all days and strength training at least twice a week)?
Are there exercises that I like better than others?  Could I incorporate those more often to come closer to meeting recommendations?
Am I meeting my own personal goals for exercise?
Do I need to make any changes (increase weights?  Increase sets)?
Am I properly warming up before each workout?
Do I stretch after tough workouts?
If I'm training for an event…Am I doing the right number and type of workouts each week?
Am I improving in my cardiovascular and strength pursuits?  Consider not only the numbers, but feeling and perceived exertion as well.
Keeping a training log is definitely something I want to start doing more consistently when I get back into my normal post-baby workout routine.  I've found it very helpful in the past for monitoring progress – and it's awesome to be able to see just how far you can come in a period of a few months!
Share with me:  Do you keep a training log?  Do you find it helpful for tracking progress?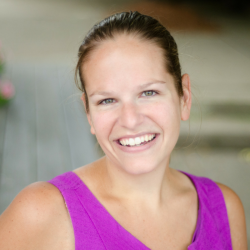 Chrissy Carroll is a Registered Dietitian and USAT Level I Triathlon Coach. She specializes in sharing nutrition and fitness tips, as well as recipes, for runners, triathletes, and active women.Chrissy holds a Bachelor's Degree in Nutrition, a Masters Degree in Public Health, and is also an ACSM Certified Personal Trainer.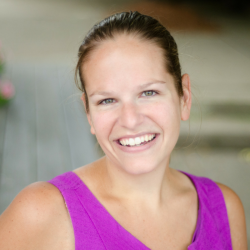 Latest posts by Chrissy Carroll (see all)