I'm back at it with the cauliflower rice! After my veggie & egg cauliflower fried rice, I started experimenting again with different meal combos. This Korean ground beef bowl with cauliflower rice and broccoli has been an absolute favorite around here the last few weeks.
This isn't perfectly authentic, but for the limited number of ingredients and ease of preparation – it's a winner. You might describe my version as "cheater korean beef".
Traditional Korean beef is called bulgogi, and is usually made from thin slices of beef that are marinated and cooked with a mixture of ingredients like soy sauce, sugar, sesame oil, seasonings, and more. The dish was customarily grilled in the past, although it's made on the stovetop much more frequently these days. (Definitely had to skim through Wikipedia and Crazy Korean Cooking to brush up on my knowledge on this!)
In my version here, I'm skipping the thin sliced beef and simplifying things with ground beef. It's easy to find and relatively inexpensive. And the leaner varieties of ground beef – like the 90/10 type that I use in this recipe – can definitely be a healthy addition to your diet (if you're a meat eater, of course!). Lean beef is a great source of protein and iron, two nutrients that are particularly important (especially for my runner and triathlete readers).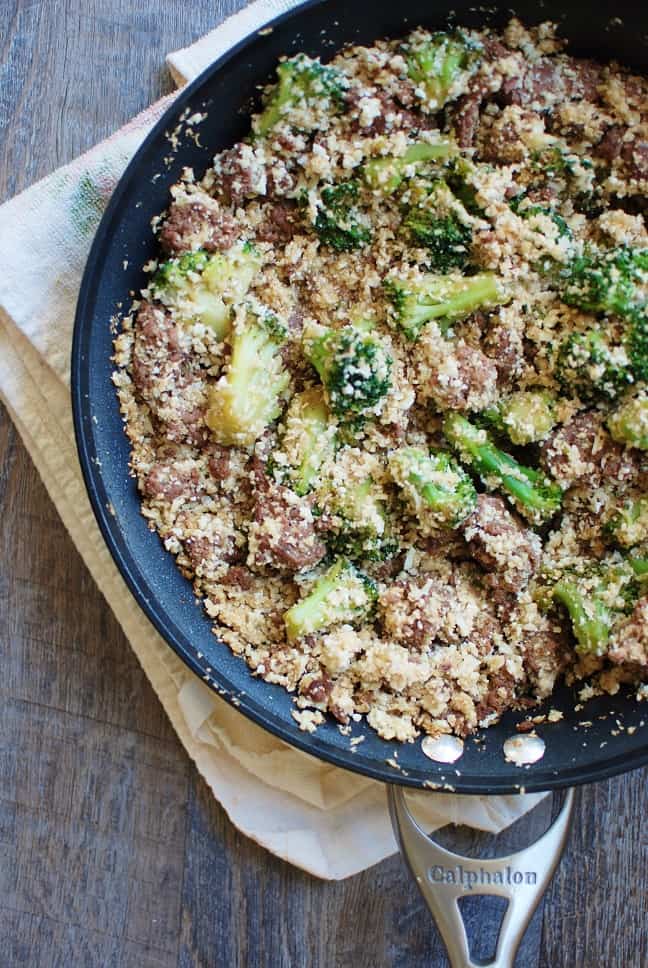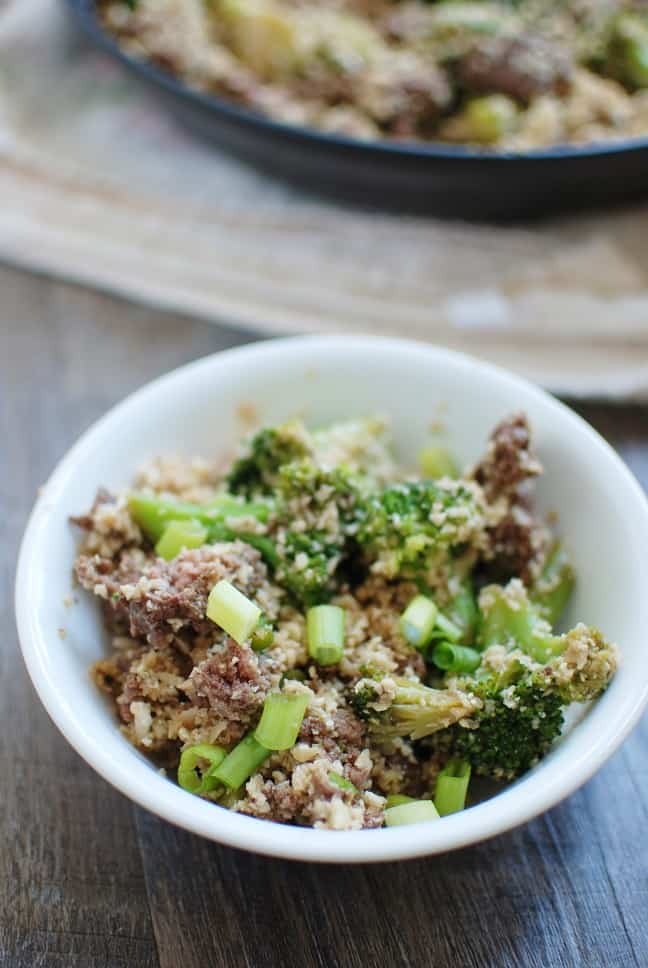 You can make Korean ground beef bowls with regular rice or cauliflower rice. If you're making the cauliflower rice like I've included, it's pretty simple. You'll start by just trimming the head of cauliflower. Remove the outer leaves and the big stalks, and trim down to just the florets. A medium head of cauliflower should yield around 5-6 cups of florets, but there's no need to be super particular. The recipe works fine with a bit more or a bit less.
Toss those florets in a food processor, then press pulse a few times until the consistency looks rice-ish. Voila! That's cauliflower rice for ya.
I did this version with cauliflower rice to keep it on the lighter side and boost the fiber a bit. This makes it a nice option for those working on weight management. But if you're an athlete with a big training session coming up, feel free to switch out the cauliflower rice for some regular 'ol cooked rice instead – that will add some extra carbs to fuel you.
[Tweet "Try this quick + easy 7 ingredient korean beef bowl with cauliflower rice!"]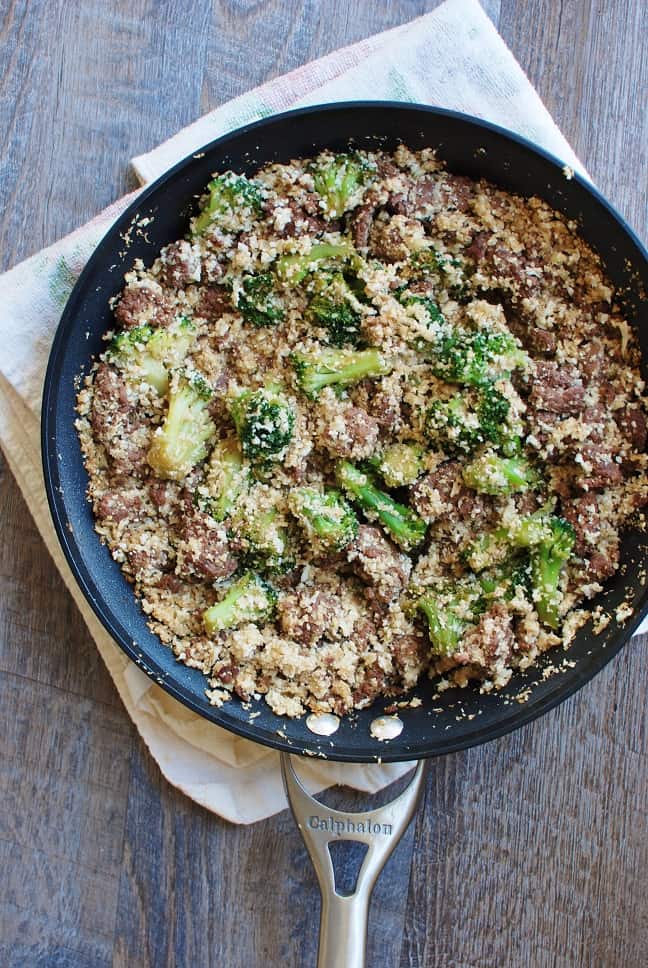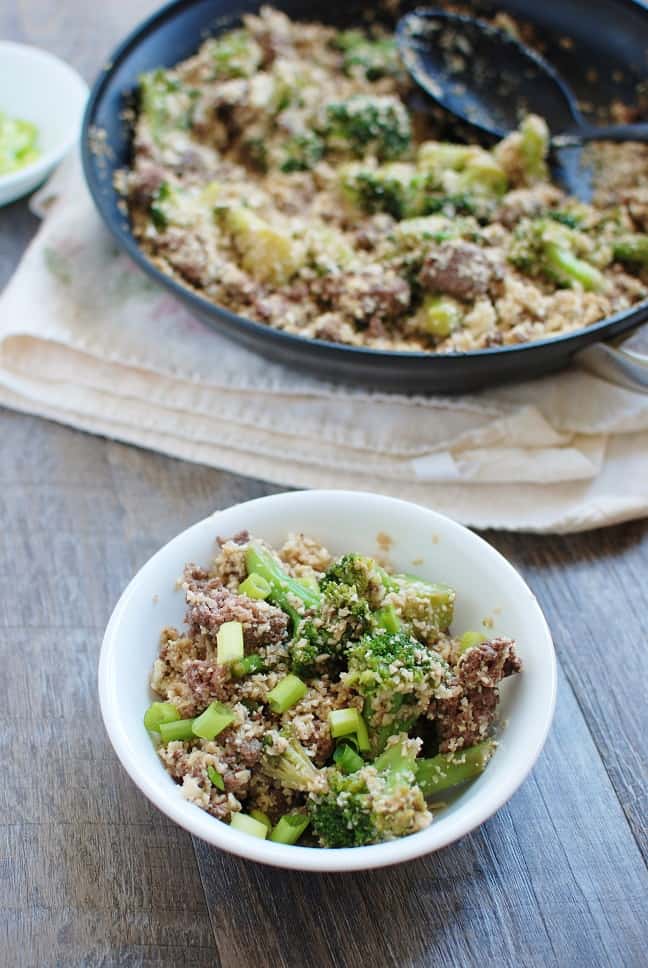 There are four things that make this cheater Korean beef bowl awesome-sauce (in my opinion):
It's super filling, thanks to it being veggie-rich and having a high protein/fiber content – yet clocks in at just 330 calories per serving.
This meal is nutrient packed. Just a few highlights: you'll get more than a day's worth of Vitamin C, plus it's an excellent source of iron (essential for athletes), potassium (over 1000 mg – more than double a banana), and folate (which is excellent for any mamas-to-be out there).
There are only 7 very simple ingredients. Nothing weird that you have to search out for at a natural food store or anything like that. Just things that you either have at home or can find easily at the grocery store.
And from start to finish, you'll have this Korean ground beef bowl with cauliflower rice on the table in less than 30 minutes.
As always, give it a try and let me know what you think! <3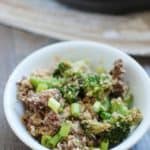 Korean Ground Beef Bowl with Cauliflower Rice and Broccoli
This Korean Ground Beef Bowl with Cauliflower Rice and Broccoli is a healthy dinner recipe that's sure to please even the toughest critics. Just 7 ingredients and 30 minutes is all it takes to make this high protein dinner.
Keyword:
cheater korean beef, ground beef bowl
Ingredients
Ingredients:
1

medium head

cauliflower

(about 5-6 cups florets)

1

frozen steam bag

broccoli

(12-14 ounce size)

1

pound

lean ground beef

(90/10)

3

cloves

minced garlic

3

tbsp

brown sugar

1/4

cup

reduced sodium soy sauce

2-3

green onions, thinly sliced
Instructions
Directions:
Trim the head of cauliflower to just florets, removing large stalks and outer leaves. A medium head of cauliflower should give you about 5-6 cups of trimmed cauliflower. (Keep in mind a little more or a little less won't hurt this recipe, so don't worry about being super precise.)

Place cauliflower florets in a food processor. Press the pulse button just a few times until the cauliflower roughly resembles the appearance of rice (it doesn't take long). Set aside.

Place frozen broccoli in the microwave and cook according to package directions.

Meanwhile, heat a large skillet or wok over medium high heat. If skillet tends to stick, give a quick shot of cooking spray. Add ground beef and cook for 5-8 minutes, or until beef is browned.

When beef is browned, add garlic, brown sugar, soy sauce, and the broccoli that you've steamed. Stir together and cook for 1 minute.

Pour cauliflower rice into the skillet and continue to cook for another 3-4 minutes, or until cauliflower rice is tender and everything is well combined. Top with green onions and enjoy.
Recipe Notes
Nutrition Analysis (approximate per serving):
330 calories, 12 g fat, 5 g sat fat, 683 mg sodium, 27 g carbohydrate, 7 g fiber, 16 g sugar, 29 g protein, Vitamin A: 19%, Vitamin C: 261%, Calcium: 11%, Iron: 25%, Folate: 38%, Vitamin B6: 48%, Vitamin B12: 41%, Potassium: 33%
Additional Notes:
You can use fresh broccoli for this; I just find it easier and quicker to cook the frozen bag while the beef is browning. If you use fresh broccoli, you can cook it first until crisp-tender, then set it aside while the beef browns, then add it back in.
Share with me: Have you ever tried traditional Korean beef or a version like this of Korean ground beef? What's your favorite way to use cauliflower rice?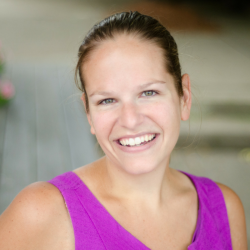 Chrissy Carroll is a Registered Dietitian and USAT Level I Triathlon Coach. She specializes in sharing nutrition and fitness tips, as well as recipes, for runners, triathletes, and active women.Chrissy holds a Bachelor's Degree in Nutrition, a Masters Degree in Public Health, and is also an ACSM Certified Personal Trainer.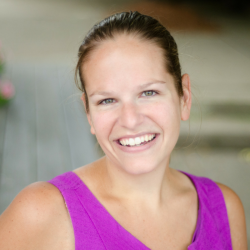 Latest posts by Chrissy Carroll (see all)