Today I ran the Mansfield Boosters 5K, a run that's designed to raise money to support athletic programs in our town.  I've been lucky enough to participate the last two years, because my dentist's office (Dynamic Dental) sponsors the race and covers registration costs for all their patients!  I think it's a great way for them to give back to the community, as well as a nice way of encouraging overall wellness for their patients.
My husband and I got to the race and decided at the beginning to run separately so that we could each run our own pace.  Sometimes we run together, but he's a bit faster than me, so most of the time we usually go our own ways and reconvene at the finish.
I actually went into this race feeling like I was just going to take it easy and not necessarily run to beat a time goal.  But of course, once I got out there and got through the first mile in at a good pace, I thought – hmmm, maybe I will try to beat my goal.
Side note:  that GPS watch can be both a blessing and a curse.  Today, it was a blessing – I wouldn't have pushed myself as hard as I did if I hadn't noticed that I was at a good pace at mile 1 and 2.  But there are definitely times when I run and I don't hold my planned pace at the beginning of the race, see that on the watch, and just get down on myself that I'm not going to do well.
I ended up finishing the race in 33:18 – a new PR for me.  I'm sure this sounds sloooow to many of you, but it took me about 2 years to get under 35 minutes, and it's been another 2 years to get under 34 minutes.  I finally broke 34 minutes at the Millbury 5K back in early April (timing on that race did not get recorded accurately, but I came in around 33:38).  I was so excited to have shaved off another 20 seconds in the Mansfield Boosters 5K today!
My next goal is to get under 32 minutes, and long term goal is to get under 30.  Slowly but surely, I'll get there.
I also have to give a big shout out to two of my previous Couch to 5K participants who were there running the race today – Margaret (missed getting a photo with her!) and Ingrid (me & her below).  These ladies have done such a great job keeping up their running after finishing the 5k program with me last fall.  Ingrid even took about 15 minutes off her fall 5K time!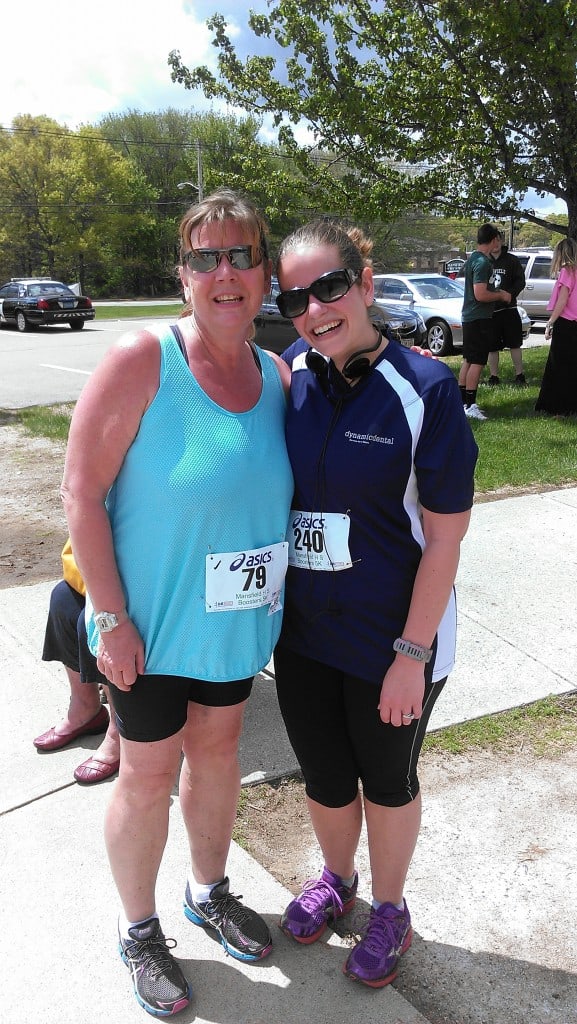 Did any of you race today?  Share with me – how did it go?!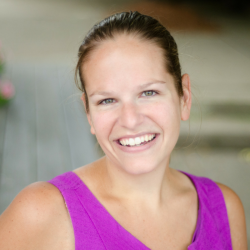 Chrissy Carroll is a Registered Dietitian and USAT Level I Triathlon Coach. She specializes in sharing nutrition and fitness tips, as well as recipes, for runners, triathletes, and active women.Chrissy holds a Bachelor's Degree in Nutrition, a Masters Degree in Public Health, and is also an ACSM Certified Personal Trainer.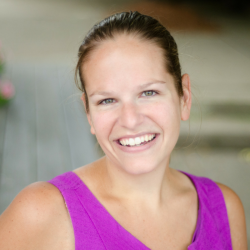 Latest posts by Chrissy Carroll (see all)