I cannot believe it's 2016 – it feels like 2015 just flew right by! I'm excited to sit down this weekend and really plan out my goals, maybe put together a vision board, and just get focused with a fresh start.
I do already know one of my goals though, and I already started working on it – and that's to be even more disciplined with my meal planning this year. For the most part I'm pretty good about listing my meals for the week and making my shopping list based on that, but there are definitely some times when life gets crazy and I miss a few days here and there.
For January, I decided to try writing out a monthly meal plan in advance so that I have everything listed and ready to go, rather than doing it one week at a time. The benefits should be two-fold – I know I'll have a relatively healthy meal each night and I also know that I'll save money on my grocery bill because I'll avoid the random stop-ins just to pick up one night's dinner (which inevitably turns into me grabbing other stuff too – cookies have made their way home a few too many times the past couple months).
Since I just wrote out the entire month, I thought I'd share it with you all too. Maybe it'll give you some ideas for meal planning this month too! A few notes…
I only write out dinners for the month, because lunches are typically leftovers of dinners or salads. And for breakfast, I always just pick up a few standard items for the family – things like oatmeal, eggs, cereal and milk, toast & peanut butter, and fruit.
I've included links to the recipes that I use for some of them; for others I just throw everything together myself from memory.
I think there are two repeats over the course of month, but other than that it's pretty much something different each night which I love. If you're not into all that variety though, you can always meal plan with similar things each week (i.e. "taco tuesday", "fish friday", etc).
Vegetable = whatever vegetable is on sale, and might be fresh or frozen depending on what I buy that week.
For some of the recipes, I end up modifying things a bit if needed to meet the current dietary limitations with my son's food intolerences (i.e. substitutions for eggs, dairy, and soy).
I know someone's thinking "why are there no dinner salads on here?!". That's for two reasons – 1) salads are always are back up for lunches/dinners when we don't have anything else, and 2) right now my son is only 9 months so salad doesn't work for him for dinner, and I hate making two separate meals. 🙂
Alright, here ya go – my monthly meal plan for January!
Fri – 1st: Hoppin John (using brown rice rather than white rice)
Sat – 2nd: Salmon (baked in tinfoil with olive oil, lemon, salt and pepper), orzo with lemon and spinach, vegetable
Sun – 3rd: Beef stew, homemade bread
Mon – 4th: Crockpot chicken, stuffing, vegetable
Tues – 5th: Homemade whole wheat BBQ chicken pizza (using leftover crockpot chicken, BBQ sauce, red onion, cilantro); side salad
Weds – 6th: Old Fasioned Meatloaf, roasted sweet potatoes, roasted broccoli
Thurs – 7th: Roast chicken drumsticks with potatoes, carrots, and butternut squash (note that this recipe has a few mistakes listed; I just use this as general instructions and vary the seasonings and veggies)
Fri – 8th: Lentil casserole (will be experimenting with this but will probably do a modified version of this recipe)
Sat – 9th: Shrimp scampi over zucchini noodles
Sun – 10th: Ramen stir fry (but modifying with this soy sauce substitute recipe – it works quite well! – and plain rice noodles rather than the ramen packets)
Mon – 11th: Whole wheat pasta with meat sauce (going easy here – sauteing some lean beef or turkey with red onion, a little red wine, and then adding in jarred marinara sauce), vegetable
Tues – 12th: Hawaiian crockpot pork burrito bowls
Weds – 13th: Tacos (corn tortillas, lean ground turkey or beef with seasoning, beans, lettuce, tomato, avocado)
Thurs – 14th: Crockpot chicken thighs with carrots and green beans (I modify this recipe a bit so it's baby friendly too – I skip the honey and just use a smidge of brown sugar; I use a few splashes of apple cider vinegar rather than soy sauce for now).
Fri – 15th: Turkey scramble with peppers onions and potatoes (cook potatoes in the microwave for a few minutes until they start to get tender – then chop and saute with ground turkey, chopped peppers, and chopped onions)
Sat – 16th: Breakfast for dinner (depending on what we have and if I've added eggs back in, it might be eggs & toast or it might be whole wheat pancakes with fruit topping)
Sun – 17th: Vegan eggplant parmesan with a side salad
Mon – 18th: Baked chicken over a chickpea/red onion puree; side of cous/cous mixed with sauteed asparagus
Tues – 19th: Butternut squash and pumpkin pasta with bacon, cauliflower
Weds – 20th: Turkey meatloaf (so easy – ground turkey, oats, ketchup, and onion), roasted sweet potatoes, vegetable
Thurs – 21st: Acorn squash stuffed with rice/apple/celery/onion/sausage (will have the recipe for this on the blog soon!)
Fri – 22nd: Crockpot jerk pork with avocado and mango salsa served over brown rice (*freeze extra leftover pork)
Sat – 23rd: Tilapia or Cod, wild rice, vegetable
Sun – 24th: Vegan Cuban bowl (brown rice, tomatoes with green chiles, beans, roasted sweet potatoes, lightly fried plantains)
Mon – 25th: Crockpot chicken with rice and vegetables
Tues – 26th: Homemade whole wheat BBQ chicken pizza (using leftover crockpot chicken); side salad or vegetable
Weds – 27th: Dairy Free Potato bacon corn chowder
Thurs – 28th: Ham and vegetables; homemade biscuits or rolls
Fri – 29th: Rice and beans with homemade guacamole
Sat – 30th: Walnut crusted pork tenderloin (I just make the coating by processing walnuts, flour, and seasonings in a food processor) with cinnamon apples; roasted vegetables
Sun – 31st: Pulled pork sandwiches (*defrost leftover pulled pork from previous week and mix with BBQ sauce) on homemade buns (or store bought if needed), homemade baked beans, vegetable
Mon – 1st: Moroccan chicken and chickpeas (I throw this together with what I have on hand – but usually chicken, onion, carrots, parsnips, tomatoes, chickpeas, and lots of seasoning like coriander & curry)
Tues – 2nd: Quinoa salad with black beans and avocado
Share with me: Do you meal plan? What's your method? Do you go by the week or month? Would it be helpful for me to share these each month?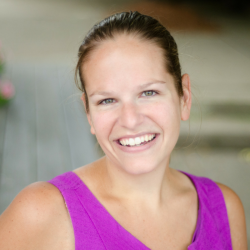 Latest posts by Chrissy Carroll
(see all)