Yahoo – I'm sticking with my goal of continuing to share my monthly meal plans. Writing them out on the blog has been great because I think it's good creative inspiration for those of you trying to figure out dinner ideas, and it's also been awesome to keep me accountable to actually doing the planning!
You can check out the January and February plans if you missed them or if you need some different recipe ideas. And hopefully you enjoy my March plan below!
The same notes apply as I've included each month:
I only write out dinners for the month, because lunches are typically leftovers of dinners or salads. And for breakfast, I always just pick up a few standard items for the family – things like oatmeal, eggs, cereal and milk (or milk alternative), toast & peanut butter, and fruit.
I know, I know – there aren't any salads on the list! That's precisely because I use them for a lot of lunches, and because Devon can't really chew the lettuce well enough yet. I hate making separate meals, so I just usually leave salads for me and Terry for lunches or include them on the side at dinner.
I've included links to the recipes that I use for some of them; for others I just throw everything together myself from memory.
There might be one or two repeats over the course of month, but other than that it's pretty much something different each night (which I love).
Vegetable = whatever vegetable is on sale, and might be fresh or frozen depending on what I buy that week.
We are fine with swapping one thing to the next week or moving things around as needed, especially if certain things are on sale each week.
Monthly Meal Plan for March
Tues – 1st – Amish beef & cabbage skillet; side of tomato avocado salad
Weds – 2nd – Honey balsamic chicken and kale over amaranth (recipe to be posted to the blog this week!)
Thurs – 3rd – Crockpot chicken tikka masala (I'm going to experiment with my own version of this – likely some mixture between this recipe and this recipe, and subbing coconut milk and yogurt in rather than dairy products); brown rice; vegetable
Fri – 4th – Rice & white beans with guacamole (instant brown rice, diced tomatoes, green chiles, white beans, guac – easy peasy)
Sat – 5th – Crockpot honey garlic chicken thighs w/ potatoes, green beans, and carrots
Sun – 6th – Pasta with meat sauce; vegetable
Mon – 7th – Thai shrimp soup
Tues – 8th – Southwestern corn & potato chowder
Weds – 9th – Turkey meatloaf (super easy – ground turkey, oats, onion & ketchup), roasted sweet potatoes and broccoli
Thurs – 10th – Citrus chicken quinoa salad
Fri – 11th – Seven spice chickpea stew served over grits (made this for the first time last month – it was ah-mazing!)
Sat – 12th – Healthy shrimp scampi with zucchini noodles
Sun – 13th – Burgers with sautéed mushrooms and onions, homemade buns, vegetable
Mon – 14th – Whole chicken (made in the crockpot – just season it up and put it in there for 4-5 hours on high) served with brown rice and roasted sweet potatoes
Tues – 15th – Chicken salad sandwiches (leftover using the extra chicken from the crockpot); cucumber scallion salad
Weds – 16th – Pesto pasta with sun dried tomatoes and asaparagus (to make dairy-free, leave the mozzarella out and make a vegan pesto)
Thurs – 17th – Ground Turkey Shepherds Pie
Fri – 18th – Honey mustard pork chops with vegetables
Sat – 19th – Eating Out (I'll be at Tri-Mania all day, yahoo!) – will probably search for a restaurant where I can get some seared scallops because I never get 'em to make at home (scallops are so delicious!)
Sun – 20th – Cranberry chicken meatloaf, mashed potatoes, vegetable
Mon – 21st – Vegan Cuban Bowl
Tues – 22nd – Fish (whatever's on sale!), wild rice, vegetable
Weds – 23rd – Crockpot pulled pork (just the pork roast and a little seasoning) – use to make pulled pork burrito bowls with brown rice, tomatoes, chile peppers, chipotle, and avocado
Thurs – 24th – Pulled pork sandwiches (leftover pork + BBQ sauce), baked beans, vegetable
Fri – 25th – Butternut squash soup (just something simple –roast butternut squash, potatoes, carrots; add to sautéed onion, garlic; add broth and puree it) along with hummus & cucumber sandwiches
Sat – 26th – Turkey scramble bowl – ground turkey, peppers, onions, and potatoes; can also add eggs
Sun – 27th – Zucchini noodles with chicken chili sauce
Mon – 28th – Grilled chicken served alongside quinoa, butternut squash, & grape salad
Tues – 29th – Crockpot white bean and ham soup
Weds – 30th – Spicy lentil cakes with veggies
Thurs – 31st – Stir fry with beef, veggies, and either rice noodles or brown rice
Share with me: Is there a new dish your planning to try this month? I'd love to know what it is! And what meal on this month's plan would you most like to try?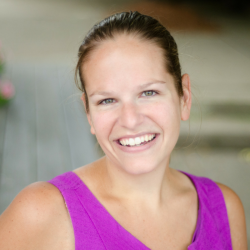 Latest posts by Chrissy Carroll
(see all)