Disclosure: This post about nurturing relationships is sponsored by Rockland Trust. As always, all opinions are my own.
Do you ever browse social media and feel those tinges of inadequacy or jealousy? I know sometimes I'll scroll down my newsfeed and draw the all-too-quick conclusion that someone else's life is just about perfect.
Of course, the reality is that no one's life is perfect. Social media is behind a looking glass of sorts; a filtered view with rose-tinted glasses of curated content. I almost feel like it's made many of us have unrealistic expectations about our day to day lives.
Perhaps I've given that impression myself. An acquaintance made an off-handed comment to me recently indicating such; something along the lines having a perfect relationship with no problems.
Again, no one's life is perfect. Despite the outward appearances on social media, my husband and I have been dealing with something big and ugly and just plain hard recently.
But what I'm discovering is that it's refreshing our commitment to our relationship and making us stronger together. No, our relationship isn't perfect – but it is incredibly special.
It is a relationship that can face tough challenges and work through them head on.
The last few months reminded me that our marriage is like a series of road races.
You have to work at those road races if you hope to improve. Sure, you might be able to coast through some at times, but hard work and effort is what leads to sweet success. Parts of the race might be exhilarating; parts might be filled with a little pain. At times it might feel exhausting and at times you might feel stronger than ever. And there will be some amazing joy-filled finish lines and celebrations.
Just like marriage.
Coincidentally, one thing in our life that has always brought my husband and I closer together has been those road races and triathlons. It's how we met online back in 2010, by noticing that we were both runners. It's given us something to enjoy together each year.
A few highlights…
One of our first dates was at a Halloween 5K/10K road race. In costume. As 80's aerobics instructors.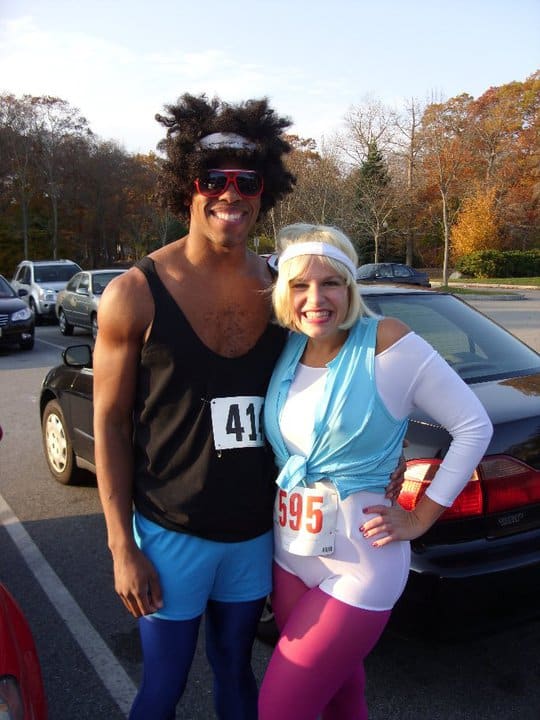 We tied the knot after crossing the finish line at the "Run in the Name of Love" 5K in Carmel, CA.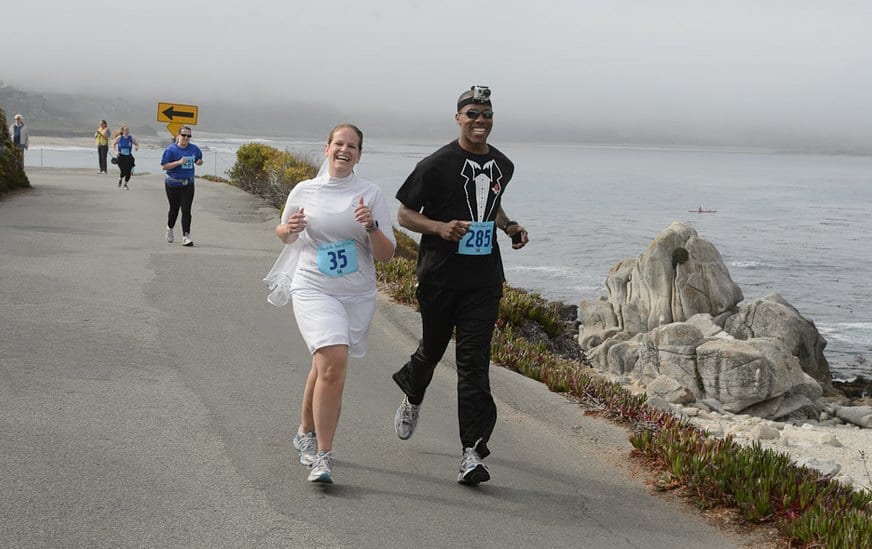 Here's us tackling the Finish at the 50 Race at Foxboro Stadium on a day that was about a hundred million degrees. (OK, OK, the million may be exaggerating – but it was really hot).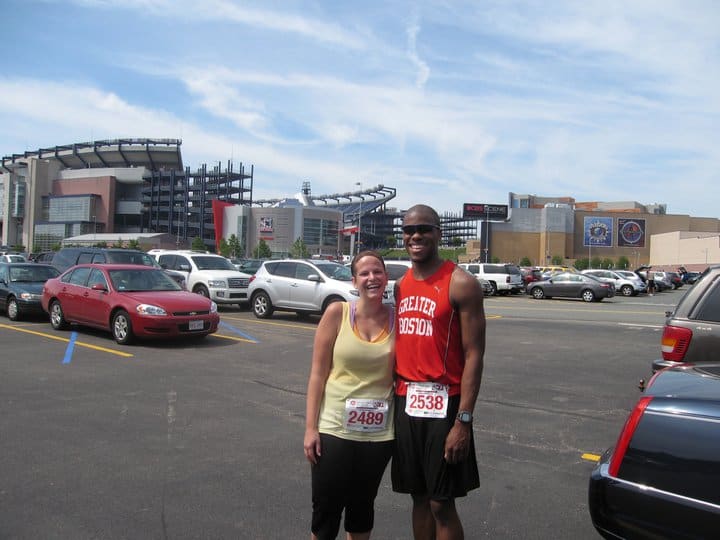 We support each other in individual races – here's Terry cheering me on at the Cleveland Marathon back in 2011.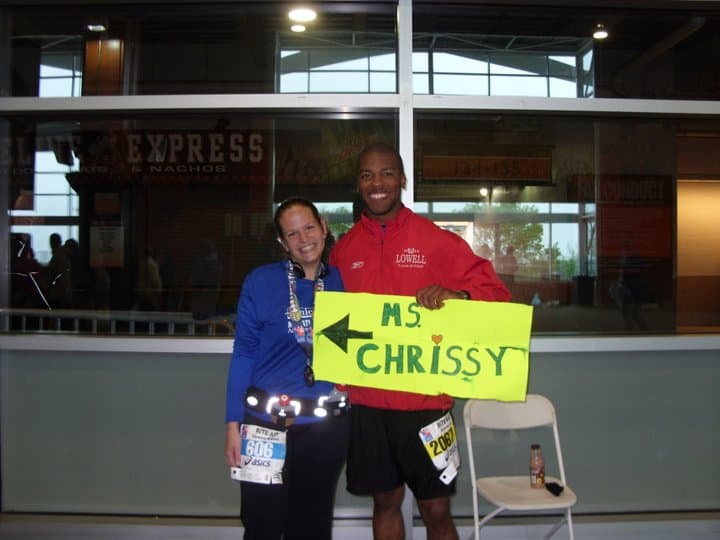 It's a special part of our relationship and one that we are focusing even more time on in 2018.
That's of course couched in an overarching ongoing goal of building a strong marriage. The key ingredient, we're finding, is simply prioritizing that goal and fostering our bond.
I think that's something that can be true for any relationship – or road race. You can't expect to break a sub-30 minute 5K or run your first marathon without focus and some hard work (pssst – stop laughing at me, fast runners – that sub-30 5k is a goal for me next year! 😉 ). You also can't expect to build a special relationship – whether that's a marriage or a friendship or a family bond – without prioritizing your efforts there.
I hope this holiday season, you'll spend the time nurturing relationships of your own. Whether it's a big one or a small one, they can all be special in their own unique way.
And I hope you'll support the businesses that make an effort to do this too. When businesses realize and celebrate the importance of relationships and families, it definitely makes me more apt to be a customer. Rockland Trust, for example, is dedicated towards building a special relationship with each of their customers – from having numerous convenient locations to free checking accounts to simply celebrating the diversity of their customers. Definitely check 'em out on Facebook and Instagram if you're looking for a bank that prioritizes you as a customer.
May your holiday season and the year to come be full of strong, dynamic, and gratifying relationships!
Share with me: Do you ever get jealous on social media? What relationship do you want to strengthen in 2018? What steps do you take when it comes to nurturing relationships?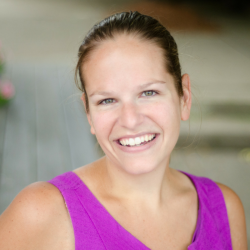 Latest posts by Chrissy Carroll
(see all)