Did you know that this month is National Peanut Butter Lovers Month?  Who knew there was such a thing!  But when I saw that, I thought I'd take this time to answer questions I usually get from clients about peanut butter.  I hope these answers clear up some of the confusion and help you!
Is peanut butter really healthy?
Sure!  Peanut butter is rich in healthy fats and contains a little bit of protein, which can help you feel more satisfied.  For example, combining an apple (carbohydrate) with peanut butter (fat & protein) means that your snack provides more nutrients overall and has more staying power to hold you over until the next meal.
What's the right portion size for peanut butter?
Here's where people get tripped up – many will eat more than a proper sized portion of peanut butter leading to too excessive calories at a snack or meal.  The key is portion control.  Avoid the mistake I make sometimes, which is snacking on peanut butter with a spoon directly from the jar…this is dangerous territory.
With that apple & peanut butter snack mentioned above, 1 tbsp of peanut butter would be a proper portion.  That combined with an apple would be around 180 calories.  If you're using peanut butter as part of a meal – like in a smoothie at breakfast, or on a whole wheat English muffin at breakfast – 1 to 2 tbsp is probably an appropriate portion.
Should I buy reduced fat peanut butter?
Nooooo.  It drives me crazy that this is even on the market.  When the manufacturer takes some of the fat out of the peanut butter, they typically add sugar to make it taste better.  The result is a product that was less healthy than it was originally, contains more ingredients (and often fillers), and is almost equivalent in calories (typically there's only a 5 to 20 calorie difference per 2 tbsp between regular and reduced fat peanut butter)!  You are much better off sticking with regular peanut butter.
What is the healthiest type of peanut butter?
The healthiest peanut butter is a natural variety – meaning just peanuts (and sometimes salt) ground up.  But be careful!  A lot of the major brands that are labeled "natural" still have other ingredients in them.  You want to look at the ingredients label and the only two ingredients you should see are peanuts and salt.  One of my favorite brands that meets this criteria is Teddies, which is fairly inexpensive and easy to find at most grocery stores.
Note – if you're not familiar with natural peanut butter, you might notice that the naturally occurring oil in the ground peanuts can separate a bit when you first open it or when it sits for a while.  This is normal – just stir it together!
Can I make my own peanut butter?
Yes!  It takes a little time, but the ingredients and steps are very simple.  Just roast the nuts in the oven for 10 minutes or so, and then process the nuts in a food processor or blender.  You'll need to process, scrape down the sides, and repeat those two steps over again several times.  If the texture of the nut butter is too coarse for you, you can try adding a drizzle of oil and process again.
Share with me – What's your favorite way to use peanut butter?  I like it for dessert with a tablespoon of dark chocolate chips….yum!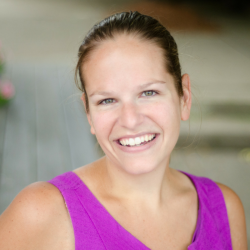 Latest posts by Chrissy Carroll
(see all)