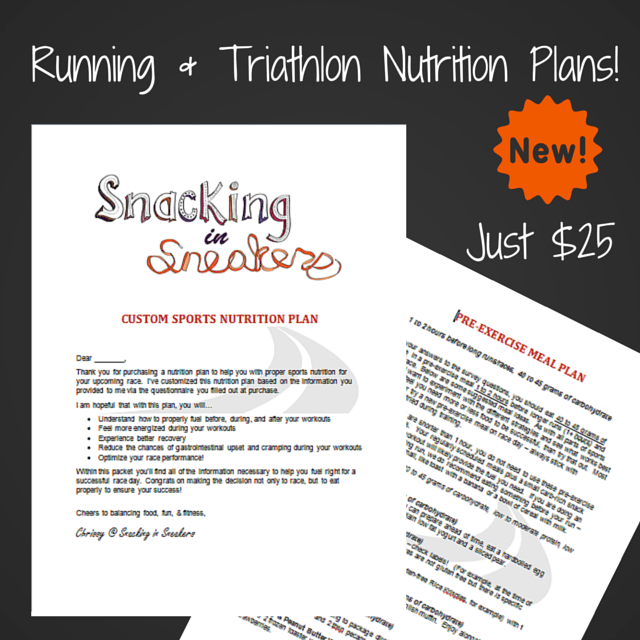 UPDATE: I am not currently accepting purchases for these plans. If you need assistance, please look at some of the free resources on the blog or contact me for 1-1 coaching.
It's here!! Finally – a customized nutrition plan for runners and triathletes that is inexpensive and based on science.
Just imagine…
Starting a race feeling confident in both your training and nutrition plan.
Knowing exactly what to eat before, during and after training sessions and races
Experiencing optimal performance throughout your race season!
That's what I hope you'll get out of these custom running and triathlon nutrition plans!
Who is this for?
This option is ideal if you are a beginner or intermediate athlete who is looking for more individualized sports nutrition guidance than you can find online. Wondering what to eat before your long run? I'll give you several options based on your weight and meal timing. Wondering how much to take in during your long bike ride? You'll get specific ranges. Need ideas for recovery meals? You'll get at least 5 meal ideas!
These fueling plans will guide you on how to eat properly before, during, and after training and racing. They are meant for athletes training for half marathon and marathon distance road races, and sprint, Olympic, and half iron distance triathlons.
*Please note – These plans are developed so that I can do as much customization as possible while still maintaining a super affordable price point! They will not have as much individualization as my one-on-one coaching – but portions of these plans are specifically customized to your body and answers to nutrition questions. If you have very specific dietary needs (for example, you have multiple food allergies), these plans may not suitable for you – in which case, feel free to check out one-on-one sports nutrition coaching with me.
Here's how it works (it's super simple!):
You answer a series of questions. These include questions about age, weight, race distances, nutrition timing, and more.
I review these answers and send you a customized sports nutrition plan within two days! Easy peasy.
Here's what's included in your running or triathlon fueling plan:
An estimated calorie level to support training for YOUR body.
General macronutrient recommendations for endurance athletes.
Pre-exercise meal recommendations, including timing, meal composition, and at least 5 different sample meals customized to your weight, training schedule and meal timing.
General guidelines for hydration and fueling during exercise.
Recovery meal recommendations, including timing, meal composition, and 5 different sample meals customized to your weight, training schedule and timing.
Guidelines for specific nutrition concerns (such as cramping or eating a vegan diet) indicated on your questionnaire.
Here's what's NOT included in your running or triathlon nutrition plan:
Weekly or monthly meal plans for everyday eating. If you're looking for those, check out one-on-one coaching!
Purchase your custom running/triathlon sports nutrition plan today for just $25!
Once you pay for your plan using PayPal, you can visit this link to provide answers to our questionnaire. Once I receive both payment and your answers, you will receive your plan within two days!
*Please note – you must be 18 years of age or older in order to purchase a plan.
Want extra support? Purchase the plan + email access for $70!
If you're worried you might have additional questions or want the ability to follow up, you can purchase this plan with one month of unlimited email support for just $70. That gives you unlimited email access to me with 48 hour response time for 30 days!