I love party food – you know, the traditional appetizers like chips and dip, pigs in a blanket, scallops wrapped in bacon…the list could go on. Of course, I also know it isn't great for your body, which is why I don't frequently choose those items other than special occasions.
But I'm always on the search for ways to "healthify" a favorite party recipe (especially during the holidays, the peak of party season)! Today's is a favorite of mine – spinach artichoke dip.
Most spinach artichoke dips are high in calories and unhealthy fats. For example, many restaurant versions clock in at 1000 to 1500 calories and more than several days worth of saturated fat. Now, of course, that's for the whole bowl of dip – but let's be honest, those appetizer bowls aren't that big…
So I present to you a healthier version of spinach artichoke dip! This recipe cuts out the traditional cream cheese used, and substitutes greek yogurt instead. It also cuts back a bit on mayo and sour cream, and uses the lower-calorie lite versions of these. (Tip: Check the labels on the lite versions – you don't want versions that have a laundry list of ingredients/preservatives!)
The result? It's still creamy and delicious, just not as rich as the original. This skinny spinach artichoke dip is lower in calories (120 per serving rather than the traditional 200-300 per serving) and higher in protein (9 grams per serving). You'll also be treated to a handful of vitamins and minerals, as the dip is a great source of Vitamin A, Vitamin K, calcium, and folate.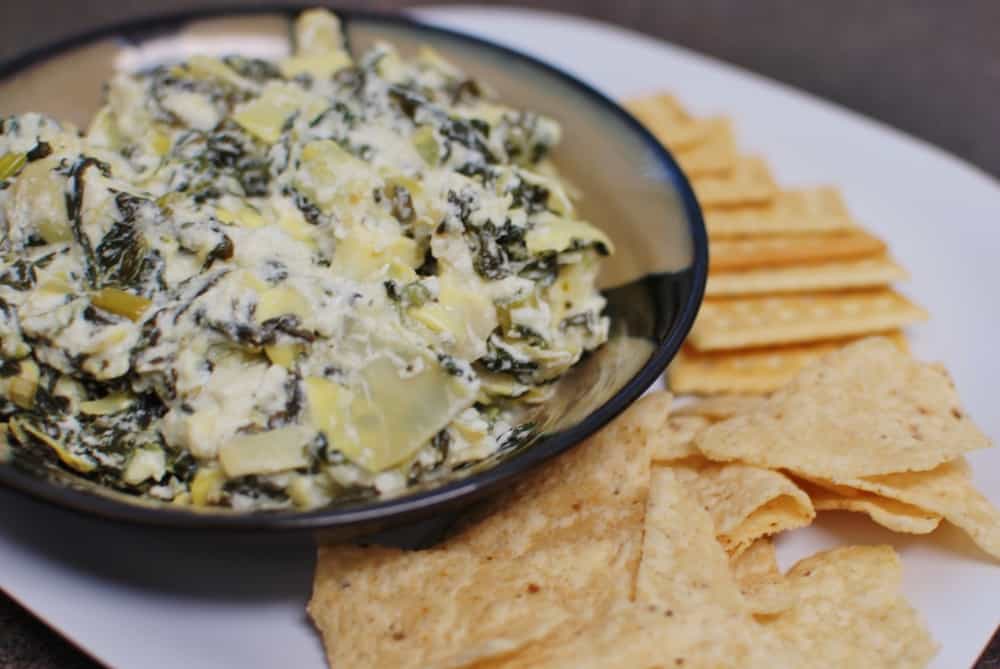 Skinny Spinach Artichoke Dip
Makes 8 servings
Ingredients:
10 ounce package frozen spinach, thawed
1 can quartered artichoke hearts, drained & chopped
2 scallions, chopped
2 cloves garlic, minced
6 ounces of plain greek yogurt
1/4 cup lite sour cream
1/4 cup lite mayo
1/4 cup parmesan cheese
3/4 cup part skim mozzarella cheese
Directions:
1) Preheat oven to 350 F. Spray a small casserole dish with nonstick cooking spray.
2) Thaw spinach in your fridge or in the microwave. Once thawed, drain excess water. Use a paper towel to squeeze out any more excess moisture.
3) Combine spinach and all other ingredients in a bowl.
4) Place in cooking dish and bake for 20-30 minutes, until hot and bubbly. Enjoy with fresh cut vegetables, crackers, a loaf of fresh made bread, or baked tortilla chips.
Nutrition analysis (per serving, not including whatever you eat with it):
123 calories, 6 g fat, 3 g sat fat, 9 g carbohydrate, 4 g fiber, 9 g protein
Vitamin A: 86%; Vitamin C: 9%; Calcium: 20%; Iron: 6%; Vitamin K: 184%; Folate: 22%; Magnesium: 12%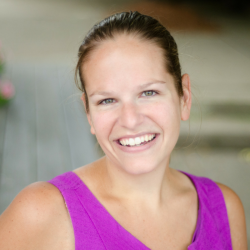 Chrissy Carroll is a Registered Dietitian and USAT Level I Triathlon Coach. She specializes in sharing nutrition and fitness tips, as well as recipes, for runners, triathletes, and active women.Chrissy holds a Bachelor's Degree in Nutrition, a Masters Degree in Public Health, and is also an ACSM Certified Personal Trainer.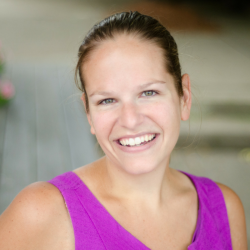 Latest posts by Chrissy Carroll (see all)