Yesterday was 40 degrees outside here in Massachusetts, and I don't think that temperature has ever felt so warm!  After days of single digit temps, it was nice to be able to walk outside comfortably again.  The warmer winter weather got me thinking about how it would have been a perfect day to go ice skating (if I wasn't 37 weeks pregnant, of course). 🙂
Ice skating is an excellent form of exercise and can be a great fun family or date activity.  Most cold weather towns have at least one outdoor or indoor rink within driving distance.  When my husband and I started dating, we spent our first Valentine's Day ice skating in Providence…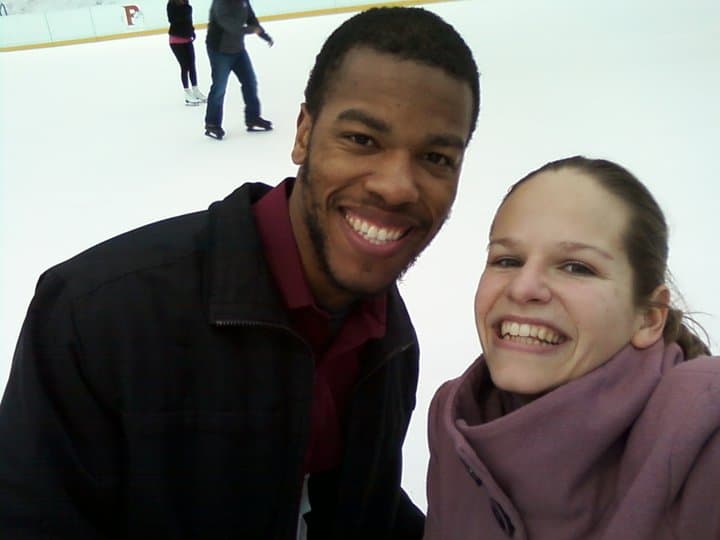 Of course, locally there is also the Frog Pond in Boston and rinks in the suburbs of MA and RI as well – for example, Winter Skate at Patriot Place in Foxboro.  If you're not local, I'm sure you can google or ask around to find a local rink.  Even warmer cities may have indoor rinks available.
Health benefits of ice skating include…
Calorie burner:  According to the Harvard School of Public Health, a 155 pound person will burn about 260 calories in a half hour of ice skating.  That's about the equivalent of a 2.5 mile run!  If you add drills and speed skating into the mix, you can be looking at a burn of up to 400 calories in those 30 minutes.
Cardiovascular champ:  Just like other forms of cardiovascular exercise, ice skating helps to increase your heart rate and strengthen both your heart and blood vessels.
Builds muscle:  Ice skating is a great workout for your glutes and leg muscles – you might know what I'm talking about if you've ever felt that soreness around your upper legs and butt after an afternoon of skating.  In addition, it helps to constantly engage your core muscles since you are always slightly off balance as you skate.
Fits in fun:  Being on the ice can bring out your inner child.  There are lots of people around, there's often music playing, and you can laugh at the mistakes and falls you make – it's a great activity to loosen you up.  It's also a nice idea for an outing with friends or a date – it's active, doesn't focus on food, and is lots of fun.
Beats the blues:  Just like other forms of exercise, ice skating can be great for reducing anxiety and depression.  And if you're at an outdoor rink, you get the benefit of enjoying the fresh air.
Ice skating for beginners:  helpful tips!
Most rinks have ice skates available to rent, so they're not something you have to purchase right away (unless you foresee sticking with it for a long time, in which case the initial investment would pay off after a while).  Be sure to get the right size skates and tie them tightly, all the way up the ankles.
If you feel super unsteady on the ice, consider taking a group class.  Local colleges that have an indoor rink and some outdoor community rinks offer these.  And there are typically adult-only programs available, so you don't have to worry about feeling embarrassed next to a kid!  There are also private lessons available through many rinks.
Avoid skating on lakes and ponds unless you are 100% confident it is completely frozen.  There is a huge risk in falling through the ice, and while a body of water may look completely frozen, there may be some soft spots that you can fall through.  Better to stick to a rink.
The biggest challenge for many individuals is the fear of falling.  However, falling isn't that bad, and everyone does it – I promise.  If you're feeling super nervous about this, you can always (as silly as it sounds) just practice falling down several times, so you know what it feels like and how to do it correctly…

If you anticipate falling, try to bend your knees and squat down a bit so you are closer to the ground, and then aim to fall lightly, ideally rolling towards your side.
You might land on one of your glutes/thighs and then slide gently onto your side.
Avoid falling directly on your tailbone.  The more you can squat down towards the ice when falling, the better you'll be able to control the fall and the more lightly you'll hit the ice.
If you suddenly fall backward, try to tuck your chin in to protect your head from hitting the ice.
When possible avoid using outstretched hands to break a fall (that's where a lot of wrist injuries come from).
If you suddenly fall forward, you can use your forearms to break your fall – avoid using only bent hands and avoid falling directly on elbows or knees.

Wear gloves.  When you do fall and have to regain your balance and stand back up, it'll make it easier for you than having to put bare hands on the ice.
Share with me:  Do you plan to go ice skating this winter?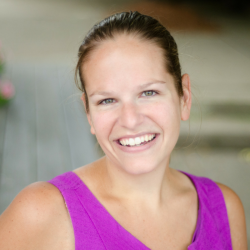 Latest posts by Chrissy Carroll
(see all)