Who's ready for a yummy, post-run breakfast?! I know you're raising your hand right now – and I promise you're going to love this healthy chocolate and strawberry French toast. (And spoiler alert – it includes a super fun ingredient that you're going to love: Lantana Strawberry Hummus!)
Disclosure: This post is sponsored by Lantana Foods. As always, all opinions are my own.
Healthy French toast to fuel your fitness
Here's why I'm obsessed with this recipe for runners and triathletes – it's an amazing treat that doubles as a recovery meal!
After a long endurance workout, you want to make sure that you eat carbohydrates and protein within an hour – ideally within those first 30 minutes. Your muscles are like a sponge during that time, ready to soak up those carbohydrates to restock your muscles with energy. And protein helps start the muscle repair and recovery process.
This chocolate strawberry French toast is packed with both of those macronutrients! The single serving recipe packs in 67 grams of carbohydrate and 20 grams of protein. Quite a bit of research suggests a 3:1 to 4:1 ratio of carbs to protein is ideal for recovery, and this recipe falls smack dab in that range.
Plus, who wouldn't want to dive into some chocolate strawberry French toast after a long run or ride?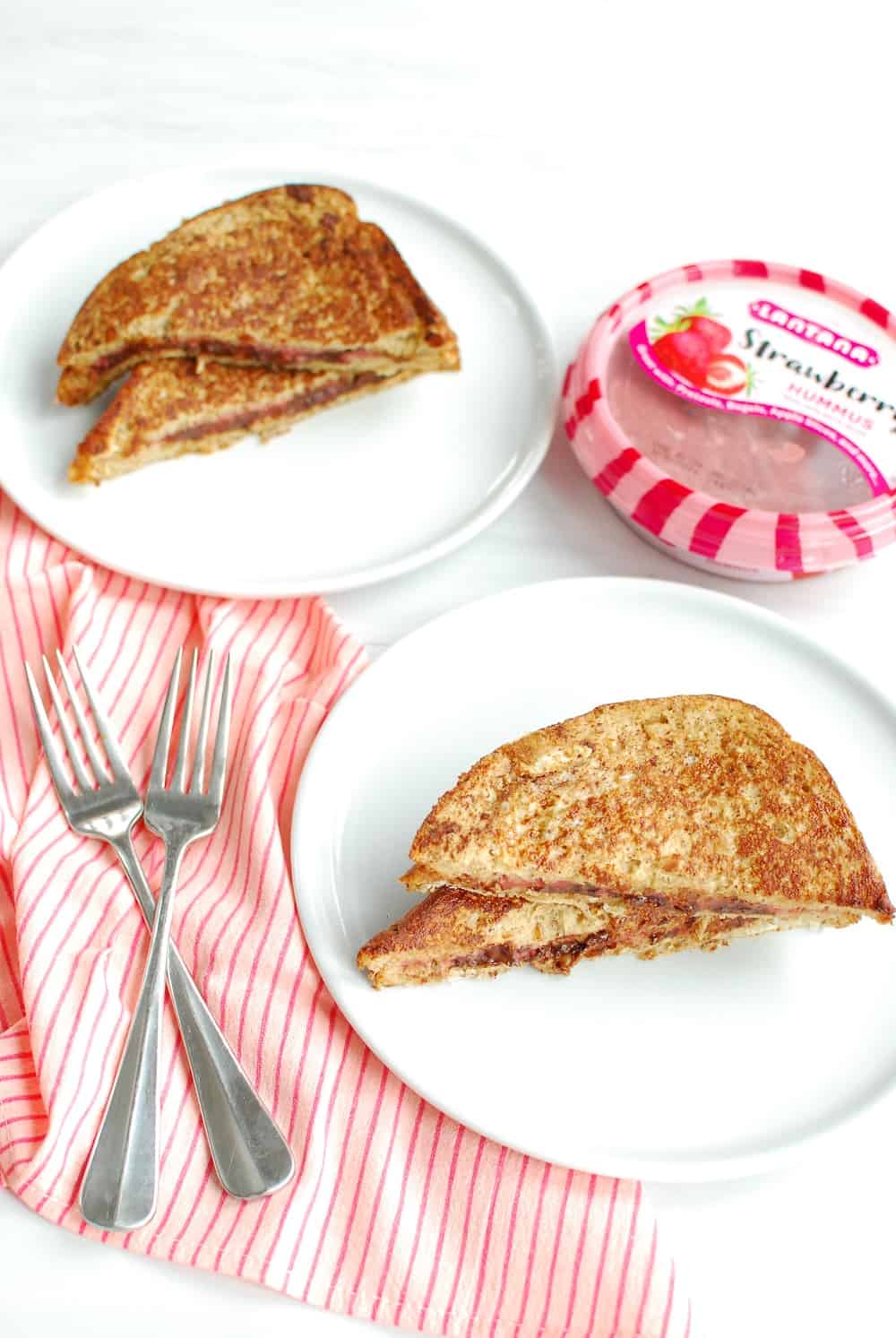 The secret ingredient
There's also a secret ingredient in this French toast that you may not expect – Lantana Strawberry Hummus! That's right, this flavor comes from their new fruit-based hummus line (which includes other delish flavors like mango and cherry).
Lantana Strawberry Hummus combines white beans with strawberry juice and dried strawberries, along with oil, tahini, and a few other ingredients. The result is a flavor-packed sweet and tart hummus that's perfect to weave into your breakfast and dessert recipes.
In this case, it works perfectly for stuffed French toast because it holds everything together and adds a fun texture to the "stuffed" part! Rather than fresh strawberries that wouldn't hold anything together, the strawberry hummus is able to keep the two pieces of bread bonded.
And the dark chocolate melts into it while cooking which is oh-so-delicious.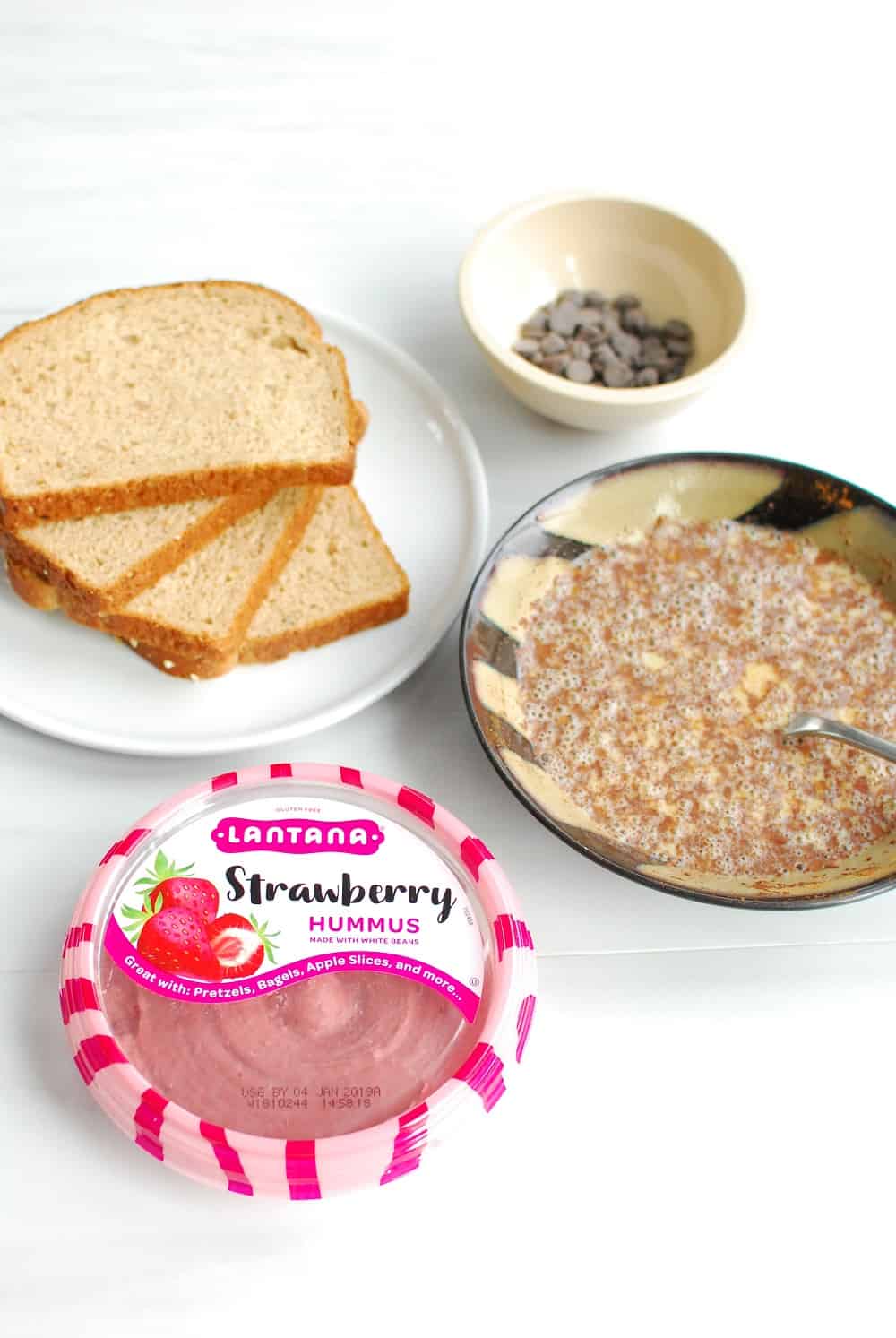 How to make stuffed chocolate strawberry French toast
This recipe is super easy to make. I wrote it below as single-serve so can make it for yourself whenever the craving strikes, but you can also double it for two servings like I have pictured.
The first step is dividing your egg. Add the egg whites to a bowl, then add the yolk to another bowl. Whisk the egg yolk, and add about half of the yolk to the bowl with the whites. You can just toss the other half of the yolk.
Whisk up the egg whites with the half yolk, along with milk and cinnamon.
Then, take your higher-protein bread, and spread your Lantana Strawberry Hummus on one slice. Sprinkle on your dark chocolate chips, and top it with your other piece of bread. The hummus will help hold everything together.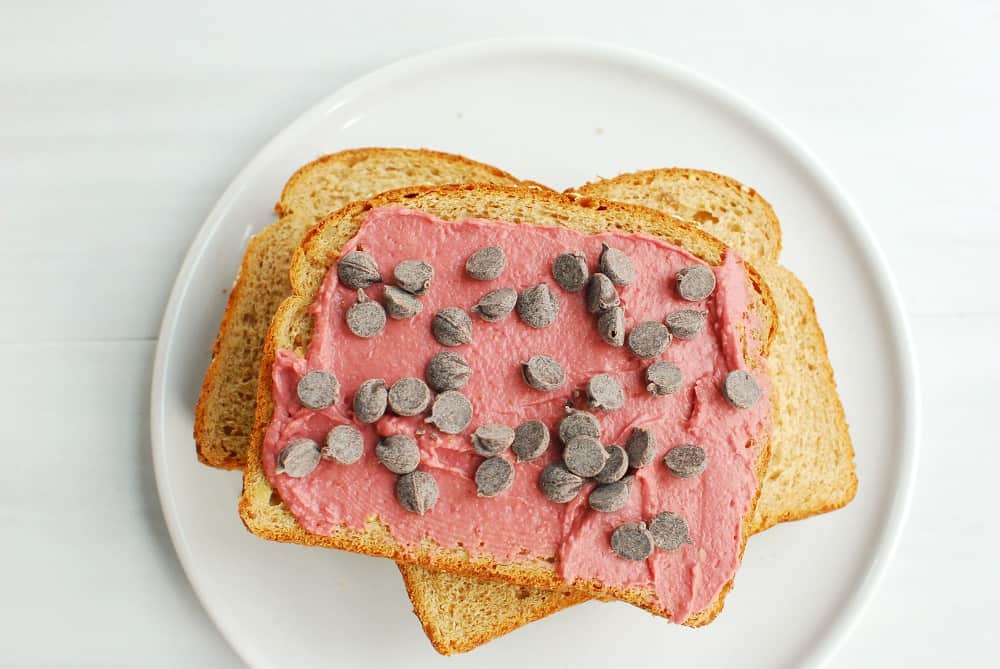 Heat a little butter in a skillet. Take your "sandwich" of French toast, and dip it in your egg mixture, then place it in the hot skillet. Cook it on each side, and you're good to go!
The result is a delish sweet breakfast that combines the fruity strawberry hummus with rich, dark chocolate, all nestled in eggy bread heaven.
Why bother to divide the egg?
I know it seems weird to use half an egg yolk. It's only because I was getting a bit nit-picky and wanted to try to pack as much protein in this recipe as possible.
If you use the whole egg, you end up losing out on a little protein, as the entire mixture doesn't get absorbed into the French toast when you dip it.
If you use just the white, you get all the protein, but you lose out on the richness that the yolk adds.
My solution was to use part of the yolk to add the richness, but maximize the amount of egg white that was absorbed for protein.
If you're thinking this is way too over the top for you, just use the whole egg!
Dietary modifications
You'll be happy to know that Lantana Strawberry Hummus is vegan, gluten free, non-GMO, and kosher – so it's a great option for those of you who need or choose to eat a particular diet. Here are a few suggested dietary modifications for the rest of the recipe if you follow any of these diets:
Gluten Free: Use a gluten free bread rather than wheat bread.
Dairy Free: Substitute almond milk for the regular milk, double check your choice of bread is dairy-free, choose dairy-free dark chocolate chips (there are several on the market these days!), and cook in oil instead of butter.
Vegan: Make the modifications for dairy free, plus use aquafaba (the liquid from a can of beans) rather than eggs.
One note – just keep in mind any changes for dietary modifications will change the nutrition facts.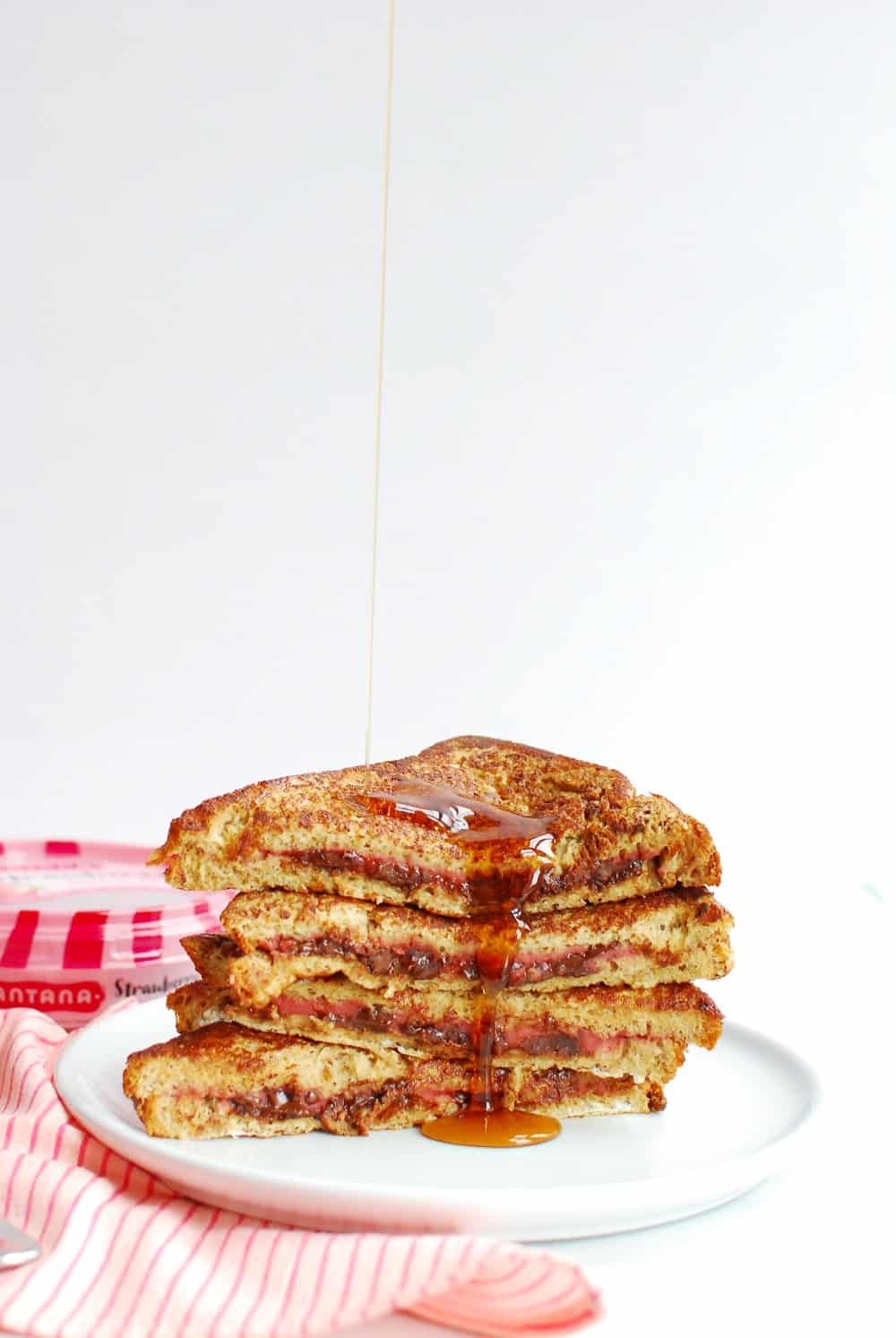 There you have it – I know you'll love this stuffed chocolate and strawberry French toast! Be sure to pick up your Lantana Strawberry Hummus today, and give this a try ASAP.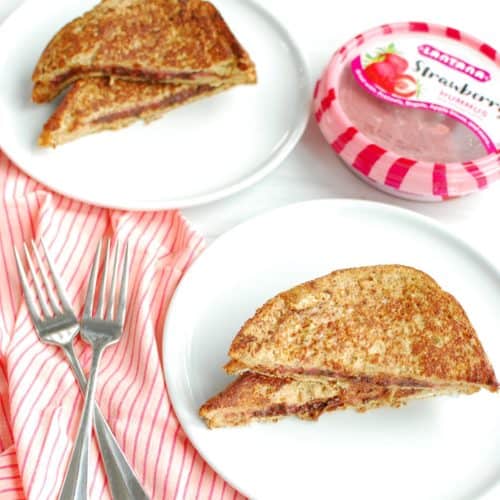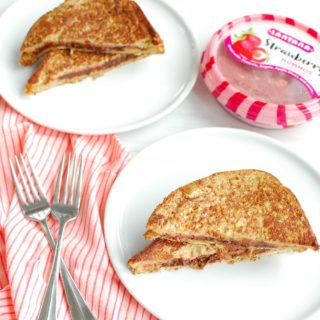 Stuffed Chocolate and Strawberry French Toast
This chocolate strawberry French toast is sure to be the hit of your house for a tasty breakfast! Bonus: you can have this on the table in just 15 minutes.
Ingredients
1

egg (use full egg white and half yolk)

1/4

cup

1% milk

1/4

tsp

cinnamon

2

tbsp

Lantana Strawberry Hummus

2

slices

higher protein whole grain bread

1

tbsp

dark chocolate chips

½

tbsp

butter

1

tbsp

pure maple syrup
Instructions
Add the egg whites to a bowl, then add the yolk to another bowl. Whisk the egg yolk, and add about half of the yolk to the bowl with the whites. Discard the other half of the yolk.

Whisk your egg mixture along with the milk and cinnamon. Set aside for a moment.

Spread the strawberry hummus on one piece of your bread. Top with the chocolate chips. Place the other piece of bread on top and press together.

Heat the butter in a skillet over medium heat. Dip the stuffed French toast into the egg and milk mixture, and add to the pan.

Cook for about 2 minutes on each side, until golden brown and crisp on both sides. Place on a plate and top with pure maple syrup. Enjoy!
Notes
Notes:
You can skip the step on dividing the egg if you want; it simple reduces the protein by a small amount and adds a few extra calories.
I recommend looking for bread with at least 5 grams of protein per slice.
If you want to make two servings, just double the recipe.
Nutrition facts (approximate):
500 calories, 17.5 g fat, 7.5 g sat fat, 500 mg sodium, 67 g carbohydrate, 12.5 g fiber, 27.5 g sugar, 20 g protein, Vitamin A: 11%, Vitamin C: 0%, Calcium: 16%, Iron: 27%
Nutrition
Share with me: Have you ever had fruit hummus? What would you make with Lantana Strawberry Hummus? If you tried this stuffed chocolate strawberry French toast – what'd ya think?!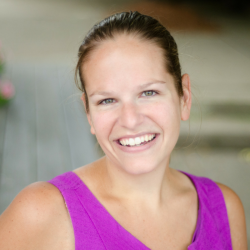 Latest posts by Chrissy Carroll
(see all)