If you've ever been to a Thai restaurant, you've probably seen Khao Pad Sapparod – otherwise known as Thai pineapple fried rice – on the menu. I've put together my own version of it here on the blog so you can make it at home!
While I won't claim that this matches the authenticity of traditional restaurants or street stands, it is a darn good fried rice. You'll get some spicy elements from the sriracha, a salty twist from the soy sauce, and sweet notes from the pineapple.
This version of fried rice is actually quite nutritious to make at home too. You'll use instant brown rice – a whole grain that has a bit more fiber compared to its white rice counterpart. There are a variety of veggies in here (shown below) adding vitamins and minerals, along with shrimp and eggs for protein.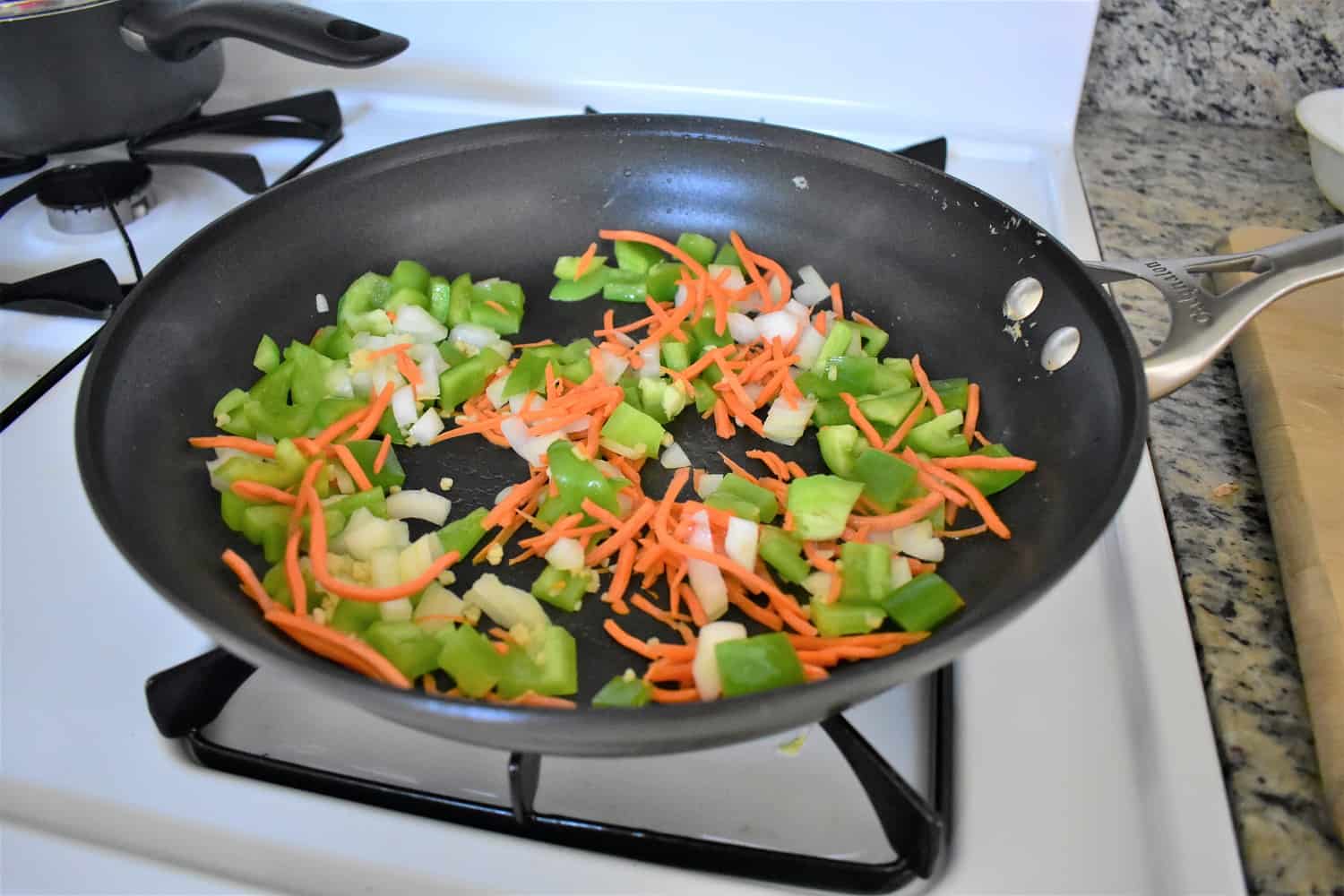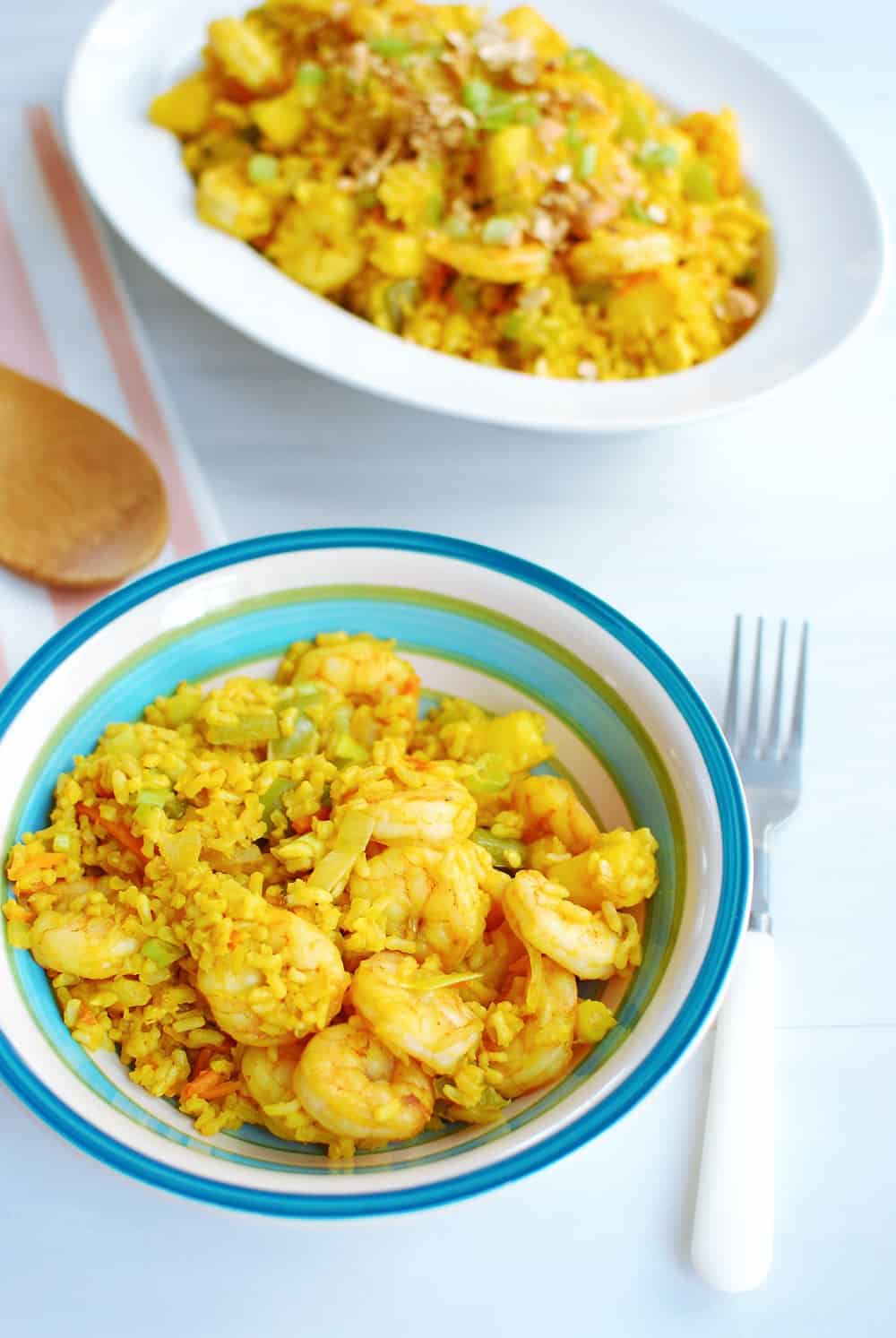 The result is a well-balanced meal that makes a big 'ol bowl of nutrient-dense food for your family.
For all the runners and triathletes out there, this thai pineapple fried rice has a great blend of healthy carbs (key for replenishing energy in the muscles) and protein (for repair and recovery of muscles). And the turmeric (which lends the rice it's bright yellow color) is thought to be anti-inflammatory, which may help you recover from your last workout.
[Tweet "Thai pineapple fried rice is an easy healthy meal that the whole family will love!"]
If you're not a fan of either shrimp or eggs, you can simply stick with just one of those ingredients. For example, the hubby hates eggs in his, so I just scoop out his serving before I mix the eggs into the pan for the rest of the family. You can also skip the shrimp and use chicken instead if your family isn't keen on shellfish. (But man, I love me some shrimp!)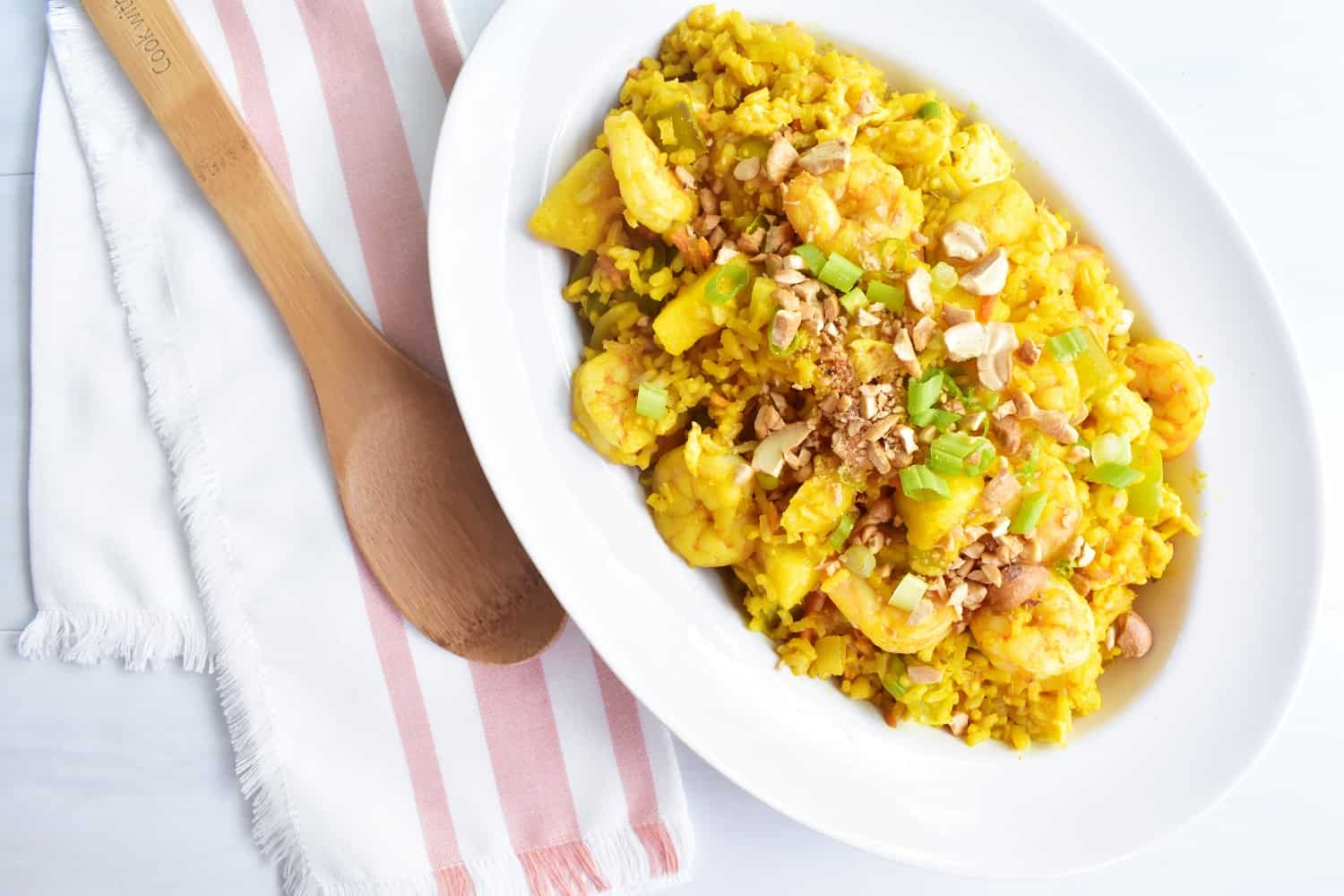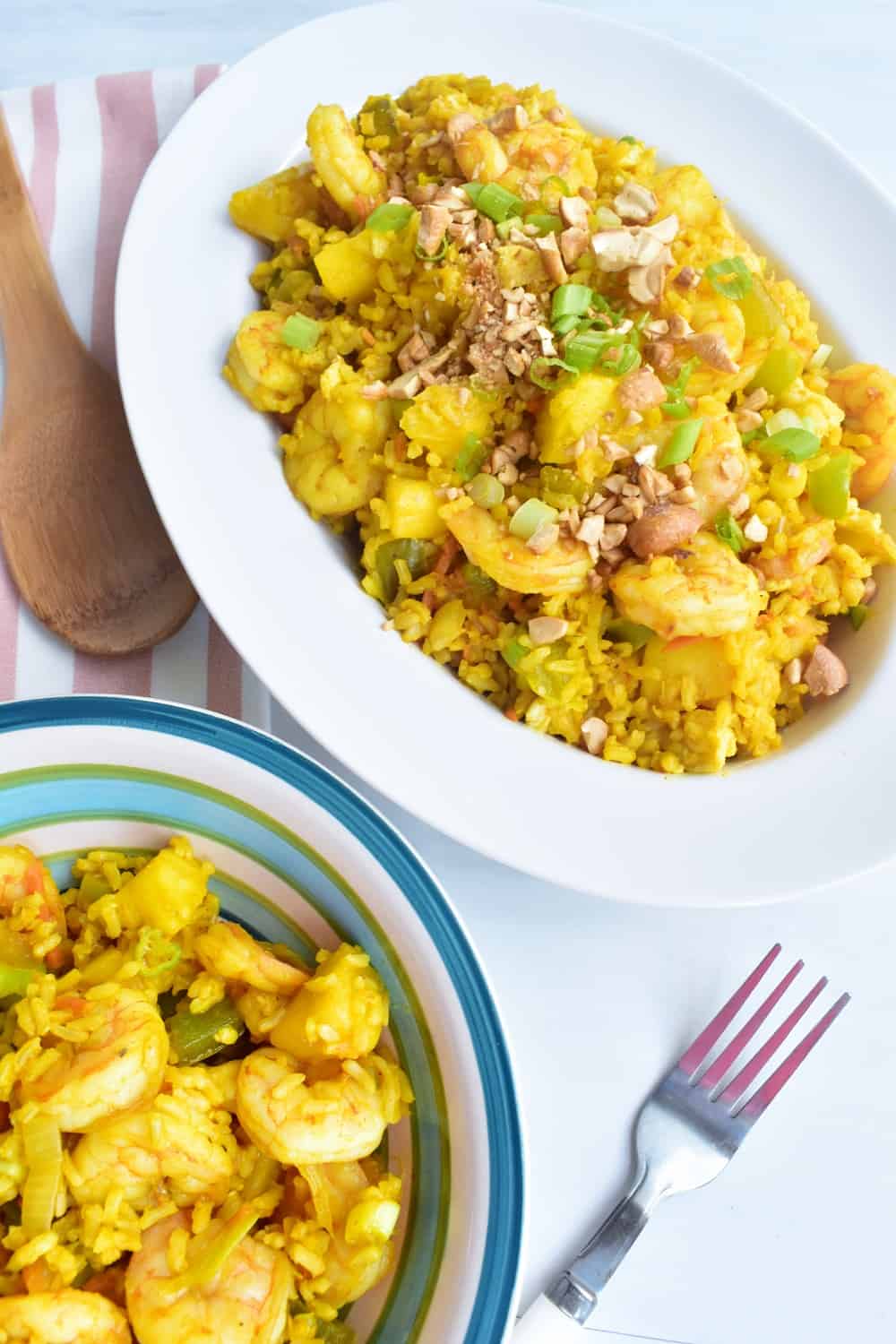 As an aside, I find Thai food cultures very interesting. I've never been there, but I came across quite a few when I was researching cuisine. Did you know…
Most people in Thailand don't have ovens, as there is very little baking done. Foods are instead boiled, sautéed, grilled, etc.
Rice is considered sacred in Thailand, and they celebrate the Royal Ploughing Ceremony, a holiday all about the start of the rice growing season.
About 20% of Thai people work in agriculture, many of whom are rice farmers.
Most Thai cuisine blends the elements of salty, spicy, sweet, and bitter together.
Beer is frequently consumed in a glass with ice cubes.
Fascinating, right?!
Anyway, I hope you'll give this a try! If you do, pop back over and leave a comment & rating letting me know what you think.
PS – Looking for a different take on fried rice? Try this cauliflower fried rice! In the mood for more Thai food? Try these thai turkey lettuce wraps.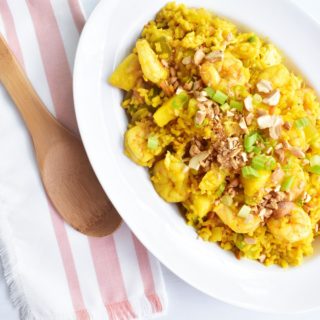 Thai Pineapple Fried Rice
This thai pineapple fried rice is an easy dinner that the whole family will love! A little sweet, a little salty, and a little spicy – and it's also packed with good nutrition.
Ingredients
For fried rice:
2

cups

dry instant brown rice*

2

eggs

1

tbsp

olive oil or coconut oil

1/2

yellow onion, diced

2

cloves

garlic, minced

1

large bell pepper, diced

3/4

cup

matchstick carrots

1

lb

shrimp

(peeled and deveined)

1/8

tsp

salt

1/8

tsp

pepper

1

cup

pineapple, chopped

1

tsp

turmeric

2

tbsp

soy sauce

2

tsp

sriracha

3

scallions, diced

½

lime, juiced
Optional extras for garnish:
Additional scallions

Crushed cashews

Cilantro
Instructions
Cook instant brown rice according to package directions. Set aside.

Whisk two eggs together in a bowl. Spray a large nonstick skillet with cooking spray, then heat over medium heat. Add eggs and cook for a few minutes until scrambled and cooked through. Set aside in a bowl.

Wipe the skillet clean with a paper towel. Add 2 tbsp of oil and heat over medium-high. Add onion, garlic, bell pepper, and carrots. Cook for 3-4 minutes or until veggies are starting to get tender.

Season shrimp with salt and pepper. Add shrimp to the skillet with the veggies and cook for about 3 minutes, until shrimp just is turning pink.

Add pineapple, rice, turmeric, soy sauce, and sriracha. Cook for another 2 minutes until everything is well combined and all shrimp is fully cooked.

Toss in the scrambled egg you set aside, the scallions, and lime juice. Remove from heat, give it all a good stir, and then served topped with any optional garnishes that you prefer.
Notes
Notes:
If you have leftover brown rice, you'll want about 3 cups of cooked rice for this dish.
The amount of sriracha in here adds just a hint of spice – my 3-year-old eats this just fine. If you prefer more spice, add more.
Nutrition analysis (approximate per serving, assumes 4 servings, does not include any garnish):
399 calories, 9.5 g fat, 1.5 g sat fat, 569 mg sodium, 49 g carbohydrate, 5 g fiber, 7.5 g sugar, 30.5 g protein, Vitamin A: 81%, Vitamin C: 104%, Calcium: 11%, Iron: 25%
Nutrition
Share with me: Have you ever had Thai pineapple fried rice at a restaurant? Have you tried to make it at home? What's your favorite dish at a Thai restaurant?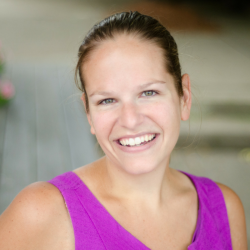 Latest posts by Chrissy Carroll
(see all)