Before I even start writing, can we just note how bad I am at trying to make faces that express different emotions?  It took me about 10 minutes to capture this "pet peeve" faced selfie, and it's not even that good, haha.
Anywayyyyy…..To start, I absolutely love what I do. The wellness field is amazing, and full of so many dynamic people. We get to help people change their lives for the better.
I mean, my days are pretty damn amazing. One day, I might focus a lot on writing – blogging, working on presentation development, or finishing up a freelance assignment. Another day, I might spend the day out at a site, providing health coaching, lunch and learns, or corporate fitness classes. I've got great variety in my day to day work.
Plus, who doesn't love seeing the results that come from working in the field? One of my favorite things is to see the progress that's made in my Couch Potato to 5K Runner groups from Week 1 to Week 9. I love seeing the people who said "I can't make it through 60 seconds, I'm never going to be able to run a 5K!" cross that 3.1 mile finish line at the end, running the whole time straight.  [PS – Check out how awesome this thank you card is from one of my recent participants…]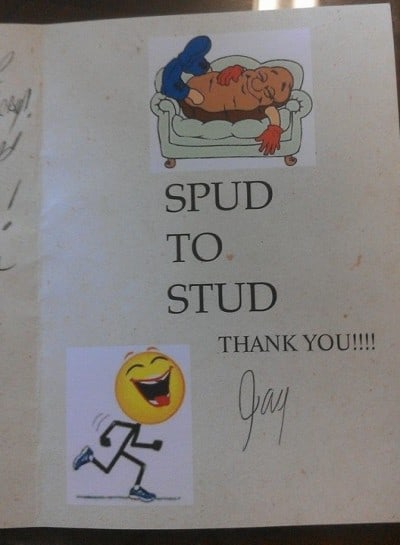 But every now and then, there are a few things about this field that irk me a teensy bit. In no particular order, here are my top 5 pet peeves about the wellness field…
1) Bad headlines in the media. A perfect example was the recent study that came out that "proved" low carb diets were much better than low fat diets. Um, no. The study group that had a low fat diet barely changed anything in their diet. The study group that had a low carb diet made significant changes compared to baseline. So basically, the group that changed their eating habits from a traditional western meal plan to a different type of meal plan lost weight. Shocker! In reality, there is no one "right" diet – different approaches can work for different people – it's just about eating real whole foods and eating the right amount of them.
2) Everyone is an "expert." Now, I completely agree that each person can be an expert in what works for their own body. If something works for you, by all means – roll with it! However, it is a pet peeve of mine when someone with no educational background in health decides that because of their one personal experience/belief (especially when that belief is quite far from the realm of being scientifically plausible), that they have the answers to all the world's health problems, and are going to start acting as an expert in fitness/nutrition/cancer/insert other wellness topic. Anecdotes are not scientific evidence.
3) Junk science. I am so evidence-based in my approach to recommendations in this field, so this makes me really hate junk science. For example, when studies are poorly designed, or when their abstracts make you think there is a connection, but you find out it wasn't statistically significant.
4) Cherry picking research. Often happens when "experts" either a) pick the one research study that does not have the same results as the other masses of data out there in order to support their viewpoint, or b) they pick a study and twist the conclusion to support their agenda.
An example of the later: once someone started arguing with me on social media after I posted something about whole grains. They (very aggressively) told me that people shouldn't eat grains because 83% of people are gluten intolerant, and included a link to a study. The actual study had 6 intestinal biopsies, all from patients who already had gastrointestinal issues to begin with. 5 of the 6 biopsies had some type of immune reaction in a petri dish to a portion of gluten.
This does not mean 83% of people are intolerant. They selected a group of people who already had prevalent GI issues and found that some may be sensitive to gluten. Their sampling procedure means that this is totally not applicable to the population as a whole, not to mention it was only 6 total people.
5) Judgment. I'm sure anyone in this field may go through some form of judgment. I'm lucky that I don't experience it too often, but occasionally I'll get statements like "You don't look like you are a dietitian" or "Really? You did a marathon? Did you walk a lot?". I chalk it up to people not realizing that wellness professionals come in a variety of shapes and sizes. Yes, I'm not a size two, and yes, I eat cheeseburgers and drink beer sometimes. I also love kale chips and run a lot. I'm cool with my life balance, so hopefully you are too!
Of course, these little annoyances hardly hold a candle to all the great parts of this field – I love what I do and hope to be able to share my stories, tips, and insights with you for years to come.
Share with me: If you work in the wellness field, what's your biggest pet peeve?  And if not, do you think I'm being too whiny? 😉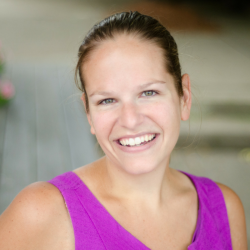 Chrissy Carroll is a Registered Dietitian and USAT Level I Triathlon Coach. She specializes in sharing nutrition and fitness tips, as well as recipes, for runners, triathletes, and active women.Chrissy holds a Bachelor's Degree in Nutrition, a Masters Degree in Public Health, and is also an ACSM Certified Personal Trainer.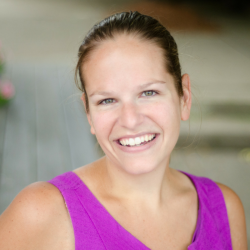 Latest posts by Chrissy Carroll (see all)