If there was ever a way to get paid to just be a perpetual student of some sort, I think I'd love that. I really enjoy classes, professional development activities, webinars – all that cool stuff in the areas of nutrition, fitness, business, & social media. Can someone just pay me a salary to attend these things every week? 😉
A few weeks ago, I was able to attend a great webinar on "designing triathlon workouts for maximum impact" by Eric Prager, a triathlon coach.
He made some really good points in the webinar that I thought were worth highlighting, as I know I have a range of readers from those contemplating a first triathlon to more experienced athletes looking to improve time.
The webinar was hosted through the Cayuga Medical Center and the Score This race series. There are a few more free webinars coming up through them including topics like sports nutrition and performance testing – check out the schedule and sign up here!
What I liked about his webinar was that it drove home evidence-based, scientifically-backed strategies.  So this may not be "new news" to those of you who are experienced, but it's always a great reminder.
Here are some of the most important key points that I took away from the webinar…
1. Train for your sport.
Seemingly simple, but there are a lot of athletes that want to be amazing at crossfit and amazing at triathlon simultaneously. It's not completely impossible, but it's much more likely that if you focus on periodized training with an emphasis on your priority sport, you'll improve faster at that sport.
The same goes for different distances within the sport of triathlon. What is your "A" race? Is it a sprint or a half iron? That will affect what types of workouts you prioritize in the peak of your training season.
2. Consider a zone approach to training.
Now, if you're a brand new athlete just looking to cross the finish line – don't worry about this. In fact, most of the races that I started doing were done just for the sole purpose of getting to the finish without a time goal in mind.  I just got out there, put in my mileage/time, and was happy with that.
However, once you're itching to improve that time or you're an experienced athlete looking to get better – it's time to start training in different zones.
Eric described these 5 zones in his webinar:
Zone 1 – Recovery
Zone 2 – Aerobic Threshold
Zone 3 – Aerobic Work
Zone 4 – Anaerobic Threshold
Zone 5 – Anaerobic
An ideal training plan for time improvement will include workouts in each of these zones.
3. To get faster, you need to train faster…
This goes along with the message above when it comes to varying your training. If you want to become a faster athlete, it's important to have some training sessions that are at a pace where you are pushing yourself.  This will likely include some interval training, "race pace" workouts, etc.
The specific type of speed work and intervals will vary based on your triathlon race distance as well as the point of time you are at in your training plan.  He emphasized that earlier in a training plan, it makes more sense it makes to focus on building your base and on short power & intervals.  As it gets closer to the race, though, the more important it is to focus workouts on race pace and endurance for your particular distance.
4. …But do not constantly train at a high intensity.
Again, this goes back to the second point made – you need different types of workouts. Just doing speed work or just doing recovery work is not a good plan. One of the most interesting points that Eric made in his webinar was about the relationship between recovery and hydration after high intensity workouts, which is something I never really thought about before. When you're working at a high intensity, you're burning a large portion of energy from stored carbohydrate.  This carbohydrate is stored with molecules of water, so when you burn off that energy source you are also losing fluid in your body. If you don't go to careful lengths to replenish both your carbohydrate stores and fluid stores, you can end up dehydrating yourself and recovering much slower. Constantly doing high intensity workouts makes it difficult to keep this balance.  Instead, adding in some targeted slow workouts where your body utilizes a higher percentage of fat stores lets you both up your training mileage and helps you recover better.
5. Consider a rest plan that works for you.
Rest is important. Although elite athletes may not have a complete rest day, they should still have days structured into their plan where they may just focus on a slower workout in one discipline, rather than multiple workouts or high intensity workouts. Many recreational athletes fare well having complete rest days built into their schedule – I know I do!  If you're building your training plan yourself and you notice yourself feeling fatigued often, you may need to incorporate more rest days.
Share with me:  If you're a new athlete, how are you structuring your triathlon training plan?  If you are a experienced athlete, what tips do you have for the newbies?!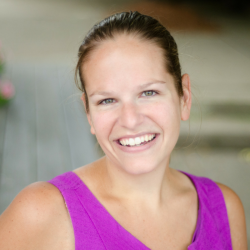 Latest posts by Chrissy Carroll
(see all)